Edward Goguen, MSEd
Assistant Professor, NESCom Academic Director College of Business New England School of Communications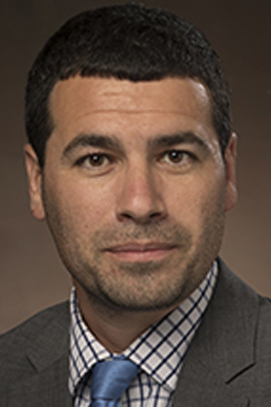 Contact:
Husson University
1 College Circle
Bangor, Maine 04401
Biography
Edward Goguen is a former graduate of NESCom with a Bachelor's of Science Degree in Communications and a Masters of Science in Education from University of New England.  As an audio educator Edward has been teaching recording, mixing, and live sound for 12 years.  He is also an Avid Certified Pro Tools Instructor in Post and Music with expert-level knowledge of the Pro Tools operating environment.
As a freelance engineer Edward has worked with a number of artists including; Steel Toe Booty, The Travis Lloyd Band, The Rugged, Waylon Speed, and most recently Jaded Ravins.  In addition to studio engineering Edward has worked as a broadcast engineer for Maine Public State Basketball Championships, The Nite Show with Danny Cashman, and Greenlight Maine.
As Academic Director Edward assists NESCom faculty in overseeing their five majors and eight concentrations along with the planning and designing curricular aspects of NESCom's varied and robust experiential learning.  As a firm believer in Experiential Learning Theory Edward knows that students learn from doing but that they learn more when they take time to think and reflect on what they just did and when they use that experience and knowledge to plan for the future.
Edward teaches a variety of courses in Audio Engineering including AE 301 Hybrid Mixing Techniques, AE 314 Pro Tools II Music, AE 324 Pro Tools II Post, AE 353 Broadcast Audio Engineering, and AE 451 Advanced Music Engineering & Production.    
More information about Edward can be found at his personal website:  www.edgeaudio.me