Donald Withers, PhD
Assistant Professor, Area Chair of Mathematics and Sciences College of Science and Humanities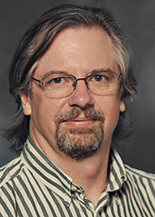 Contact:
Husson University
1 College Circle
Bangor, Maine 04401
Biography
Don grew up in eastern Massachusetts and received his BS in Biology from Syracuse University. After graduation, he worked as a lab assistant in his Genetics professor's laboratory where he studied the biochemistry of nucleic acid metabolism in the fruit fly (Drosophila melanogaster). This experience spurred his interest in Genetics which he pursued further as a Ph.D. student at the University of California at Berkeley. At Berkeley, Don carried out a molecular genetic analysis of a key gene in the process of Drosophila metamorphosis. This gene was found to encode proteins that regulate other genes needed for adult fly development.
DiBello PR, Withers DA, Bayer CA, Fristrom JW, Guild GM. The Drosophila Broad-Complex encodes a family of related proteins containing zinc fingers. Genetics. 1991 Oct;129(2):385-97.
After graduate school, Don's research focus shifted from Drosophila molecular genetics to the field of cancer biology. This phase of research started with Post-doctoral fellowships, first at the University of California San Francisco (UCSF) and next at Stanford University. The work at UCSF culminated in the first description of a gene that normally regulates the process of cell division (cyclin D1) being mutated in cancer.
Withers DA, Harvey RC, Faust JB, Melnyk O, Carey K, Meeker TC. Characterization of a candidate bcl-1 gene. Mol Cell Biol. 1991 Oct;11(10):4846-53.
The work at Stanford identified why some genes were inappropriately expressed in tumor cells.
Guerra J, Withers DA, Boxer LM. Myb binding sites mediate negative regulation of c-myb expression in T-cell lines. Blood. 1995 Sep 1;86(5):1873-80.
The work Don started at Stanford University continued for a number of years at a private research institute in Seattle (Pacific Northwest Research Institute), where Don served as staff scientist.
Withers DA, Hakomori SI. Human alpha (1,3)-fucosyltransferase IV (FUTIV) gene expression is regulated by elk-1 in the U937 cell line. J Biol Chem. 2000 Dec 22;275(51):40588-93.
Don moved east to Maine and started teaching at Husson in 2007. Don has always been passionate about teaching, having served as a teaching assistant at UCBerkeley and as a research mentor at his other positions. At Husson, Don has taught Genetics, Anatomy & Physiology, Cell Biology and Senior Research.
Don lives in Hampden with his wife Amy, three children, and numerous chickens, cats, guinea pigs and ferrets. Don enjoys spending his free time hiking through and photographing the natural beauty of Maine.