Daniel Mickool, RPh, MS, EdD
Associate Professor of Pharmacy Practice, Director of Interprofessional Education College of Health and Pharmacy School of Pharmacy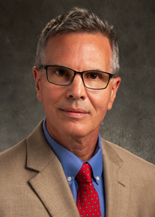 Contact:
Husson University
1 College Circle
Bangor, Maine 04401
Biography
Dr. Daniel Mickool is an associate professor in the Department of Pharmacy Practice and the College of Health and Pharmacy's Director of Interprofessional Education (IPE). Dr. Mickool also has an adjunct appointment at Dartmouth Geisel School of Medicine. He is committed to excellence in teaching in both the classroom and his practice site, Maine General Medical Center in Augusta, Maine. He teaches pharmacy and medical students in a unique practice setting, intentionally incorporating interprofessional opportunities for his learners, all the while doing patient care in general and acute medicine.
Dr. Mickool serves as a Past President of the Maine Pharmacy Association, where he is involved in legislative activities promoting the profession of pharmacy in our state. He also serves on the Interprofessional.Global Workforce Policy Group appointed by the World Health Organization (WHO) as the only pharmacist contributing to workforce redevelopment strategies to implement IPE in various healthcare settings. Their mission is to update global policies that can be shared with healthcare entities from academia to national frameworks to ensure better patient outcomes through cooperative learning and practice.
Dr. Mickool's research centers around patient care outcomes such as renal dosing of medication, opioid reduction strategies, and interprofessional collaboration.
Outside of academic pharmacy practice, Dr. Mickool enjoys reading about history, philosophy, theology, art, and music. In addition, Dr. Mickool is an avid musician and plays one of the great pipe organs in Portland on Sunday mornings at his church.