Christopher Bruce, MS
Assistant Professor, School of Legal Studies College of Business School of Legal Studies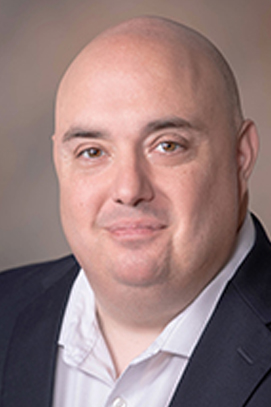 Contact:
Husson University
1 College Circle
Bangor, Maine 04401
Biography
Christopher Bruce joined Husson University in 2019 after a 25-year career in the field of crime analysis and data-driven police operations. His particular areas of expertise are in the areas of law enforcement data management and analysis, analysis of crime patterns, the use of geographic information systems (GIS) in policing, and the development of effective tactics, strategies, and policies based on crime analysis.
Professor Bruce has previously served as an adjunct lecturer in criminal justice for Suffolk University, Tiffin University, the University of Massachusetts at Lowell, Westfield State University, Western Oregon University, and Middlesex Community College, teaching both graduate and undergraduate courses, both in-person and online. He served for 17 years as a crime analyst for police agencies in Massachusetts and another 10 years as a self-employed crime analysis trainer and consultant. As a contractor, he served as a subject matter expert for the U.S. Department of Justice, Bureau of Justice Assistance National Training and Technical Assistance Program (NTTAC); the International Association of Chiefs of Police Collaborative Reform Initiative Technical Assistance Center (CRI-TAC) program; the US DOJ's International Criminal Investigative Training Assistance Program (ICITAP); the National Highway Traffic Safety Administration's Data-Driven Approaches to Crime and Traffic Safety (DDACTS) program; the Texas Department of Transportation; and the Massachusetts Highway Safety Division. He has provided numerous training classes on crime analysis and data-driven police operations through the International Association of Crime Analysts (IACA) and the International Association of Directors of Law Enforcement Standards and Training (IADLEST).
Professor Bruce served as the vice president (1997-2000) and president (2000-2004) of the Massachusetts Association of Crime Analysts and the vice president of administration (2000-2006), president (2007-2012), and vice president of membership (2016-2019) for the International Association of Crime Analysts. While he is now focused on his responsibilities at Husson University, he maintains a contract as a crime analysis consultant for the Massachusetts Gaming Commission and for other federal, state, and nonprofit agencies. He grew up in York and now lives in Stockton Springs.


Criminal justice is not a field in which all the best ideas have been developed or the best practices already tried; there is plenty of room for every young professional to become an innovator, a pioneer, in his or her particular specialty. I am honored to have a chance to help these future professionals develop the tools they need to realize this potential. I particularly hope that my instruction leads students to value research, analysis, and evidence in the decision-making process.