Cassandra R. White, PharmD, BCACP, BCGP
Associate Professor of Pharmacy Practice College of Health and Pharmacy School of Pharmacy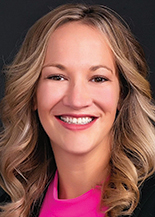 Contact:
Husson University
1 College Circle
Bangor, Maine 04401
Biography
Dr. Cassandra White is a 2012 graduate from Albany College of Pharmacy and Health Sciences in Albany, New York. Cassandra, a native of Hermon, Maine, is proud to be a licensed pharmacist in her home state. After earning her Doctor of Pharmacy degree with a concentration in economics, Cassandra completed a post-graduate year-1 pharmacy practice residency at the VA Maine Healthcare System. Dr. White began her career in academia at Husson University in 2013 and was promoted to Associate Professor of Pharmacy Practice in 2019.
Dr. White represents Husson University School of Pharmacy (HUSOP) as a clinical pharmacist for Maine Dartmouth Geriatric Medicine (MDGM) in Augusta. Husson students on Advanced Pharmacy Practice Experience rotations will discover MDGM to be an extraordinary site to learn through interprofessional education and practice.  Cassandra is extremely passionate about her work and believes that teaching pharmacy students and serving patients in the community is her calling in life.
Cassandra's career started in 2005 as a pharmacy technician. Over time, she gained experience working for pharmacies at Wal-Mart, CVS, and Rite Aid. Cassandra is a Board Certified Ambulatory Care Pharmacist (BCACP), a Board Certified Geriatric Pharmacist (BCGP), and a member of the Maine Pharmacy Association, American College of Clinical Pharmacy, and American Pharmacists Association. She was on the Board of Directors for the Maine Pharmacy Association for five years and served as President for the organization from 2016 through 2019. Dr. White is the proud recipient of multiple award and honors, including the HUSOP Teaching Excellence Award for Pharmacy Practice (2020), P2 Teacher of the Year (2020), P4 Teacher of the Year (2016, 2020), National Community Pharmacists Association Pharmacy Leadership Award for Maine (2018), Distinguished Young Pharmacist for Maine (2016), HUSOP Faculty Preceptor of the Year (2016), American Association of Colleges of Pharmacy Teacher of the Year (2016), and Who's Who of American Universities (2012). She was appointed to the Maine Board of Pharmacy in December 2021 and is thrilled to serve as a pharmacist representative on the seven-member Board.
Dr. White is a former player for the women's soccer and basketball teams at Albany College of Pharmacy and Health Sciences. During her college sports career, she competed on three division championship teams. Cassandra is an avid runner who completed a full marathon in 2015 and has finished twenty-one triathlons with her sister, Alayna. In addition to sports, Cassandra enjoys traveling and spending time with her family and friends.