Carolyn Adams, JD
Assistant Professor, School of Legal Studies College of Business School of Legal Studies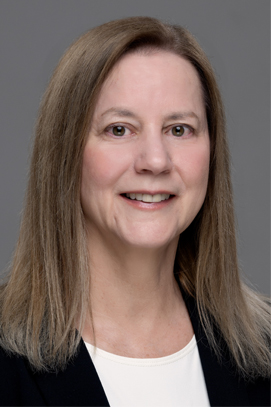 Contact:
Husson University
1 College Circle
Bangor, Maine 04401
Biography
Carolyn earned her undergraduate degree in psychology from Loyola Marymount University in Los Angeles, California and her juris Doctorate from the University of Maine School of Law. 
She worked as a prosecutor and a defense attorney for both civil and criminal litigation. Her prosecutorial experience includes working for the Cumberland County District Attorney's Office, the State of Maine Attorney General's Office in the child protection unit, and for the Penobscot Indian Nation as a Tribal Attorney. In her private practice, she represented thousands of individual criminal defendants in federal and state court, including juveniles. She has written briefs and argued successfully before the Maine Supreme Court and the Penobscot Nation Court of Appeals on behalf of appellants and appellees. For example, In re: Matthew W., 903 A.2d 333 (Me. 2006) was a first impression appeal based upon parents' medical decision rights that changed the civil law and sparked national media attention. 
In addition to her law practice, Carolyn has been a member of Maine's Judicial Children's Task Force, served on the board of directors for the Penobscot County Bar Association, and the board of directors for Bangor's Shaw House Teen Homeless Shelter. She was awarded Guardian Ad Litem of the Year in 2008 for her child protection work on behalf of vulnerably situated children. 
She has provided best practices trainings for colleagues, judges, the Penobscot Nation Department of Social Services, and the Penobscot Nation Police Department. Additionally, she taught various legal courses as an adjunct professor at Beal College, Colby College, and Husson University.
Carolyn understands the huge responsibility of teaching those who will serve in the justice system. The concept of higher legal education is beyond the acquisition of knowledge to obtain a good job. It is about acquiring a deep understanding of the judicial system as a human driven process. Therefore, it is important to empower students to think critically about what their individual influence will be in the judicial process. Because whether they legislate law, practice law or enforce the law, they will be faced with decisions that will affect individuals, families and communities. Evidence testing and finding solutions to issues will often require an individual's continued self-discipline, creativity and tact. Carolyn's goal is to impart the knowledge and skills that enable one to contribute positively to the rule of law.