Ben Sidaway, PT, PhD
Professor College of Health and Pharmacy School of Physical Therapy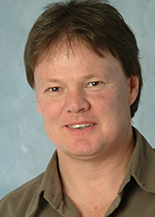 Contact:
Husson University
1 College Circle
Bangor, Maine 04401
Biography
Ben is originally from England, where he completed his B.Sc. (hons) in Sports Science and Ecology. His initial graduate education was at Liverpool University in physical habilitation. Ben then moved to the states where he received his M.A. in Motor Behavior and Biomechanics from the University of North Carolina and his Ph.D. in Motor Control/Learning from Penn State University. He completed his PT training at Husson University. Prior to joining Husson Ben was a Professor in the Kinesiology Department at Louisiana State University where he was director of the motor behavior lab. He has an extensive research and consulting background in Motor Control/Learning and Biomechanics with over 100 published, peer-reviewed papers and abstracts. Ben's areas of teaching expertise include Motor Control/Learning, Biomechanics, Anatomy, and Neuroscience.
Professional Work
Research:
Ben has an extensive background in both applied and basic research in motor control, motor learning, and biomechanics. His current research focuses on the use of motor control and learning principles in treating clinical populations. In some of his most recent research, he has examined ways in which to improve gait and skill learning in older adults and in people with Parkinson's disease. He is also currently collaborating with mechanical engineering faculty from the University of Maine in the development and use of a wearable haptic feedback system for gait training in older adults.
Recent Grants:
Interlimb Neural Coupling to Enhance Gait Rehabilitation.
With Dr. Babak Hejrati (PI), Department of Mechanical Engineering, University of Maine National Institutes of Health (NIH) Disability and Rehabilitation Engineering (DARE) Grant Award: $551,912

The detection of aperture passability during walking in people with Parkinson disease.  Grant from Husson Research Fund Committee Grant award: $1896
Movement Coordination in Sport Skills: A Proposal for the Development of In-House Quantitative Solutions for the Scottish Institute of Sport With McNitt-Gray J., Director of Biomechanics, University of Southern California. Grant from the Scottish Institute of Sport Grant award: $50,000
The Development of and Implementation of Analysis Techniques for the Assessment of Coordinative Structures in High Performance Athletes.
With McNitt-Gray J., Director of Biomechanics, University of Southern California. Grant from the Scottish Institute of Sport Grant award: $40,000

Recent Peer-Reviewed Publications:

Sidaway, B., et al., (2022) The identification of fall risk through tests of mediolateral stability during gait.
Experimental Gerontology, 163, 1-16.
Sidaway, B., Aaroe, A., Albert, M., Brasier, K., Desrosiers, G., Keith, M., Laniewski, A., Knowles, J., Morell, C., Prada, J., & Stuart, J. (2018). Visual detection of affordances for aperture negotiation in people with Parkinson disease. Neuropsychologia, 20, 59–64.
Sidaway, B., Bouchard, M., Chasse, J., Dunn, J., Govoni, A., McPherson, B. Roy, K., & Anderson, D. (2017).
The Role of Postural Support in Young Adults' Control of Stationary Kicking. Research Quarterly for Exercise and Sport, 88, 215-222.
Sidaway, B., Ala, B., Baughman, K., Glidden, J., Jacques, S., Peabody, A., Roundy, D., Spaulding, J., Stephens, R., Tolle, L. Wright, D. (2016). Incorporating contextual interference in practice can facilitate motor learning in older adults and individuals with Parkinson Disease. Journal of Motor Behavior 48(6):509-518
Sidaway, B., Bonenfant, D., Jandreau, J., Longley, A., Osborne, K., & Anderson, D. (2015). The role of head position and prior contraction in manual aiming. Acta Psychologia, 154, 10-13. Anderson, D., & Sidaway, B. (2013). Kicking biomechanics: Importance of balance. Lower Extremity Review, 5(7),55-59.
Chew-Bullock, T., Anderson, D., & Sidaway, B. (2012). Kicking performance in relation to balance ability over the support leg. Human Movement Science, 31(6), 1615-1623.
Sidaway, B., Bates, J., Schlagenhaufer, J., Thompson, B., Wilkes, D. (2012). Interaction of feedback frequency and task difficulty in children's motor skill learning. Physical Therapy. 92(7), 948-57.
Sidaway, B., Euloth, T., French, H., Piskura, M., Clancy, J., & Aide, A. (2012). Comparing the reliability of a trigonometrical technique to goniometry and inclinometry in measuring ankle dorsiflexion.
Gait & Posture, 36, 335-339.