Angela Hartsig, PharmD, BCACP
Assistant Professor of Pharmacy Practice School of Pharmacy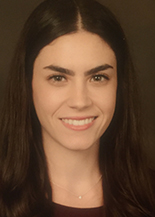 Contact:
Husson University
1 College Circle
Bangor, Maine 04401
Biography
Dr. Hartsig joined the Husson University School of Pharmacy in August 2019. She received both her Bachelor of Science in Biology in 2014 and her Doctor of Pharmacy in 2018 from the University of Michigan in Ann Arbor, MI. After pharmacy school, Dr. Hartsig completed a PGY-1 Community-Based Pharmacy Residency with the University of New England College of Pharmacy, Martin's Point Health Care, and Hannaford Pharmacy in Portland, ME in 2019. In 2021, she earned her Board Certification as an Ambulatory Care Pharmacist (BCACP).
Dr. Hartsig's clinical interests include primary care, transitions of care, and geriatrics. She maintains an ambulatory care practice site at Maine Dartmouth Geriatric Medicine (MDGM) in Augusta, ME where she precepts fourth-year pharmacy students. Students on rotation with her will have exposure being a part of an interprofessional team.
Dr. Hartsig is currently the coordinator for Introduction to Therapeutics: Self Care/OTC and teaches a variety of topics throughout the therapeutics courses as well as facilitates recitation for Applied Pharmacology and Pharmacotherapeutics I. She also developed a new pharmacy elective course focused on professional development and career skills for pharmacy students. Her research is currently focused on pharmacy education.
Outside of work, Angela enjoys baking, hiking, traveling, and spending time with her family and friends.