Aaron Domina, PhD
Associate Professor of Pharmaceutical Sciences College of Health and Pharmacy School of Pharmacy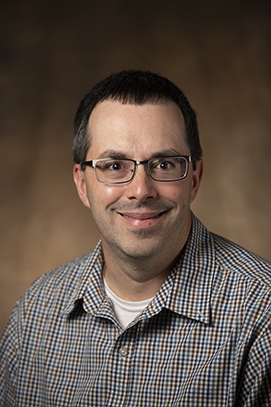 Contact:
Husson University
1 College Circle
Bangor, Maine 04401
Biography
Dr. Aaron Domina joined Husson University in July 2009 with an appointment in both Pharmacy and Biology. Previously, he taught for five years as an Assistant Professor of Biology at Eastern Nazarene College in Quincy, Massachusetts. He earned a B.S. degree in Biochemistry from Worcester Polytechnic Institute, followed by a Ph.D. in Pharmacology and Toxicology from Dartmouth Medical School. For his graduate work, he studied the phosphorylation of MCL-1, a protein that helps regulate cell death. Aaron then studied host-pathogen interactions (e.g. Venezuelan Equine Encephalitis virus, Sindbis virus, SARS virus, and Bacillus anthracis) during a postdoctoral research appointment at the University of Texas Medical Branch in Galveston. He has co-authored research articles in the Journal of Biological Chemistry, Oncogene, and Virology and for his graduate studies received the The John W. Strohbehn Award for Excellence in Biomedical Research. Outside of work, Aaron enjoys spending time with family and friends, as well as hiking, backpacking, gardening, and supporting various social justice and environmental efforts.
I am grateful for the educational opportunities I have received and am appreciative for the generous investment of numerous individuals. In turn, I seek to invest in the education of my students. For each course, I diligently prepare to challenge students to learn the subject and support them to do so. While expectations are set high, I value every student and encourage each to achieve her or his full potential, even those who might struggle with the material. While it is difficult to get to know every student in a larger lecture, I welcome students to stop by my office for more personal instruction.
In addition to classroom learning, I promote student engagement with various social and environmental issues. Some of my most meaningful student interactions have come during discussions on how a student plans to become involved in a larger community by addressing a particular problem. I hope to continue not only to prepare students for their chosen profession, but also to promote their involvement with the needs of the world around them.