Occupational Therapy (M.S.)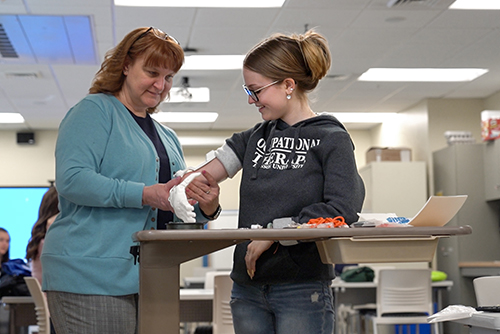 Husson University's Master of Science in Occupational Therapy (MSOT) major is an engaging and career-oriented entry-level graduate degree program that prepares you for a fulfilling career in a quickly growing healthcare field.
As you prepare for a career as an occupational therapist, you'll:
Learn from expert faculty. Our faculty have advanced degrees and a wide range of clinical expertise.
Hone your skills in cutting-edge facilities. You'll have access to state-of-the-art facilities, including the newly designed Occupational Therapy Lab that reflects a modern OT workplace; and Dahl Anatomy Lab, a cadaver lab where you'll study functional anatomy and dissection.
Attend an ACOTE-accredited university. Husson's MSOT program is accredited by the Accreditation Council for Occupational Therapy Education (ACOTE) of the American Occupational Therapy Association (AOTA).
Benefit from Husson's hands-on approach and close-knit communities. You'll be part of a supportive community where professors provide individualized attention as you practice your skills in a structured environment.
Gain experience beginning your first year. You'll participate in community-based clinical experiences and simulation opportunities in your first year of study. You'll graduate from our MSOT program with the skills and confidence needed to succeed as an occupational therapist.
Husson's MSOT program takes seven semesters to complete (inclusive of fieldwork) and focuses on experiential learning in a wide range of clinical areas such as physical rehabilitation, mental health and pediatric practice.. You'll learn how to help people of all ages maintain their independence and complete everyday tasks with a creative, problem-solving approach.
Curriculum
Learn More About Our MSOT Degree Program