Occupational Therapy (M.S.)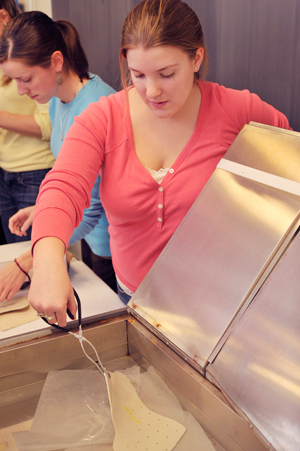 If you have a passion for health science and are looking to expand your knowledge while preparing for an important and rewarding public-health career, consider a Master of Science (M.S.) degree in occupational therapy from Husson University. 
Put Your Health Science Skills to Work
Occupational therapy is a high-growth healthcare profession focused on helping people to maintain or regain skills needed for everyday life. Incorporating a wide range of health disciplines, including physical therapy, psychiatry, pain management and more as situations require, this role mixes creativity, problem-solving and leadership with health and wellness fundamentals.
Occupational therapists work in a variety of industries and specialties. Many focus specifically on children, working in schools or pediatric practices, while others focus on the elderly. Others work in community-based programs, or in job-related therapy programs, helping people safely and healthfully fulfill their professional duties. 
Wherever your passion lies, you'll be able to pursue an occupational-therapy career where you'll make a real difference in the lives of your clients and patients.
Program Requirements
The Occupational Therapy (M.S.) program is a graduate-level program open to students who have completed a baccalaureate degree in any field. However, before you enter this program, you must have completed the following course work with a grade of C+ or better:
General Psychology
Abnormal Psychology
Statistics
Introduction to Research
Principles of Sociology or Cultural Anthropology
Anatomy and Physiology - 8 credits (6 in course work; 2 in lab)
Human Growth and Development
Once admitted, you must earn a grade of C+ or better in all occupational-therapy courses and maintain an overall GPA of 3.0. Your master's degree will be awarded after you have successfully completed the third year of study in the program and supervised clinical fieldwork.

Curriculum