Occupational Therapy Facilities
Commons Room 325 is a true multi-purpose classroom. In this room students have access to raised mats, accessible kitchen and bathroom space, splinting equipment and supplies and a range of equipment related to physical agent modalities. Students use this space to simulate occupational therapy assessment and intervention. Some of the occupations students can practice include cooking and home maintenance, self-care Activities of Daily Living (ADL's) such as bathing and dressing, leisure activities such as crafts, hobbies, and games, as well as opportunities to practice skills related to exercises and functional mobility.
Click here to see an interactive view: http://youvis.it/B3wtPX
324 O'Donnell Commons Occupational Therapy Classroom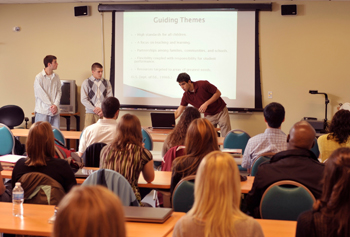 Students take numerous classes in Commons Room 324 and is large enough to allow for flexible seating arrangements. This room is equipped with an LCD overhead projector, wireless internet, a library of standardized assessments and pediatric equipment.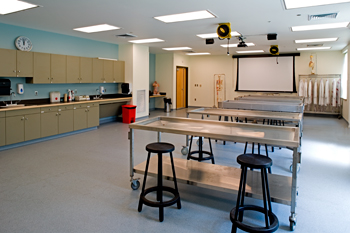 A state-of-the-art gross anatomy lab where occupational therapy students study functional anatomy and dissection.