Three-Year BSN
Earn Your BSN Degree in Less Time
Earn your Bachelor of Science in Nursing in as little as three years in Husson's year-round BSN program.* This full-time, on-campus program features experiential learning in Husson's state-of-the-art simulation centers, interprofessional clinical experiences that engage students within a diversity of settings and more. As you progress through this program, you'll develop nursing skills, as well as professionalism, leadership and management skills required by today's nurses.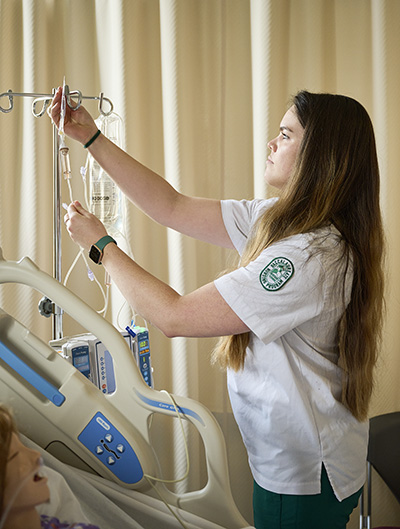 Support for Your Success
Through our intensive academic advising and the Center for Student Success, we'll help you create a sustainable work, life and school balance and a variety of support services to help you succeed in this program:
Skills training

Test-taking strategies
Individualized time management
Organizational skill development sessions

Tutoring
Writing Center
Who Should Apply?
Students with Early College Access Program (ECAP) credits or Advanced Placement (AP) college-level credits who want to live and work in Maine are encouraged to apply. Applicants must have achieved a 3.0 GPA or higher in high school.
* Time to completion depends upon how many credits the student transfers to Husson.