Software Development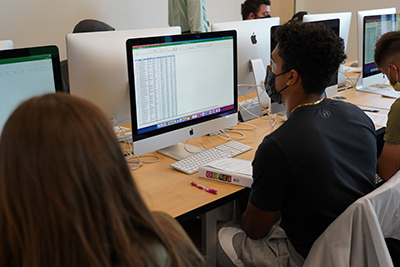 Our Bachelor of Science in Software Development is designed to provide you with the skills needed to develop, create, and modify enterprise software or specialized utility programs. Students in our software development program are critical thinkers with a demonstrated ability to analyze and evaluate technical data. You'll learn to effectively analyze the customer's needs and design software solutions.
REQUEST INFO
Putting critical thinking skills to great use, our software development program prepares students to identify issues and problems, collect and analyze data, and summarize and present findings. Our courses give students a strong theoretical background along with the practical skills necessary to thrive in today's modern, high-tech environment. As a graduate, you'll walk away with the confidence to be an effective communicator.
Why Take Software Development Courses at Husson?
Software development is a growing job field with an array of new employment opportunities. According to the Bureau of Labor Statistics' Occupational Outlook Handbook, employment of software developers is projected to grow 25 percent through 2031, much faster than the average for all occupations.
Graduates of our software development program will be highly trained professionals in areas ranging from building direct hardware interfaces to enterprise application development.
Whether you're looking for a few select software development courses or a degree, a Husson University education can help jump start your technology career!
Curriculum