Create new worlds – and an exciting career – through extended reality
You might not know the term "extended reality" but chances are you've used this technology. Ever play Pokémon Go? Have you used Snapchat filters? Watched a football game that uses those yard-line overlays? These are all examples of extended reality technology.

Extended reality (XR) is an umbrella term encompassing both virtual reality (VR) and augmented reality (AR). It is used to create three-dimensional immersive interactive environments that combine the physical world with digital experiences. As this technology advances and becomes more accessible, more and more businesses and industries – including entertainment, manufacturing, medical and educational fields – are putting XR to use in their products and training. Husson's Bachelor of Science in Extended Reality degree program will help you prepare for a career in XR, bringing this advanced and exciting technology to solve a wide variety of challenges across many industries.
Program Overview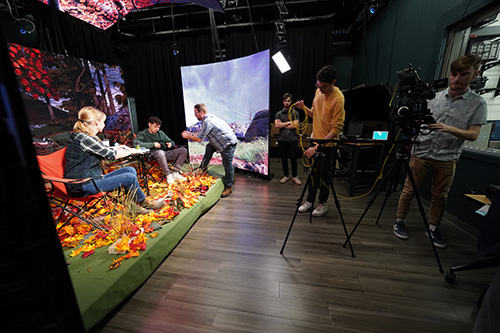 Husson's Bachelor of Science in Extended Reality is the only one of its kind in Maine. Even better, you'll have full access to Husson's state-of-the-art iEX Center, an innovation hub stocked with the latest XR, VR and AR technology and tools, including student XR kits, motion capture suits, haptic and force feedback gloves, virtual reality systems and augmented reality projection systems.
As an XR major at Husson, you'll study disciplines such as game engines, computer programming and hardware systems; all within the context of extended reality. You'll collaborate with other students, faculty and outside partners using emerging XR technology as you develop practical solutions to real-world challenges.
Projects you work on may include building three-dimensional models for a virtual reality training platform, programming an augmented reality application, experimenting with interactive projected media hardware, using a motion capture system to analyze body movements or create real-time avatars, programming a game engine to create interactive spatial audio-triggered effects and experimenting with augmented reality glasses.
Career Outlook
Extended reality (XR) is a rapidly growing field, projected to have a significant economic impact as more and more industries embrace the possibilities it offers. Currently, the market for XR is projected to reach about $345.9 billion by 2030, creating or enhancing more than 23 million jobs worldwide. Even better, XR jobs are in high demand and offer high salaries: the national average for XR or AR careers is currently $113,000 a year, with some salaries going as high as $215,000. Clearly, extended reality business is booming.
THE CURRICULUM
Your studies will include core courses in subject areas such as video production and audio production, 3D drafting, user experience and interaction design, XR design, game engines and extended reality. Your studies are rounded off with general education requirements.
Outcomes
97%
of grads employed or in grad school within 1 year of graduation
26,000+
strong alumni network and growing
99%
of students receive financial aid
Three Things You Need to Know
At Husson's School of Technology, you'll get hands-on experience with technology and learn in small classes taught by expert faculty experienced in their field and up-to-date on the latest XR, AR and VR innovations.
During your time in the curriculum, you'll have the opportunity to collaborate closely with students in other fields and disciplines for specialized XR projects. For example, Project Cheers uses XR to simulate restaurants and hotels in a virtual environment to teach and train hospitality students.
In the XR program, you'll have access to a special student XR kit, which includes an iPad, high-powered mini projector and an Oculus Quest 2.
Your Career Begins Here
Discover Husson by visiting — in person or virtually
Let's Go
Take the first step toward your future
Apply Now
Find Out More
Sign up to receive information on the School of Technology and Innovation at Husson.
For more information
Name

Phone and Email
Address
Brave Williams, MFA
Director, iEX Center and Associate Professor

207.941.7195
williamsbrave@husson.edu
167 Harold Alfond Hall
Husson University
1 College Circle
Bangor, Maine 04401
Tony Gerow
iEX Center Multimedia/Extended Reality Technologist

207.992.1956
gerowa@husson.edu
208 Harold Alfond Hall
Husson University
1 College Circle
Bangor, Maine 04401
Ashlie Page
Outreach Specialist

207.401.0971
pageas@husson.edu
Remote
Husson University
1 College Circle
Bangor, Maine 04401