Computer Information Systems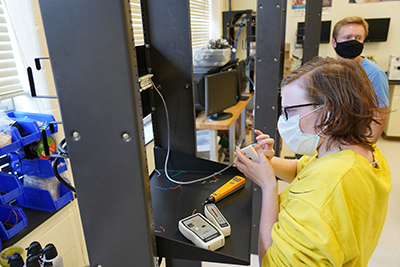 The Bachelor of Science in Computer Information Systems degree provides candidates with the knowledge they need to become highly-skilled technology professionals with insight into business issues and processes. Computer information systems (CIS) specialists operate computer systems, networks, and design the software that's essential to today's businesses and organizations. Graduates of our Computer Information Systems degree program are well rounded and prepared to meet the demands of the modern work environment. The Husson CIS curriculum immerses students in general business courses along with specialized training in computer programming, hardware, networking, and project management.
REQUEST INFO
Future Prospects for Students with an Computer Information Systems Degree
Information technology is one of the fastest growing job fields. According to the Bureau of Labor Statistics' Occupational Outlook Handbook, computer and information technology occupations are projected to grow 15 percent through 2031, much faster than the average for all occupations.
Solving strategic business problems through the effective use of technology can be an exciting and rewarding career. IT professionals work with management to determine both technical and business goals and implement technology that is both effective and reliable to accomplish these goals. This requires a strong understanding of both business and technology practices.
The ideal Computer Information Systems degree candidate possesses the ability to think logically and make good decisions. They must be able to multi-task, pay close attention to detail, and have good communication skills along with leadership skills and strong organizational skills.
Curriculum