Hospitality and Tourism Management
Mission
The mission of the Hospitality and Tourism Management Program is to provide academic training that prepares students to become entrepreneurial leaders, managers and professionals in roles that are focused on the understanding and appreciation of the global environment.
REQUEST INFO
Career Pathways
Hospitality and Tourism majors will be able to pursue a wide variety of career options that deliver the excitement and potential of employment in the world's largest industry. HTM graduates are given the opportunity to enhance their classroom experience with one or more internships while earning their degree. These experiential learning opportunities have a proven track record as being the greatest path to employment and early career success in the Hospitality industry.
Careers in Hospitality Management
Restaurants
Cruise Lines and Tourism
Clubs and Casinos
Hotels, Motels and Inns
Event and Convention Management
Parks and Recreation Management
Golf courses, Marinas and Ski Resorts
Hospitality Management Industry Facts
The $448 billion restaurant and foodservice industry is the largest private sector employer in the U.S., and this trend is expected to continue in the future. (www.ahla.com)
The Bureau of Labor Statistics projected an increase of approximately 1.8 million in the number of restaurant and foodservice industry jobs during the period of 2005 - 2015; approximately 45,000 will be management positions.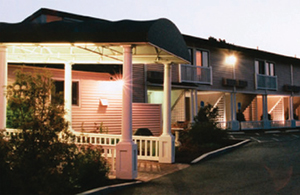 Hospitality Management Program Testimonials
"The Hospitality Management program at Husson has given me the opportunity to make great connections through real-life work experiences and through a variety of classes with knowledgeable professors who have a record of success in the industry."
Danielle Huchinson '09
"My courses in Hospitality management helped bring the concepts of food and beverage to life. We are able to learn from industry leaders in an interesting and exciting way."
Beth McFarland '10