Financial Planning
Managing personal finances can be confusing for the average person. Finding the right investment tool, creating a tax plan, knowing not only where to invest but when – it can all be overwhelming. That's why so many seek help from a professional financial planner.
REQUEST INFO
Husson's Bachelor of Science in Financial Planning will prepare you to become an expert in the growing field of financial planning. You'll learn the principles of investments, estate planning, personal financial planning, federal taxation and more. You'll gain experience before graduation through an internship built into your curriculum. Plus, you'll be prepared to sit for the Certified Financial Planner® (CFP) exam, an important credential in the field.
Learn in specialized educational spaces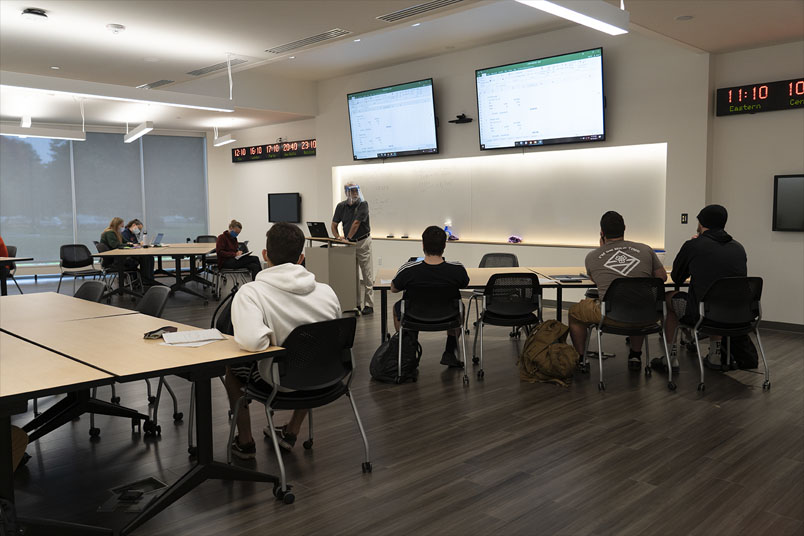 As a student in the College of Business, you'll take most of your courses in the new, 42,500 square-foot Harold Alfond Hall, designed to foster innovative, interdisciplinary learning.
You'll study within the Ronan Center for Financial Technology, a cutting-edge classroom with a 360-degree configuration featuring touch screens, live stock tickers and more.  
Turn theory to practice with real money
As you learn the intricacies of financial planning, you can also put your investment skills to the test through a student-directed investment fund with a balance of more than $1 million.
Network with financial planning professionals
Third- and fourth-year Financial Planning students become student members of the Financial Planning Association (FPA) of Northern New England, and can participate in all of their events, including training sessions, annual meetings and networking opportunities. 
Earn an accelerated MBA
An MBA can increase your marketability and give you a greater sense of confidence in what you bring to an organization. If you would like to eventually earn your Master of Business Administration, consider enrolling in the BS/MBA track and earn both degrees in five years.