Business Administration
A flexible, powerful degree that has produced a world-wide network of entrepreneurs, corporate executives and consultants for more than 100 years.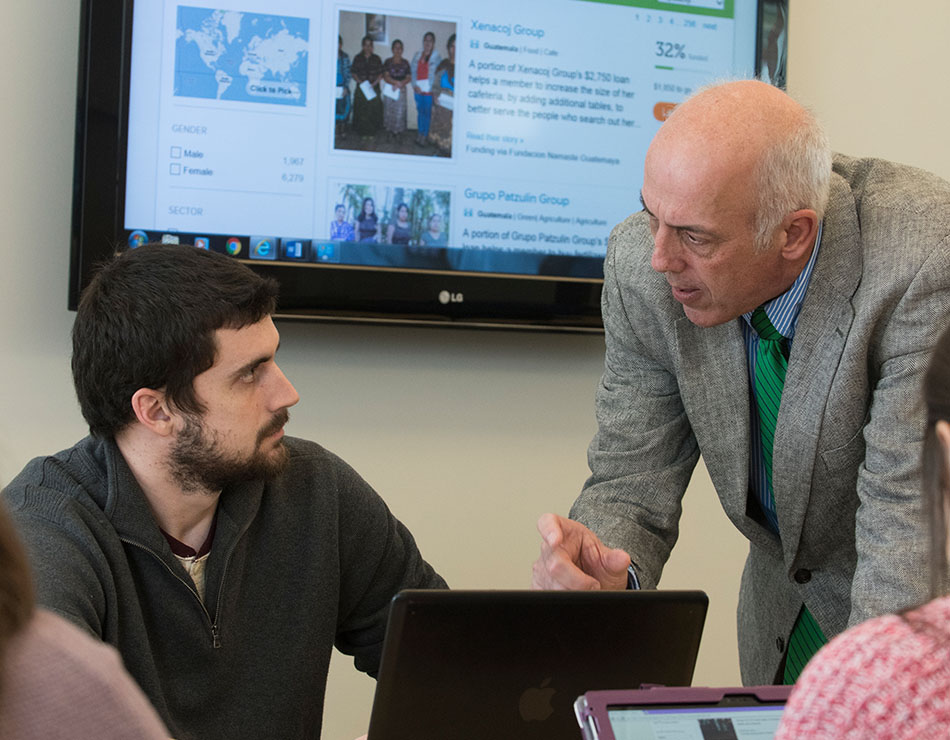 Business Administration is one of the best, most valuable types of collegiate academic programs you could possibly get into. The benefits of a degree in Business Administration are numerous and powerful.

The Husson University School of Business and Management offers four- or five-year programs in the following
Small Business Entrepreneurship - 

Students interested in starting their own business or who would like to work in a small business environment would benefit from the specialty classes offered to students in this concentration. Many current and future job opportunities will be with small and family-owned businesses. 

Financial Management - 

Students in this concentration will take courses to prepare them to work in various capacities in banks, as stock brokers, insurance agents, consultants or in real estate.

Financial Planning - 

As with many Maine professions, many of the current financial planners are near retirement age, and firms are looking for new entrants into this field. This concentration will enable students to sit for the CFP exam and make them more marketable.


Go here for information on our non-degree program to become eligible to sit for the CERTIFIED FINANCIAL PLANNER™ exam.
General - Students in this concentration will take courses to prepare them to work in various capacities in banks, as stock brokers, insurance agents, consultants or in real estate.
Healthcare Management - 

This program challenges students to explore the organizational structure of healthcare institutions and develop an understanding of the interrelatedness of psychological, social, cultural and political factors in healthcare delivery.

Interdisciplinary Program of Study - This program allows a student to combine two of the above concentrations. Currently, combinations are offered for finance and hospitality management, accounting and hospitality management, and sports management and hospitality management.
International Business - 

Students graduating with this concentration will have broad exposure to the global economy and will be prepared to work in international marketing, sales or management.

Management - 

This concentration gives a complete overview of the various business administration areas and provides the graduate a great deal of flexibility in the job market because of the broad education background.

Marketing Management - 

This program covers a broad range of subjects, but will require specific courses that help prepare students to work in sales, advertising, marketing research, public relations, or the media.
Additionally, the School of Business and Management also offers an Interdisciplinary Program of Study that enables students to receive a bachelor of science degree in Business Administration with two business concentrations instead of one. An advisor can assist interested students in setting up a curriculum plan. For example:
Graduates of these programs have historically experienced high placement rates in quality jobs upon graduation. Organizations within Maine and around the world have found Husson graduates to be exemplary. Our students tend to rapidly progress in their careers.
Graduates are now starting at salaries between $35,000 and $55,000 and usually are promoted soon into higher paying jobs.
Our students acquire jobs in all types and sizes of organizations. Recent graduates have become marketing managers, bank vice presidents, stock brokers, top hospital administrators, financial analysts, advertising executives, international trade specialists, hotel administrators, professional sports franchise managers, retail and manufacturing business owners, and so on – actually the list is long and rather impressive.
Business Administration has long been a popular program. There are so many different kinds of quality, interesting jobs available to the graduates of such a program. Husson's program prepares you to be successful as a key player in the organizational setting. With the Business Administration degree, you will find many an opportunity to be productive and happy in your career.