School of Business and Management
A historical leader in business and management education, committed to preparing students for business careers in the State of Maine and beyond.

Our mission is to educate, enable and empower students to be critical thinkers who can attain their goals and excel when faced with challenges in the business professions. This mission is achieved through highly qualified faculty who have experience in the business world and by experiential learning in and outside the classroom. Students can choose from four and five year programs in business administration and business and professional studies. Classes can be taken online, in class or in a combination of the two depending upon the program chosen.
Business Administration
The undergraduate Business Administration majors, leading to a B.S. and a dual BS/MBA degree, prepares learners for challenging careers in a variety of business fields. In addition to the general business administration degree that provides flexibility for taking electives in diverse areas of study, students may concentrate in: entrepreneurship/small business management, financial management, international business, management, marketing, and retail management. In most programs, students seeking to earn their MBA can do so in conjunction with their B.S. degree in just 5 years.

The Master of Business Administration emphasizes the integration of theory and practice to train current and future administrators. Professional courses focus on the most current concerns facing business administrators including: legal issues, finance, accounting, human resources, managing change, strategic planning and policy making.
Business and Professional Studies
The undergraduate Business and Professional Studies major, leading to a B.S. degree, is designed for students who have attended a Community College and concentrated on an area other than business. Various technology degrees, such as in automotive, building or welding can be evaluated for transfer credits into this program of study to allow for students to expand their knowledge for opening a business or working in their field of choice that has interaction with the business world.
You can find more information about each degree program by visiting the links on the left side of this page.
For further information regarding the Goals and Objectives of the degree programs in the School of Business and Management, please click here.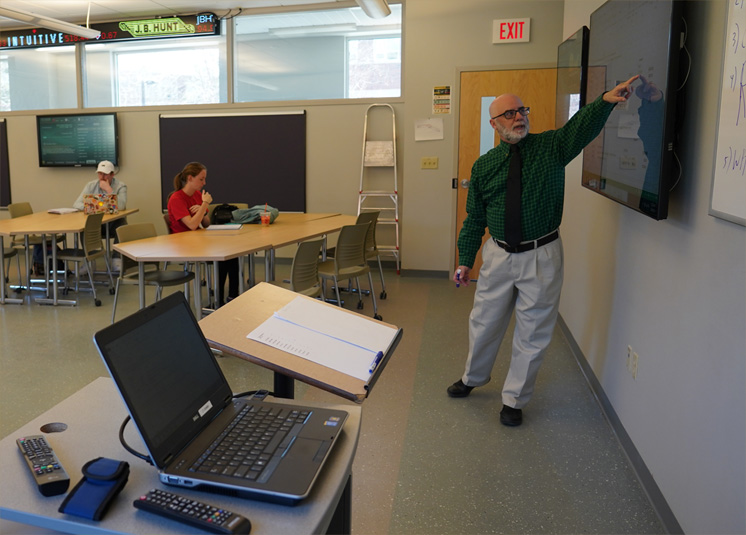 Husson University has the largest College of Business in Maine and our faculty are quoted regularly in national media outlets.
"Look at the industries that might benefit if that candidate wins," he says. "For example, if you thought President Trump was going to win, and that he would be able to get increased spending for the military, you should have bought defense stocks."
J. Douglas Wellington, JD, LLM, Associate Professor
"How to Invest in the Presidential Cycle"U.S. News & World Report
February 19, 2019