Companies - Getting Started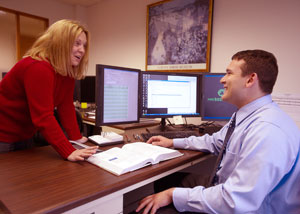 We welcome companies from the community who seek to provide interns with meaningful industry experience in a business setting. Our students must complete most business courses before obtaining an internship. We want to be sure they are ready to contribute to your organization. In order to be considered for our program, you must fill out a company application. The application will be reviewed by the internship coordinator and your information will be placed in our database.
Qualified members of our internship program must provide a business setting. A supervisor must be appointed for the intern and is responsible for signing all log sheets, evaluations and other documents related to the internship. 
Being contacted by a student does not constitute an endorsement of that student by our faculty. It is recommended that the company conduct a thorough interview of the candidate, their resume and their references before selecting an intern.
On the signup form, please provide the contact information that you would like the student to use when submitting an inquiry about internship opportunities. Often, this might be someone in the HR department, or the person that will ultimately be the intern's supervisor.