September 9 & 10
We're excited to have you back on campus this fall! Here is the outline of events for Homecoming 2022!
Registration is now closed.
But you will be able to check-in under the Alumni and Friends tent. 
Friday, September 9
4:00pm  |  Alumni Hall of Fame Ceremony & Reception in the Gracie Theatre
Each year the Husson University Alumni Association highlights alumni that are exemplary models of a Husson education. Inductees are recognized for their work in their careers and communities. If you would like to nominate someone for next year's ceremony, click here. 
Honoring:
Alumni: Roberta Winchell, J.D. '94 and Errol James '74
Young Alumnus: 

George Pusey, MBA, MS, OTR/L '13, '14G

Honorary Alumnus: 

Lambros Karris, Ed.D.

Presidential Outstanding Service Award: 

Tony and Dottie Tammaro Cerbone '72/'66
Saturday, September 10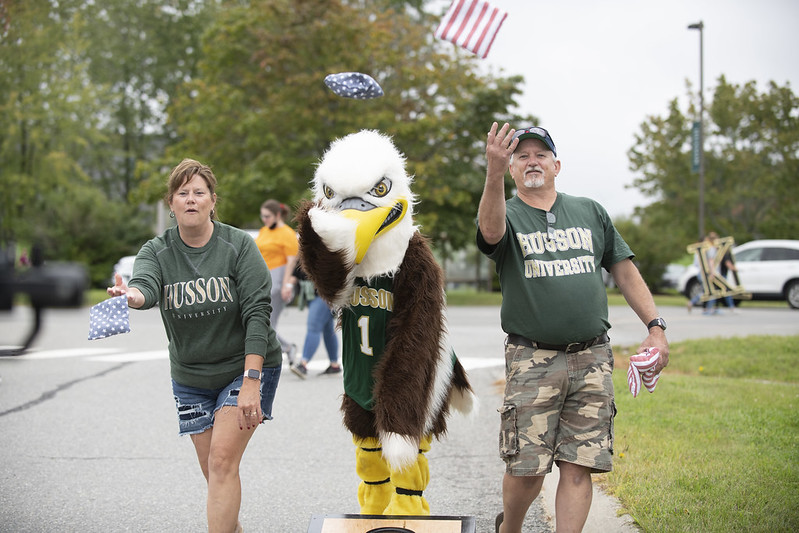 10:00am-1:00pm  |  Where's Baldwin?- Explore campus and find Baldwin for a chance to win a swag basket! Stop by the Alumni & Friends Tent to get your card for the activity.
10:00am-3:00pm  |  Tailgating in parking lots 5 & 6 (campus map here)


10:00am-3:30pm  |  Alumni & Friends Tent- Stop in to say hi and grab some Husson swag!
10:00am-12:30pm  |  Brunch in the Dickerman Dining Center Enjoy an all you can eat buffet for $9.25 plus tax! (located here)
12:00pm  |  Football- vs Plymouth State


1:00pm  |  Track & Field Silent Auction (at the football game)


1:00pm (estimated time)  |  Complimentary Doughboys- Under the Alumni & Friends Tent during halftime of the football game. 
(Please note that Men's and Women's Soccer Teams have away games that day)


6:30pm-7:30pm  |  Alumni and Friends Pre-Show Reception- Join us for a social hour in the Darling Atrium of the Gracie Theatre before you enjoy the show. All alumni and friends are welcome. Cash bar, registrants will get one drink ticket. Please bring a valid ID. 
7:30pm  |  Comedian, Ray Harrington - Laugh the night away with Husson NESCom alumus Ray Harrington at the Gracie Theatre! Tickets are only $30.

Register for Homecoming events HERE.
A campus map can be found HERE
For the latest on Husson's policies regarding COVID-19, please click HERE.