Justin Thompson '22, '22G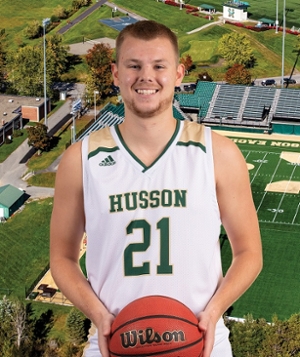 Name: Justin Thompson
Year of Grad: 2022
Major: BS in Sports Management and MBA
Hometown: East Millinocket, Maine
Athletics: Men's Basketball
Position: Forward
What made you choose to go to Husson?
Basketball has always been a big part of my life and after being recruited by Coach Caruso, how could I say no? Coincidentally, when I came down to check out the campus, the Men's Basketball team had just won a championship game. I remember being a senior in high school and saying, "I want to do that" [go to a Championship game]. My sister also attended Husson and graduated in 2019, so I knew Husson was my best option.
What's one of your proudest accomplishments during your time as a student?
Winning the championship game my sophomore year and then winning this year would be right there with it, too.
*Note that this student story was recorded on February 23, 2022, prior to the Men's Basketball team winning their ninth North Atlantic Conference on February 26, 2022.
Were there any challenges you overcame during your time at Husson?
In my junior year, I got hurt and it was also tough that we had the whole COVID season. Then while sitting with Coach, he informed me that I was coming off the bench which wasn't something I was used to. Coach challenged me to be a leader for the younger guys on the team. So, I would say my junior year was the most challenging time for me.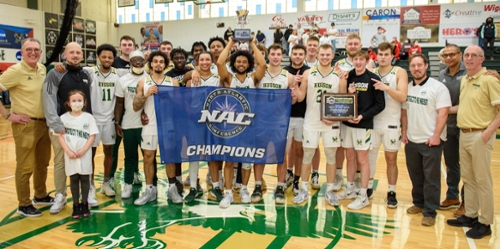 Do you feel like Husson has well prepared you for your future career?
Absolutely, especially in the last couple of years as I have seen real-world applications within my 4th and 5th-year classes. During my time as a student, I got to intern at UBE Physical Therapy and Performance in Ellsworth, Maine, for two summers and this spring, I was an intern with the sports information desk here at Husson. At the gym, I learned a lot about the gym side of the business while also learning about the administration side.
The basketball program has also helped prepare me from a mental standpoint as you're taught to be on time and held accountable for the job you have to do. Overall, the program has done a great job in preparing not only me but all the guys for life after basketball.
What do you aspire to do after you graduate from Husson?
I want to pursue a career in coaching. My family has been involved with coaching in the past, and I've talked to Coach about it. I know I have to start at the middle or high school level and work my way up, but I ultimately want to coach at the collegiate level.
What advice would you give to someone getting ready to start college?
Enjoy and embrace everything that this campus has to offer. Take advantage of all the resources on campus. Utilize the tutoring center, writing center and everything else from an academic standpoint. Also, participate in the other activities from a social or athletics standpoint. Check your email and you will see the announcements from all the areas of campus hosting workshops, events, etc.