Christine Hamza '22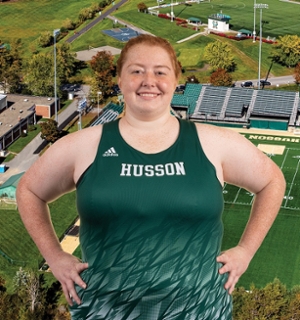 Name: Christine Hamza
Year of Grad: 2023 (Master's)
Major: Criminal Justice
Concentration: Psychology
Hometown: Wayne, New Jersey
Athletics: Women's Track and Field
- Shot put
- Discus
- Hammer throw
- Weight throw (indoor)
What encouraged you to attend Husson?
I started looking into Husson after receiving an email from them. Since I still had not declared a major, it was great to see Husson had both the degree programs and athletic programs I was interested in. When I visited Husson for the first time, I loved how everything was so close together. What really sealed the deal was that Husson, compared to a lot of other colleges, offered me the most in financial aid.
What athletic team(s) were you involved in during your time at Husson?
I'm on the Women's Indoor and Outdoor Track and Field teams. I'm a thrower and participate in the shot put, discus and hammer and weight throws.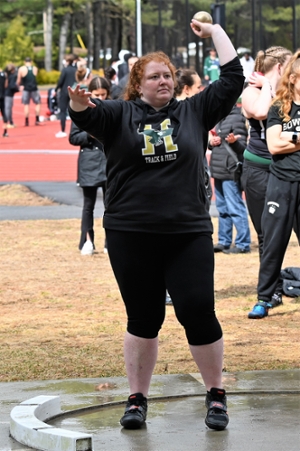 Were there any challenges you overcame during your time at Husson?
During my sophomore year, I injured my ankle and knee while jumping at a trampoline park. After getting an MRI done, I found out that I tore my ACL and meniscus, among other damage to my knee. This was the second time I'd torn my ACL, and this time we found out my body was rejecting the graft from my first ACL surgery. I later had to undergo a second surgery to repair the ACL and cartilage. After I went home for the summer, I fractured and dislocated my kneecap on my left leg, so that was a fun three surgeries within the span of one year.
I was excited for the start of my Junior year as I was slowly getting back to the routine of throwing. Then in October, I lost motion in my right arm and started slurring my speech. The hospital found a lesion on my brain's left side and I was hospitalized for a week. They later discovered that I had Multiple Sclerosis (MS) during my hospitalization.
How do you feel Husson helped to support you and your journey?
My professors have been incredibly supportive. I received a ton of help to keep up with my work so I didn't have to take a year or semester off. It was also very helpful that we were remote due to COVID, so most of my classes were online and they transferred the rest of my classes online. This was very helpful in November as my right side got worse and I had to go home to New Jersey. I'm grateful for my professors who transferred my courses online and ensured all my coursework was available.
Through it all, my coaches were extremely supportive as well. I asked if I could sub-participate, and they made me an assistant coach to help out the throwers. This position taught me how throwing workouts help your body to throw better along with the different intensity levels. This new experience allowed me to step up and become a leader to my peers.
Are there any accomplishments you are most proud of throughout your time at Husson?
I've maintained a 3.9 GPA through it all, so I am very proud of that! During my senior year, I was able to return to throw. Between my physical therapy and practices, I'm able to throw again by switching to my left side for support as there are some residual effects on the right side of my body. I'm just putting in the effort and training myself to throw with my left side. At the beginning of this year, I got close to my freshman year's lowest throw records. As a plan to return for my 5th year to earn my Master's, I plan to reach my personal record and, hopefully, beyond!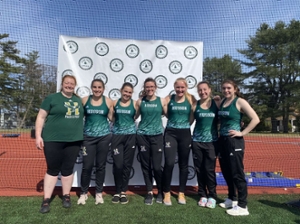 What advice would you give a student preparing for college?
Keep pushing forward and things will get better in the future. Accept help from others along the way as they're more willing to give it if you ask for help.