Drew Hallett '23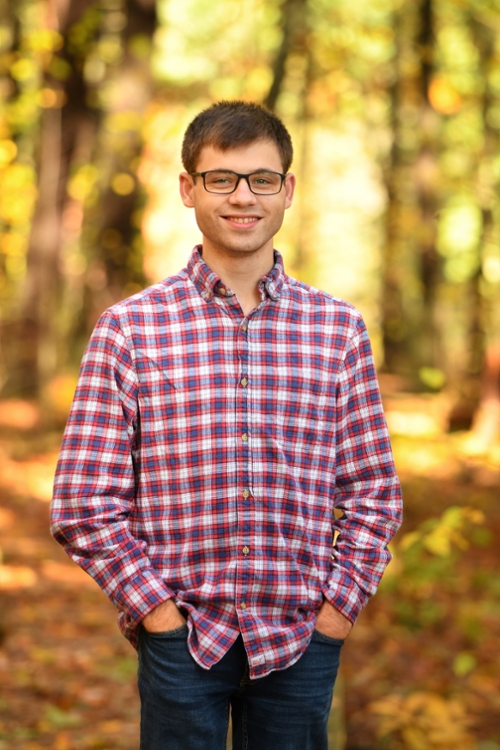 Name: Drew Hallett
Year of Grad: 2023
Major: BS Communications Technology - Video Production
Certificate: Digital Social Media Marketing
Hometown: Dover, New Hampshire
Organizations/Extracurricular Activities/Campus Involvement:
- Ambassador/Student Mentor at Boys and Girls Club of Bangor
- Virtual Student Mentor for Broadcast Program at Somersworth High School, Somersworth, NH
- Production Team for The Nite Show with Danny Cashman
- Athletics/University Photographer for Husson University events
What made you choose to go to NESCom at Husson?
Husson was the only school I applied to, I knew from the beginning that I wanted to go to NESCom. When I came to NESCom for a tour, I met John Easton (Instructor and Video Production Program Coordinator) who happened to be walking down the hallway. He took time out of his day to show me around the building and inside the production truck. It was the time he took to meet with me, it added that personal touch. I was sold on the school. At that point, there was no other school I wanted to look at, I knew Husson was right for me.
What's one of your proudest accomplishments during your time as a student?
Definitely my University Faces project. University Faces is a magazine I created and published, featuring nine Husson faculty/staff members. I interviewed each person to hear their stories, how they ended up at Husson and what Husson has done for them. I also took photographs of each person I interviewed for the magazine. I took a journalistic approach, and I'm not a journalist so this was a very interesting project to do. This wasn't done for a class or anything I was being graded on, I did this because I wanted to capture the lives of different University figures here. This allowed me to experiment with different photography techniques and equipment that I've learned how to use during my time as a student here. I received really positive responses from the faculty and staff who I featured in the magazine and others who saw the finished product. It was really fun to create a platform to share these people's stories and use photos I took to accomplish this.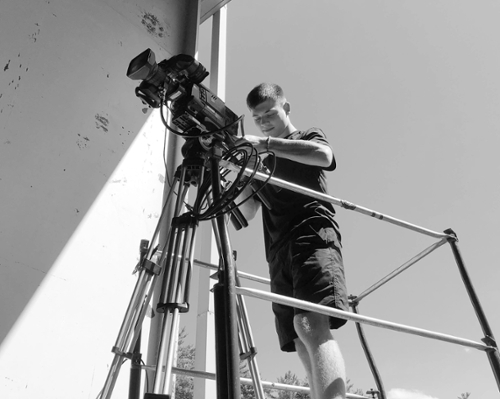 Do you feel like Husson has well-prepared you for your future career?
Husson has given me the opportunity to push myself and create new projects and pieces for my portfolio, as well as allowed me to connect with faculty/staff members who I may not have talked to had I not done the Faces project. I've been able to use my skills to create things and not worry about how or if others will be accepting of it. It's great to show others my work and receive such enthusiasm about it in return. I've been doing photography since the sixth grade when I got my first point-and-shoot camera. I've come a long way since then and it was really great to have learned about photography before coming to college. I definitely think it put me ahead of some of my classmates to have that knowledge of camera functions already. NESCom certainly helped me expand my knowledge with lighting and things like that.
With that being said, I'm definitely not the only student here with these kinds of ideas and who does great work and goes out of their way to create cool projects. There are so many students here who are so energetic about what they do and there's such a diverse range of talent. Some students can do some insane things that I would never be able to do, like with creating amazing films, for example. Everyone's got their own talents and everyone at NESCom is working on some incredible things. 
What advice would you give to someone getting ready to start college?
I feel like I've finally figured out a good balance. I went into college with a very academic-driven mindset. I knew college would be difficult and it of course has had its challenges but I was initially only focused on academics. I've met a lot of people through athletics as an athletics photographer on campus and also through various student activities I've participated in, like the comedy shows, playing bingo and the casino night. My advice is to keep up with the social aspect of college but don't neglect your classes either. Take advantage of the different events happening on campus and all Husson has to offer. Also, learn how to manage your time and your sleep schedule!
Reach out to the Alumni Office and share your Husson story!