Alumni Events
Upcoming Events
Introducing
Coaches Corner
, an opportunity to have a conversation with coaches on the season, the players and the strategies. Get a behind-the-scenes look into your favorite teams!
REGISTER
Tuesday, November 9 at 7:00p - Post-season fall sports
Tuesday, November 23 at 7:00p - Men's and Women's Basketball with Coaches Warren Caruso and Kissy Walker
Tuesday, December 7 at 7:00p - Indoor/Outdoor Track with Coach Kate Goupee
Tuesday, December 21 at 7:00p - Men's and Women's Basketball with Coaches Warren Caruso and Kissy Walker
Late Night Catechism & Reception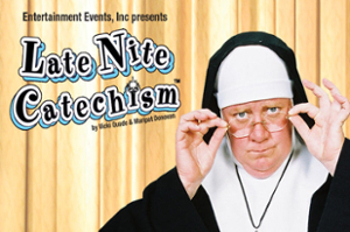 The popular show, Late Night Catechism, returns to the Gracie on Friday, October 29th and we want you to join us for a light reception beforehand. Come enjoy some light refreshments before the show at 6:00 pm in the Black Box Theatre to meet and mingle with fellow alumni and friends. Don't miss out on this opportunity and register today!
Women in Leadership, Saundra Pelletier, CEO of Evofem, to speak
On Thursday, November 11 at noon, the Husson University School of Pharmacy is proud to present Saundra Pelletier, CEO of Evofem Biosciences, Inc, (NASDAQ: EVFM). Pelletier will be sharing her compelling story of how she became the CEO of a major company from her humble beginnings in Caribou, Maine. Her journey includes graduating from Husson, working for Stephen King's radio empire, the founding CEO of Woman Care Global (WCG) and then culminating in breaking the glass ceiling and becoming the CEO of Evofem in 2015.

Honoring our Veterans
The Office of Veterans Services and Office of Advancement would like to invite Husson Veterans to lunch at the Dickerman Dining Center on
Thursday, November 11th between 11:00am and 2:00pm. 
The cost of the meal is $8.25 per person. This is an opportunity for you to gather with fellow Veterans and allow us to say thank you for your service. 
Register for the Veterans Day Lunch here.
Distinguished Business Speaker Series
This series, launched in conjunction with the opening of Husson's new Harold Alfond Hall, home of the College of Business, includes dynamic speakers from a variety of disciplines.
Learn more and register, today.
Upcoming speakers:
Steve Smith, CEO, L.L.Bean - Thursday, November 18, 12:30 - 1:30 pm
Financial Literacy for Generation Z
Featuring the following panelists:
Mr. Jackson Cust, Financial Advisor at Means Wealth Management 
Ms. Nicole Morgan, Senior Relationship Manager for Main Street Banking at Bangor Savings Bank
Dr. Jia Liu, Assistant Professor of Finance at Husson University
Being in college can be a fun time and as students start preparing for life-after-college and getting a "real job," the fun time can evolve into a stressful time.  Real-life usually requires learning how to budget income and expenses or understanding that earning money through cash apps still has to be reported to the IRS, or coming to grips with the fact that tipping at a restaurant should not be based on how much spare change was in the seat cushion. These are basic financial events that almost all young adults experience at some point but rarely hear about in a formal classroom. These topics and others can create stress and apprehension for students and recent alums, so this financial literacy event is to give students and recent alums a chance to get comfortable with basic financial literacy and ease their transition into the real world.
This is an informal, conversation with panelists who are both from the Husson community and financial professionals, including two alums and two professors, and we look forward to seeing you on Tuesday, November 30, from 11:00 am to 12:00 pm at the Richard E. Dyke Center for Family Business on Husson' s campus (next to Harold Alfond Hall). Join in on the conversation and register today.
Past Online Events
Did you miss an opportunity to connect with us online? Head over to our Alumni & Friends YouTube page to view recordings of some of the online events over the past year:  Click here for our YouTube page


Additional Information
Alumni-Owned Business Map
We've started putting together an alumni-owned business map and have over 100 listed so far! Check it out HERE 

Are you an alumnus or alumna who owns your own business? We'd love to add you to the map! Please click HERE to enter your info.

Social Media
Follow us @HussonAlumni on Facebook and Instagram

Update Contact Information
One of the primary ways we communicate with our alumni is through email. Please click HERE to ensure that we have your most current information. Thank you!

COVID-19 Update
For up-to-date information on Husson and COVID-19: please click HERE