Begin Your College Career Early
Get a head start on your college degree while saving time and money. Through Husson's Early College Access Program (ECAP), high school juniors and seniors can enroll in college courses to earn credits that can count toward a degree program. ECAP is offered to domestic students in the following states: ME, NH, VT, NY, MA, CT, RI, MD and NJ
Save money. Courses are tuition-free for ECAP students.
Save time. By applying your credits to your program of choice when you attend college, you can potentially graduate earlier.
Apply for ECAP Program
Request Additional Information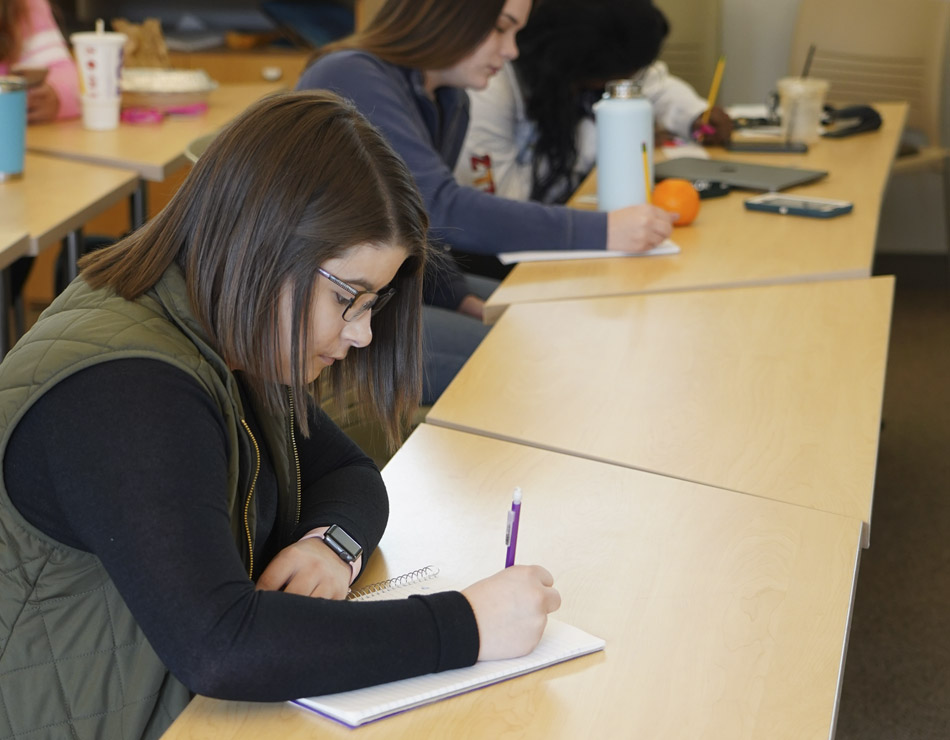 Program Application Requirements
ECAP is open to current high school juniors, seniors, or equivalent.

Student must have a cumulative GPA of at least 80 or equivalent.
Requires a High School principal or school counselor approval.
Students seeking to enroll in a 7-week accelerated course must have a minimum GPA of 90 or equivalent and have a high school counselor's recommendation.
What Am I Responsible For?
Once you've been accepted into ECAP, you may enroll in up to 2 courses per semester for a maximum total of 21 credits over 2 years. Enrollment in courses is dependent on space availability. Some courses may have prerequisites that you'll be required to meet.
Purchasing the textbook(s) used in each course.
Complying with Husson University academic and student life policies.
Transportation to and from class.
The university reserves the right to cancel any course due to low enrollment. At the completion of each course, Husson University will create an official transcript noting the completed enrollment.
Request a transcript
Frequently Asked Questions
Yes, you can. You can take up to 2 courses per semester as long as you meet the prerequisites and space is available.
Our ECAP program is tuition free. You will be responsible for the cost of books and material fees associated with your course.
Courses, by current semesters, are found here: Course Offerings. Be sure to select "ECAP" in the Term Structure dropdown. To locate prerequisite information, click on the name of the course.
No, high school student's IEPs and 504 Plans are not automatically implemented for ECAP students in their college courses. IEPs and 504 Plans are agreements within the student's school district.  To request disability-related accommodations at Husson, the student must disclose their need for accommodations to Husson's Accessibility Services. Reasonable accommodations are offered for students with documented disabilities who require adjustments and services based on their individual needs.  For step-by-step instructions on how to request accommodations, please visit this link. 
Please contact Elizabeth Atkinson, Director of Accessibility Services at 207.973.1017 or by email at atkinsone@husson.edu .
Call our Help Desk at 207.973.1000. Hours during the semester are Monday thru Friday, 7:30 AM – 5 PM. Please note that hours vary over winter and summer breaks.
Reach out to your ECAP advisor Karen Curtis at 207.941.7725 or by email at curtiska@husson.edu. She will help you to determine a course of action, which may include tutoring and support services from our Center for Student Success Center. It's important to remember that the courses you take as an ECAP student will go on your permanent Husson University transcript, so take action as soon as possible – we want you to be successful!  
For more information
Name

Phone and Email
Address
Karen Curtis
Early College Access (ECAP) Coordinator

207.941.7725
curtiska@husson.edu
214B Peabody Hall
Husson University
1 College Circle
Bangor, Maine 04401