John Champoli
Vice President for Enrollment Management
champolij@husson.edu
Joining Husson in August 2015, John has a wealth of experience from several universities and colleges in New York, Pennsylvania and Vermont. He is helping Husson expand our recruitment territory into Southern New England and beyond. John also champions the use of new technology and tools to recruit students. Interesting fact about John: He is a talented artist who earned his MFA in painting. On weekends, he's usually trying to keep up with his three- and one-year-old daughters.
Louise Grant
Associate Director of Recruitment
grantl@husson.edu
Louise joined Husson officially in 2014 when the New England School of Communications (NESCom) was integrated into Husson University. Prior to the merger, she oversaw the recruitment efforts for NESCom. Fun fact about Louise: She is the only staff member with an aquarium in her office. She works tirelessly to keep the fish healthy while she spends dozens of weeks on the road recruiting.


Melissa Rosenberg
Director of Graduate Admissions
rosenbergm@husson.edu
Melissa is based in southwestern Vermont and coordinates regional recruitment for undergraduate programs. She also works nationally on graduate program recruitment efforts. Melissa has a passion for the outdoors and enjoys hiking, gardening and reading.  She's not afraid to get her hands dirty.  Melissa was a 4-H parent volunteer for eight years and began her career as a 4-H youth development program coordinator. She has a Bachelor of Science degree in rural economics and is currently pursuing an MBA at Husson University with a concentration in organizational management.
Adam Smith
Director of Undergraduate Admissions
smithad@husson.edu
Adam is a native of Bangor, and earned his Bachelor of Science in communications at Husson University's New England School of Communications. He works with transfer students, adult learners, and military veterans. He oversees the University's Welcome Center and works closely with department leaders on a variety of strategic initiatives. When not at work, he enjoys traveling around the U.S. and cheering on the Boston Red Sox.


Stephanie Cadwell
Assistant Director of Admissions
cadwells@husson.edu
Stephanie joined Husson in September 2017 and brings a vast amount of recruiting experience in higher education to the University.  This includes two years as a graduate admissions representative for a University in Tennessee. At Husson, Stephanie is responsible for recruiting students from Massachusetts.  She enjoys creating positive relationships with prospective students and their families, by making the admissions process a little easier. Fun fact about Stephanie: She was the head track and field coach at a University for eight years.
Meaghan Carlow
Assistant Director of Admissions
carlowme@husson.edu
In 2016, Meaghan graduated from Husson University with a Bachelor of Science in criminal justice and a Master of Science in criminal justice administration.  After working as an associate clerk with the Maine Judicial Branch in Lincoln, Maine, Meaghan decided to return to university life. Today, Meaghan's putting her creative and analytical abilities to work in our Office of Admissions as part of Husson University's recruitment efforts. Fun fact about Meaghan: She is a Maine notary public and is empowered to serve as an official witness when important documents need to get signed.    
Dylan Duncklee
Associate Director of Transfer Admissions
dunckleed@husson.edu
Dylan joined the admissions team in January of 2018, and works exclusively with transfer students from all over New England. Dylan earned his BS from Husson University in 2010, and went on to earn his MS in Sport Management from Southern New Hampshire University. Dylan has spent time at various institutions in Maine and Virginia working in athletics, recreation and as a Sport Management faculty member before returning to his roots at Husson. A native of Central Maine, Dylan spends his free time with his wife and two sons, and enjoys rooting for his favorite New England sports teams.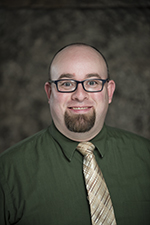 Chris Shorette
Assistant Director of Admissions
shorettech@husson.edu
Chris graduated from the New England School of Communications (NESCom) with a bachelor's degree in communications and sports journalism. After working in sports broadcasting, he returned to the university to work in the Office of Admissions.  Chris is responsible for recruiting students in Connecticut and Rhode Island. He currently lives in Old Town with his wife and two children, the same town where he graduated from high school. In addition to following the Boston Red Sox, Chris is a huge fan of New Zealand's national rugby team.
Sandra Glynn
Coordinator of Regional Undergraduate Admissions
glynns@husson.edu
Sandra has been part of the Admissions team since 1994 and has personally witnessed the incredible growth of Husson University over the past 23 years.  Sandra has a recruiting territory of Southern Maine, New Hampshire and parts of Vermont.  When not on the road, she can be found at our Southern Maine campus in Westbrook.  Over the years, she has cultivated and maintained long standing relationships with the counseling staff at many of her high schools.
Ryan Scovil
Assistant Director of Recruitment
scovilr@husson.edu
Ryan joined Husson in October of 2017 and enthusiastically visits students, families and high school guidance counselors in New York and New Jersey. A graduate from the University of Montana, Ryan enjoys hiking, camping and yoga in his free time.