HUSSON Alive!
Thank you for your interest in Husson Alive, however, at this time we are delaying our "traditional" Husson Alive to a later date. Please check back for future updates. Additional updates will be emailed to schools in the near future.  For any questions regarding this event, please feel free to contact Marcia Perry Mitchell at mitchellma@husson.edu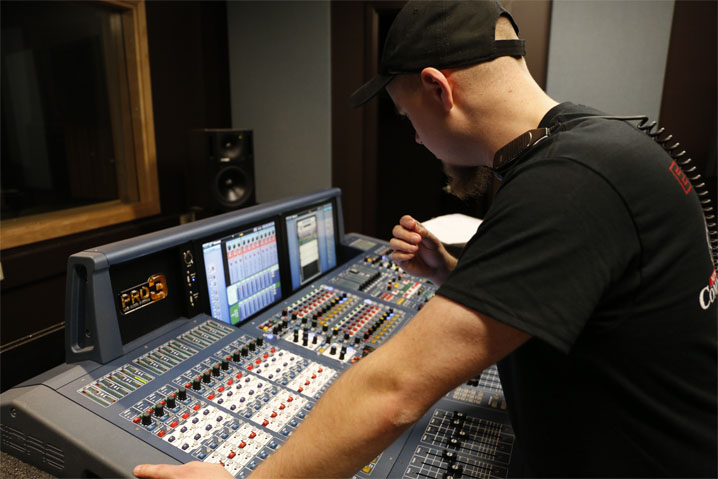 You and your students are invited to HUSSON Alive!, a free day-long event hosted by the New England School of Communications and the College of Business at Husson University.
At HUSSON Alive!, your students will participate in their choice of hands-on educational workshops. They'll also enjoy lunch in our dining center and attend an entertaining closing event at the Gracie Theatre, right on campus.
No matter which workshops they choose, your students will receive hands-on experience in cutting edge technology for today's professionals.
Workshops
New England School of Communications
Audio Engineering
Audio/Video Engineering
Augmented/Virtual Reality
Entertainment Production
Graphic/Visual Design
Journalism
Live Sound Production
Marketing Communications
Music Production
Post Production
Sports Journalism
Theater Production
Video/Film Production
College of Business
Business Administration
Criminal Justice
Hospitality and Tourism
Legal Studies
Integrated Technology

Software Development
Web Design

Sport Management
Agenda
8:00 am – 8:45 am Registration in the Atrium
8:45 am – 9:05 am Orientation at Gracie Theatre
9:15 am – 11:15 am Breakout Session #1
11:15 am – 12:15 pm Lunch DDC *CTE Instructor Breakout Session 11:45 - 12:15
12:15 pm – 2:15 pm Breakout Session #2
2:15 pm – 2:45 DJ Mark in the Atrium (*Cont'd CTE Instructor Breakout Session 2:15 - 2:45
2:45 pm – 3:45  Nite Show Taping
3:45 pm – 4:00   Prizes / Final Wrap Up – Dismissals at Gracie Theatre
For more information
For more information

Phone and Email
Address
Marcia Perry Mitchell
Administrative Assistant, New England School of Communications

207.973.1025
mitchellma@husson.edu
2nd Floor, Wildey Communications Center
Husson University
1 College Circle
Bangor, Maine 04401