Commander's Welcome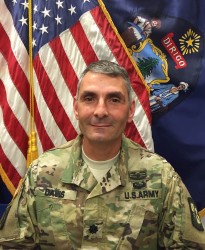 Thanks for visiting the Black Bear Battalion's website and your interest in Army ROTC.  For over 140 years we have conducted military training on campus, and now you have the opportunity to join this proud tradition.
Army ROTC develops undergraduate and graduate students' organizational and management skills necessary to be the future leaders of America.  We use practical application and hands-on learning to develop core competencies such as mental agility, communications, resiliency, and mentoring others.  Our focus is on leadership skills that get results using a professional ethos framework emphasizing mission accomplishment, innovation, and teamwork.
Students gain an understanding of the importance for a leader to have the ability to develop goals and communicate a vision, creating a cohesive organization committed to lifelong learning and bonded together by trust and teamwork.  Students take Army ROTC in conjunction with one of the 88 Undergraduate or one of the 64 Graduate Degree programs offered on campus.  When you earn your degree and successfully complete our program you commission as a Second Lieutenant in the United States Army.
As the only host program in the state, UMaine's  Army ROTC Program is truly Maine's.  We enjoy partnerships with other institutions in the state including Husson University and Colby College, and we commission officers for the Maine Army National Guard, U.S. Army Reserve, and the active force.
Located in Orono, eight miles north of Bangor, the University of Maine campus encompasses 660 acres and is bound by the Penobscot and Stillwater Rivers.  The campus offers an extensive trail network for running, biking, and skiing.  We are able to take advantage of the DeMeritt Forest for physical training, tactical training, and land navigation by literally stepping out our back door.
Additionally, the university takes great pride in this program and the partnership we share.  Our ROTC Program supports numerous events on and off campus and the university's support is second to none. As the flagship for the University of Maine system you will find a setting that is conducive to learning and achieving your goals.  Our campus houses the state's largest library and is home to the William S. Cohen Center for International Policy and Commerce.
I hope you choose to make the University of Maine and the Black Bear Battalion part of your future as many before you have.  Those that graduated the program have been truly blessed with opportunities provided by the university and the U.S. Army.  The rest of the cadre, staff, and I hope to share our knowledge and experience with you.
LTC Michael R. Davis
Name
Phone and Email
Address
Army ROTC


(207) 581-1121
umainerotc@umit.maine.edu
209 Peabody Hall
Husson University
1 College Circle, Bangor, ME