2021 Distinguished Business Speaker Series
To navigate the waters of our data- and algorithm-driven economy, businesses must continually acquire new information and turn that knowledge into strategy. To facilitate this process, Husson University, home of the largest business school in Maine, is pleased to present the Distinguished Business Speaker Series.
This series, launched in conjunction with the opening of Husson's new College of Business building, will include dynamic speakers from a variety of disciplines ranging from banking, government and security, to management, marketing and more. Its main objective is to educate students, alumni and community members on the challenges facing businesses and related professions, as well as to inspire those who will become our future leaders. 
Eric Rosengren, President, Federal Reserve Bank of Boston
Wednesday, October 13, 2021 | 2 – 3 pm
Gracie Theatre
Eric Rosengren is president and CEO of the Federal Reserve Bank of Boston, one of 12 regional Federal Reserve banks. Eric is a participant in the Federal Open Market Committee, the monetary policymaking body of the United States. As CEO, Eric leads the Boston Fed's work, which includes economic research and analysis, banking supervision and financial stability efforts, community economic development activities, and a wide range of payments, technology, and finance initiatives.
Eric was appointed president in 2007 and has taken a rigorously data-driven approach in forming his views on the national and regional economy. His research and policy positions pay close attention to both aspects of the Fed's dual mandate – labor market outcomes as well as price stability. Eric's work as a researcher and now as a policymaker has often focused on financial stability issues and their impact on the real Main Street economy. He has led a number of efforts to expand the Boston Fed's outreach and impact on low- and moderate-income communities – among them hosting sizable foreclosure-prevention workshops for New England residents during the Great Recession, and running a competition for postindustrial New England communities to develop cross-sector collaboration and ultimately help improve the lives of lower-income residents.
Eric holds a bachelor's degree in Economics from Colby College, where he is the current chair of the board of trustees, and earned a master's and doctorate in Economics from the University of Wisconsin, Madison.
Steve Smith, CEO, L.L. Bean
Thursday, November 18, 2021 | 12:30 – 1:30 pm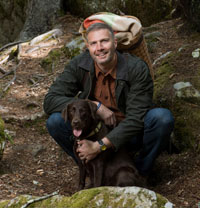 Richard E. Dyke Center for Family Business
On January 4, 2016, Stephen Smith became the fourth president and CEO of L.L.Bean.
Steve began his career in 1992 at J. Walter Thompson in New York City. He moved to Maine in 1997 and rose to become the Vice President of Sales and Marketing for Resort Sports Network. In 2002, he began his retail career at Hannaford Supermarket and this launched nine years at the Delhaize Group where he gained experience in merchandising, commercial planning, marketing and customer relationship management in the US and Belgium.
In 2011, Steve joined Walmart International as SVP and General Manager of Sam's Club and Chief Marketing Officer for Walmart China in Shenzhen, China. There he gained general management responsibility, integrating e-commerce into the core business and improving annual sales growth. A year later, Steve became Chief Customer Officer of ASDA (part of Walmart International), a $30+ billion food, fashion and general merchandise omnichannel business in the United Kingdom. In 2015, Steve became Chief Merchandising and Marketing Officer for Yihaodian (part of Walmart Global Ecommerce), a pure e-commerce business located in Shanghai.
Steve is a graduate of Dickinson College in Carlisle, Pennsylvania, where he studied Art History and Physics. He grew up in Westchester County, New York and Amherst, Massachusetts. He spends summers on Canada Lake in the Adirondacks at a lake house that has been in his family for generations.
Steve is very active in outdoor sports and enjoys a wide variety of activities. He and his family are excited to be in Maine where they have deep ties and where they can embrace their love of the outdoors and commitment to community.
Past Speakers
Senator Susan Collins, '97H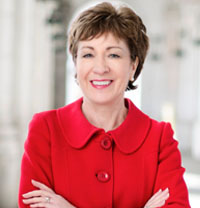 Susan Collins, '97H, Maine's senior United States Senator, was first elected to the Senate in 1996. She ranks eleventh in Senate seniority and is the most senior Republican woman. She serves as a senior member of the Appropriations Committee and as the Ranking Member of the Transportation and Housing Appropriations Subcommittee. She is also a member of the Aging Committee; the Intelligence Committee; and the Health, Education, Labor, and Pensions Committee.
Senator Collins has earned a national reputation for working across party lines. For the last eight consecutive years, she has ranked as the most bipartisan member of the U.S. Senate. Known for her Maine work ethic, Senator Collins has cast more than 7,800 consecutive votes and holds the longest perfect voting record in the history of the U.S. Senate. Throughout her Senate service, Senator Collins has been a champion of small businesses. When the COVID-19 pandemic began, Senator Collins authored the Paycheck Protection Program, which provided a lifeline to tens of thousands of Maine small employers and supported the jobs of hundreds of thousands of Mainers. 
A native of Caribou, Maine, Senator Collins graduated Phi Beta Kappa from St. Lawrence University and joined the staff of then-Congressman and later Senator William Cohen. She was appointed director of the Small Business Administration's regional office in Boston by President George H.W. Bush, and she was the founding executive director of the Richard E. Dyke Center for Family Business at Husson University in Bangor, Maine.
Senator Collins received Husson University's honorary doctorate of public service in 1997.