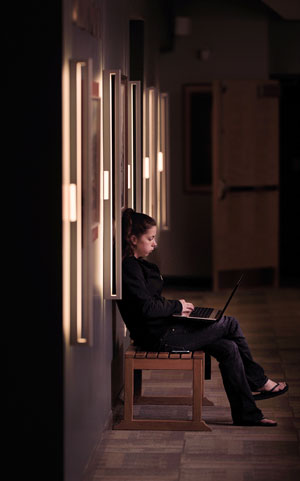 The Information Resources Office (IRO) at Husson serves the Husson Community by providing computing, networking and communications innovation, development, promotion, training and management in order to advance the mission of the institution.
Technology Overview
We're wired with four 1Ghz Pentium IV computer labs providing 24-hour access, six high speed T1 connections to the Internet, two data ports per residence hall room, Microsoft Windows 2003 Network, free email accounts for all students, individual student web pages and hall computer kiosks for quick access for email on the way to class.
Our office is divided into the following functional units to best serve the Husson Community:
The Help Desk provides technical computing support to faculty and staff, and is the main point of contact for student and staff service requests. The Help Desk is located on the lower level of Bell hall and is open Monday through Friday 7:30am to 7:30pm during all regular semesters. Winter and summer hours vary. We also have a telephone extension (Internal X1000 or External 207.973.1000) which is monitored throughout each business day.
Network and Computer Services
Network and Computer Services is responsible for the installation, configuration, troubleshooting, maintenance and repair of all campus computer and network equipment, including desktop pc's, switches, hubs and other network hardware, as well as data lines and other physical elements of the Husson network.
Information Systems and Training Services
Information Systems and Training Services is managed by the Director of Data Processing. This unit is responsible for the storage, backup and maintenance of institution-wide data.
Telecommunications ensures optimal telephone service to the entire campus. Because of the blurred line delineating telecommunications and datacommunications, the telecommunications unit works closely with Network and Computer Services, in such areas as internet bandwidth provisioning and point-to-to and internet-based teleconferencing. The Telecommunication unit manages department requests for digital and analog phone lines; problems with individual handsets for additional assistance please submit a service request ticket.
What is ResNET?

ResNET is an acronym for Residential Networking, Education, and Technology.  This department aims to enable students to make effective and efficient use of information technologies in education.
Student Computing
Computer Lab, common space "kiosk" machines and residence hall network connections are maintained by this unit. For information specifically for residential students, go to Internet (Residential Networking).
Academic Computing
Academic Computing is responsible for Instructional Technology and Media Services. Instructional Technology at Husson is defined as all technology used inside or outside of the classroom which augments or otherwise supports effective teaching and learning. Media Services is responsible for making available technology equipment in support of Academic Computing's Instructional Technology function. While Media Services supplies faculty and students primarily with laptop and lcd projectors, Media Services can also assist parties in securing equipment supplied by other groups, such as the library.