Tell us a little about yourself. Where are you from? How did you hear about Husson?
I'm a student from a Hampden, Maine who has wanted to go to Husson for pharmacy for over five years now. I have multiple family members who went through Husson and both of them loved it and highly recommended it to me. Being this close to home, about fifteen minutes, was also a huge bonus for me choosing to come to Husson.
You earned credits during your time in high school. Explain how this came about and how that prepared you for your first year at Husson.
At Hampden Academy, they offered a program that allowed to me to go to Husson when I had a consistent study hall and take a full course at Husson every Monday, Wednesday, and Friday morning at 8:00. I had stumbled upon this amazing program because I needed one more English credit to graduate, but none of the courses that Hampden had fit my schedule that I had already made for myself and that I liked. I could have taken an online course, but they didn't really interest me because I had taken one the previous semester and I wasn't too fond of it. So my advisor offered up this program to go to Husson and I jumped on it. Being in a room of just college students (and one of my friend's who was also taking the program), was eye opening. It made me realize that college really isn't that different than high school and that I had nothing to fear. I went through the course, and throughout it I learned how to properly write essays like a college student.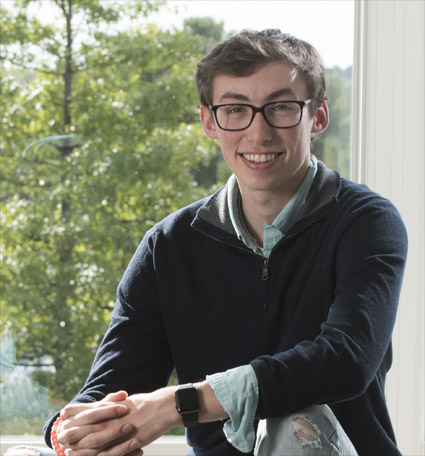 What do you love about Husson and the Pre-Pharm program?
My favorite part of the Husson Pre-Pharm program is the professors and the small classes.. My biggest fear, when choosing a school, was if the class would be on a name to name basis where the teacher knows what my name is. I've never been one to fear raising my hand and talking in class, so when I got into my science class rooms I realized that this is exactly what I was looking for. Small classes of about 20 to 30 people where I knew almost every name in the class is how I learn the best. And the other thing I love is how much the professor's care about us. They don't want us to fail, they want to get to know us and they want to help us pass with high grades so they offer countless study sessions and after class time with them personally. The care that the professors put into their class rooms is another major reason that I chose Husson.
The main reason I chose Husson was the small class sizes and how well the professors get to know you. My friends who go to other big schools tell me about lecture halls that have a couple hundred students in them, and that sounds horrible to me. I want to be able to know the professor and the students in the class, and I want them to know who I am.
What sets the faculty apart here at Husson?
The major thing that sets the faculty apart here at Husson is the amount of time that they put into their classes and how much they care and respect their students. I love being able to see my professors around campus and have them wave at me and say "Hi, Noah" because it shows me that they know who I am. I genuinely like all of my professors the same. They all treat me well, because I treat them well, and I don't mind going to classes every day because I love learning about new topics.
What is campus life like? Are you involved in any clubs or organizations?
Campus life is probably my favorite part of Husson now that I'm here. Before I came here, I didn't think I would like campus life and that I would spend most of my time stuck up in my room studying or playing video games. But I decided to go out of my comfort zone and I made a group of friends with people from various classes and with other people in Hart Hall, and I think that this year would have been horrible if I didn't have this group of friends. I think that I probably spend more time in their rooms spending time with them than in my own room, including the time that I'm sleeping. Having a close group of friends has allowed me to open up and I can be myself around them. The small class sizes that allowed me to meet these friends helped a bunch as well. I am also in the pharmacy club, where students in the pre-pharm program go to every month and we talk about future exams and how to prepare for them.
What might you say to someone who doesn't know anything about Husson?
If someone knows nothing about Husson, I would tell them that this is a school who cares for it's students and it's a school who hires professors who know how to teach students and how to treat students with respect. The small classes are a huge plus and the small campus size is also great when you are running late, it's raining, or when it's really cold out. I highly recommend this school for anyone who wants to have a valuable college experience but still wants to meet good friends and learn a lot.
For more information

Phone and Email
Address
Admissions


207.941.7100 OR 1.800.4HUSSON
admit@husson.edu
1st Floor O'Donnell Commons
Husson University
1 College Circle
Bangor, Maine 04401