Joydeep Chaudhuri, M.D., is the latest addition to the faculty of the occupational therapy program at Husson University. We asked him about his prior experience and what brought him here to Husson.
Tell us about your prior experience and education.
My education has been in India, where I completed my MD degree and worked as a clinician for a few years before returning to school to complete my MS in anatomy and cell biology. From that period on I have been totally involved in teaching and research in the health-care field, and have taught at medical schools in Malaysia, Finland, the Caribbean and Canada. This is my second stint at teaching in the United States, having previously worked at Midwestern University in Phoenix, Arizona.  My research had previously been neuroscience-based, involving stroke, Alzheimer's disease and Fetal Alcohol Syndrome. My current focus is mainly on interprofessional education (IPE) and student learning strategies.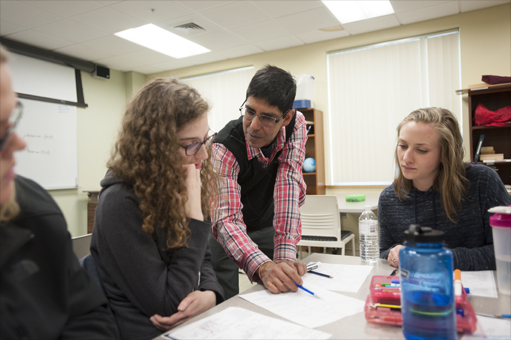 Although some may think of Bangor as being a stone's throw from Canada, we are very accessible to Acadia National Park, Portland, and many other Downeast Maine destinations. What brought you to Husson? Is there something about the area that drew your attention?
On the professional front, one of the major reasons for moving to Husson was its teaching style (smaller class sizes and greater interaction with students). This is in line with my current research interest on student learning strategies and their perspectives of other health care professions.
From a personal standpoint, New England has always been alluring to me since I am a very outdoorsy person. Moving to Bangor seemed a logical choice with its innumerable hiking trails and closeness to the sea.
How has your experience and education contributed to the Occupational Therapy program?
I am a clinician and a trained anatomist. Over the course of the last two decades I have taught a variety of students in numerous health care programs.  This has helped me identify key student challenges and recognize the different learning strategies adopted by students. Since the occupational therapy (OT) program at Husson has students of diverse backgrounds and abilities, I believe that my experience and enthusiasm will enrich the OT program and make it a rewarding and enriching experience for the students. 
What is your philosophy on teaching? What can students expect in your class?
"The teacher is one small part of a much larger whole!"

My teaching philosophy is based on the belief that the role of a teacher is to instruct students on how to learn by getting them to think of education as a constantly evolving process. Students can expect an interactive and intellectually stimulating classroom environment, where the material presented is effective, adaptive, and relevant. 
For more information on the Occupational Therapy program at Husson University, please see below.