AGNP vs. FNP: Similarities and Differences
Published on: June 14, 2023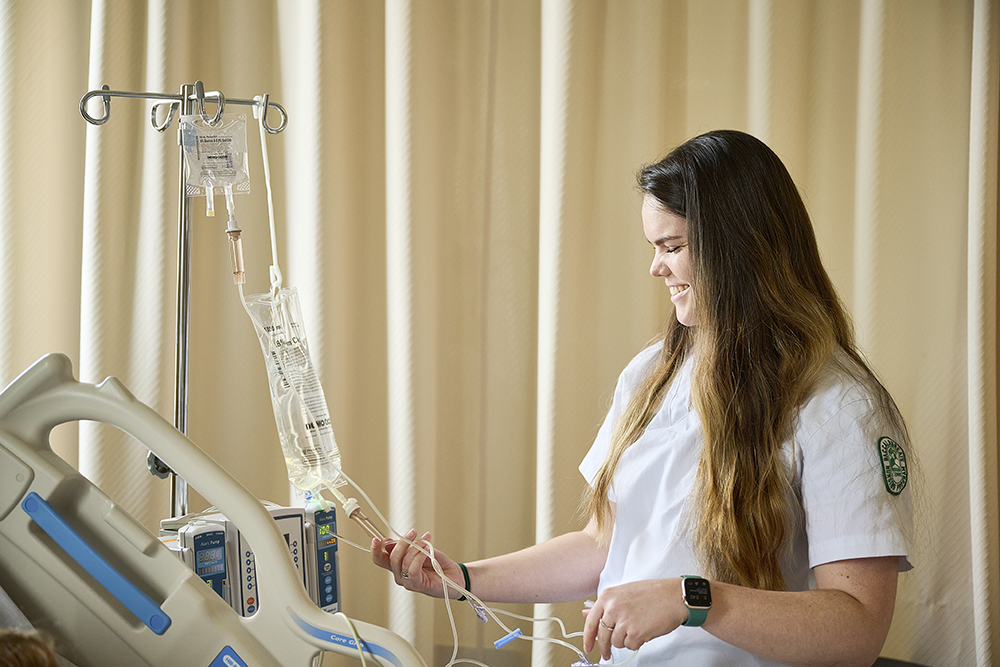 When it comes to choosing the best professional path forward as a nurse practitioner, there is one powerhouse battle to consider above all others: adult gerontology nurse practitioner vs. family nurse practitioner. Read on for more information about each of these areas of specialization and a brief comparison of their similarities and differences. 
Get Your Nursing Degree
What Is an FNP?  
Much like a family doctor, a family nurse practitioner (FNP) administers and manages primary care for patients of all ages. In addition to conducting examinations to diagnose and treat specific conditions, an FNP places a heavy emphasis on preventive medicine and maintaining general good health and wellness. When a patient's condition requires expert care, an FNP can refer them to a specialist in a relevant field.  
What Is an AGNP?  
In fact, an FNP may refer an elderly patient in poor health to an adult gerontology nurse practitioner (AGNP). AGNPs are nurse practitioners who have specialized in the treatment of both standard adult patients and older (or "geriatric") patients. This means that AGNPs have in-depth knowledge of conditions that are restricted to or particularly prevalent among elderly populations. 
Similarities Between FNPs and AGNPs 
FNPs and AGNPs are advanced practice registered nurses (APRNs) who provide a broad variety of services to the patients under their care. Both areas of specialization involve the examination, diagnosis and treatment of patients while partnering with them to promote disease prevention and healthy lifestyle choices. 
FNPs and AGNPs also share many of the same workplace environments. Common employers of both nurse practitioners include public medical facilities, community health centers, government institutions and private practices. Of course, there is a unique demand for AGNPs in senior nursing homes and assisted living facilities.  
Common Skills  
Like all nurse practitioners, FNPs and AGNPs are regularly tasked with physically assessing patients, performing or ordering relevant diagnostic tests, and developing appropriate therapeutic or pharmaceutical treatment plans. Unlike other nurses and medical technicians, FNPs, AGNPs, and nurse practitioners in general have the authority to prescribe medications.  
Overlapping Areas of Practice 
Because they both care for the adult population, an FNP and AGNP could easily share many of the same patients. They have a shared focus on health promotion and assessment, condition prevention and diagnosis and treatment planning and execution. Both FNPs and AGNPs are also generally tasked with maintaining patient records and performing any number of associated administrative tasks. 
Education Required 
The foundational academic prerequisites to begin specialization as an FNP or an AGNP are also the same. Both of these nurse practitioner career paths require either a Master of Science in Nursing (MSN) or Doctor of Nursing Practice (DNP) from an accredited college or university. Some MSN and DNP programs, like those offered at Husson University Online, are specifically designed to guide graduates toward a career as an FNP or AGNP.  
Differences Between FNPs and AGNPs 
After earning either an MSN or a DNP, an aspiring nurse practitioner can pursue certification in any number of specialized areas by completing the necessary postgraduate training and passing the necessary official examinations. FNPs can pursue certification through the American Nurses Credentialing Center (ANCC) or the American Academy of Nurse Practitioners (AANP). AGNPs must choose among several credentialing bodies depending on their desire to pursue primary or acute care. Primary care AGNPs can pursue certification through the American Nurses Credentialing Center (ANCC) or American Academy of Nurse Practitioners (AANP). Acute care AGNPs can pursue certification through the American Association of Critical-Care Nurses (AACN). 
Beyond the different paths of postgraduate training and accreditation that they require, there are many practical professional differences between practicing as an FNP and practicing an AGNP. Here are just a couple: 
The Age of Patients Served 
As previously mentioned, FNPs care for patients of all ages. This means that their roster of patients might include people who range from newborn infants to geriatric adults. However, an FNP may not have the same in-depth knowledge, skill and experience as an AGNP when it comes to treating elderly patients. 
An AGNP, by contrast, focuses exclusively on patients who are 13 years of age and older. While they do not work with younger adolescents or children, AGNPs have a specialized understanding of the many challenges of the aging processes and the various diseases and disorders that tend to impact people later in life. 
Where FNPs and AGNPs Work 
We have already discussed the many workplace environments that FNPs and AGNPs share. We also noted the demand for AGNPs in senior nursing homes and assisted living facilities. However, certain healthcare-related organizations tend to hire FNPs over AGNPs, and vice versa.  
Common practice setting for FNPs include general clinics, hospitals, health departments and all types of educational institutions. AGNPs, on the other hand, tend to practice for specialty clinics, outpatient/long-term care facilities, rehabilitation centers, home care organizations and colleges/universities. 
FNP vs. AGNP: Career Outlook  
No matter which of these specializations you choose, the career outlook is quite bright for nurse practitioners of all kinds. According to the U.S. Bureau of Labor Statistics, the projected growth rate for employment among nurse practitioners through 2031 is a staggering 40 percent. This is eight times as high as the growth rate for the average for all occupations in the United States. 
The independent authorities at U.S. News & World Report echo this extremely sunny employment projection and tout the many other benefits of a career as a nurse practitioner. In fact, the nurse practitioner profession ranked fifth on the publications list of the 100 Best Jobs in Health Care and seventh on its list of the 100 Best Jobs overall.  
And within the nurse practitioner profession itself, no two areas of specialization outperform the FNP and AGNP in terms of marketability and demand. As reported by Health Careers, more than 70 percent of all available nurse practitioner positions are for FNPs. In terms of more specialized areas of advanced nursing practice, AGNPs top the list, commanding nearly 9 percent of available nurse practitioner positions.  
How to Choose the Right FNP or AGNP Program  
Because each program offers its own unique set of pros and cons, the right FNP or AGNP program will forever be in the eye of the beholder. However, you should ensure that any FNP or AGNP program you choose is fully accredited through either the Commission on Collegiate Nursing Education (CCNE) or Accreditation Commission for Education in Nursing (ACEN). 
For Further Guidance  
At Husson University, we offer MSN programs with a variety of focuses. Click here to learn more about our a Family Nurse Practitioner MSN and here to learn more about our Online Adult Gerontology Acute Care Nurse Practitioner MSN.
Back to All Articles