Types of Business Degrees: Similarities and Differences
Published on: March 21, 2023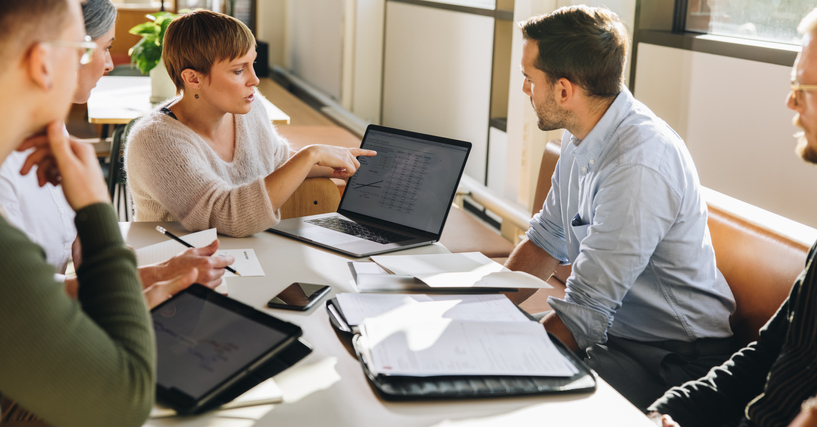 You may be surprised to discover just how many degrees you have to choose from if you're thinking about pursuing a degree in business. As it turns out, one business major or degree program can be vastly different from another. How do you decide which one is right for you and your career aspirations? 
Read on to learn about the various types of business degrees available, what they have in common and what sets them apart, so you can embark on your educational journey confident that you're earning a degree that will help you meet your goals.
What Is a Business Degree?
Degree-granting business programs teach business-related theories that cover the basic tenets of organizational management and administration and may also span fields such as finance, sales and marketing. After instilling these theories, a good business program will go on to show students how they can apply them to solve solutions and improve results in complex, real-world business scenarios. 
Different Types of Business Degrees
Before defining and discussing the most common business degrees offered by institutions of higher learning in the United States, we must first differentiate degrees at the undergraduate and graduate levels. 
Bachelor's Degrees 
While you can easily get an entry-level business job with a bachelor's degree in communications, finance or another industry-related field, most aspiring business professionals earn one of these two undergraduate degrees:
Bachelor of Business Administration (BBA)– Perhaps the most widespread degree in the world of business education, the Bachelor of Business Administration (BBA) is a common first step for aspiring senior executives and entrepreneurs. BBA students will acquire comprehensive administrative and communication skills and may develop specific expertise in areas that include sales, marketing, finance and general leadership. BBA programs at most colleges and universities communicate business knowledge and teach business skills as part of an overall liberal arts education.
Bachelor of Science in Business (BSB)– While the BBA takes a more general and holistic approach to business education, the Bachelor of Science in Business (BSB) is highly focused and encourages specialized study in a specific business field such as accounting, public relations, or market analytics. Many BSB programs emphasize STEM (science, technology, engineering, and mathematics) courses to help students improve their marketability by boosting their analytical skillset. If you are passionate about a clearly defined business career path and are prepared to complete the coursework, a BSB may be the right choice for you. 
Explore Our Undergraduate Business Degrees
Master's Degrees
While some graduate business programs require applicants to hold one or more relevant undergraduate degrees, others commonly accept students with a bachelor's degree in any subject. No matter which of the following master's level degrees you decide to pursue, you'll gain a considerable professional advantage upon graduation:
Master of Business Administration (MBA)– Aspiring business owners and CEOs will want to consider a Master of Business Administration (MBA) due to the sheer versatility and exceptional hiring power that this degree offers. An MBA can open countless doors in the business world, offering proof to employers, clients and funders that you understand business structures, operations, policies and procedures from the ground up. Coursework in a typical MBA program will cover a broad spectrum of subjects that range from entrepreneurship to business ethics. In addition to conferring general MBA degrees, the typical large business school will offer MBAs with concentrations in areas such as finance, marketing and entrepreneurship.
Master of Science in Management (MSM)– An MBA is a great option for anyone who wants a comprehensive but relatively general business education. However, if you already have substantial business experience and want to expand your leadership capabilities, you might want to consider a Master of Science in Management (MSM). While MBA programs focus on administration, MSM programs focus on the skills needed to lead. Areas of concentration in the typical MSM program include organizational change and managerial processes.
Master of Accounting (MAcc)– As its name indicates, the Master of Accounting (MAcc) degree is centered around hard accounting skills. More targeted than the MBA and more technical than the MSM, the MAcc is far less versatile than either. However, because accounting and business practices are inextricably interwoven with each other, the MAcc has massive appeal across a broad range of business sectors and industries. If a senior accounting executive position is your career destination, a MAcc may be just the ticket to get you there. 
Explore Our Graduate Business Degrees
Doctoral Degrees
A PhD in business demonstrates research expertise and prepares students to better create and test business theories and processes, while a DBA involves using those theories and processes to optimize business operations and solve complex business problems. Read on for more information on these two terminal business degrees:
Doctor of Philosophy (PhD) in Business– A PhD in Business is geared toward business academics who are pursuing careers as teachers, scholars and researchers. Business PhD candidates develop and present new theories while preparing for positions with institutions of higher learning. In many cases, government and corporate research organizations also employ business experts with PhDs.
Doctor of Business Administration (DBA)– In contrast to the PhD in Business, the Doctor of Business Administration (DBA) is geared toward practical business leaders who have already garnered considerable academic and work experience in their chosen fields. Online DBA programs have become extremely popular because most DBA candidates want to continue to run their own companies or hold senior corporate leadership positions while working toward their doctoral degrees. DBA research and training are geared toward addressing specific business problems with evidenced-based solutions.
Differences Between Business Degrees
Beyond the curriculum focus distinctions that we have already highlighted, different business degrees require varying amounts of professional preparation and career flexibility. They also come with a wide range of associated graduation requirements, time commitments and monetary costs. 
Whether general or specialized, these degrees are relatively challenging and time-consuming, with demands increasing progressively through the master's and doctoral levels. Like all bachelor's degrees, the BBA takes an average of four years to earn. After that, students can generally secure an MBA within two years and a DBA within five years. It costs roughly $15,000 to $30,000 to get a BBA, $30,000 to $120,000 to get an MBA and $27,000 to $60,000 to get a DBA. Of course, all the business programs discussed in this article also come with dramatically different admissions criteria and requirements. 
Similarities Among Business Degrees 
Certain business degrees, particularly those at different academic levels, have radically diverse qualities. Many others, however, serve essentially the same purpose. The BBA and BSB provide a great example of this fact. While the BSB can give candidates a leg up in certain specialized fields, these undergraduate degrees are considered equal in the eyes of many employers who are seeking to fill vacancies in entry-level business positions.
The academic programs that issue business degrees are also quite similar in terms of format and accessibility. For example, all types of business degree programs are widely available in both a traditional, in-person classroom environment and an online environment. If you attend a high-quality accredited college or university, you can generally count on receiving excellent training from skilled and knowledgeable faculty whether you attend in-person or online. 
What Business Degree Should I Get? 
The best business degree for you will depend on who you are, the situation in which you find yourself and the professional goals that you want to achieve. Husson University offers online business programs at both the undergraduate and graduate levels. 
For more information about Husson and its degree-granting business programs, contact an admissions representative today through our official website.
Back to All Articles