What You Can Do With a Financial Planning Degree
Published on: March 30, 2023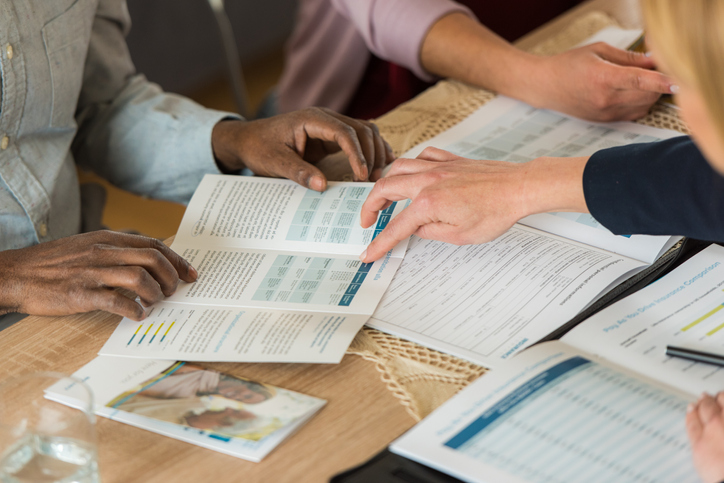 Have you always had a knack for saving money? If so, earning a degree in financial planning could be a strategic career move. Many jobs in financial planning are attainable with only a bachelor's degree, and if you've ever wondered what it would be like to work as a wealth manager or in personal finance, the online Bachelor of Science in Financial Planning at Husson University is a great place to begin.
Explore Our Financial Planning Degree
What Does a Financial Planner Do? 
Financial planners work with clients to help them determine how best to spend, invest or save money. They're specialists who understand the intricacies of tax law, investing, retirement planning, will preparation and more. Anyone from a factory worker to the CEO of a large corporation may require the services of a financial planner to help them make the best use of their money. There are many benefits for clients who retain the services of financial planning specialists. They include:
The ability to owe fewer state and federal taxes
The opportunity to build their investment portfolio safely over time
Fewer worries regarding quality of life after retirement
The ability to save money to send their children to college
The ability to provide for their children after death
These are all common concerns for anyone who wants to provide a good quality of life for their family and children. A solid financial plan is an ideal way to preserve and build upon the money a client has and hopes to earn in the future. If you choose to become a financial strategist, you can help clients live the best quality of life possible. 
How to Become a Financial Planner
The career path you choose will dictate the amount of education required to pursue a career in financial planning. For example, the Bureau of Labor Statistics lists a bachelor's degree as the standard level of education for someone who wishes to work as a personal financial advisor. However, some positions, such as estate planner, require more education. Still, earning a bachelor's degree is a necessary step for all vocations in financial planning.
Once you've earned your bachelor's degree, you'll need additional credentials that may include licenses and Certified Financial Planner Certification (CFP) awarded by the CFP Board. Licenses are required for anyone who wishes to sell specific financial products, such as mutual funds, variable annuities, stocks and bonds. CFP certification is highly recommended, though it may not be necessary to gain employment in personal finance.
It's also important to note that if you decide to choose this career path, you must stay abreast of new laws and regulations by consistently continuing your education. Usually, this means earning additional college or continuing education credits throughout your career.
Required Skills for a Financial Planning Career 
Financial planners need a diverse set of skills to assist their clients effectively: 
Astute knowledge of financial regulations
Excellent communication
Ability to build mutually beneficial relationships
Trustworthiness
Ability to sell products and services
Careers You Can Get With a Financial Planning Degree
A degree in personal finance or a related field will take you far in today's world. There's more than one career path to explore in this exciting and dynamic field, including the ones we've listed below.
Financial Planner 
As a financial planner, you'll be responsible for helping clients meet their financial goals. This usually involves sitting down with them to discuss their long-term goals and analyzing their current financial situation. You might then recommend specific strategies, such as buying a life insurance policy or investing in a stock portfolio, to help them make the best use of the funds they have available. 
Financial planners need excellent communication skills, sound knowledge of investing, an affable personality and updated knowledge of financial regulations and practices. In this role, your objective is to provide a valuable financial service to your clients, sell financial services and products and build strong relationships that increase client loyalty.
Investment Advisor
Investment advisors make recommendations to clients regarding investing. Sometimes called a stockbroker, this professional must be licensed and is bound by a set of regulations that ensure they work in the best interest of their client. 
An investment advisor's pay is usually based upon how successful they are in helping their client make money. They may charge a management fee that's a percentage of their client's investment profits. In this way, they have a clear motive for helping their client choose successful investments.
Wealth Manager
Wealth managers typically work for wealthy clients to help them make sound financial choices. As a wealth manager, you'll be responsible for educating clients on a variety of financial products and services, including estate planning, investments, retirement, tax laws and more. You'll meet with them to devise strategies that protect and build upon the money they have. 
As a wealth manager, you may have the discretionary authority to act on behalf of your client regarding how and where their assets are distributed, and you'll be paid via a set fee. It will be your responsibility to help your wealthy clients find the best strategies for preserving their way of life.
Explore Our Financial Planning Degree
Retirement Planning Specialist 
While other financial specialists help clients plan for a variety of life events, such as buying a home or sending children to college, a retirement planner focuses solely on retirement. They advise individuals regarding how to prepare their finances for when they'll cease working.
In this role, you may counsel clients regarding their IRAs or 401k programs. You may help them roll over funds if they change companies or careers, and you'll help them set adequate financial goals that prepare them to live comfortably after retirement. 
Tax Planner 
A tax planner helps clients navigate the confusing world of state and federal tax regulations to minimize the amount of taxes they owe. As a tax planner, you'll advise clients on how to use and invest their financial assets in ways that take full advantage of tax cuts, tax breaks and tax shelters. In this way, the client can legally retain more of their money and pay lower taxes.
If you choose to become a tax planner, you'll need a keen understanding of complicated tax laws and to stay continuously abreast of changes in taxation and regulations.
Estate Planner 
Estate Planners are licensed attorneys who help clients prepare their assets for transfer after they pass away. They're specialists who help clients better understand what happens to their financial assets once they're gone, including how they will pass to their beneficiaries.
In this role, you may help a client prepare their will, choose their beneficiary and address issues such as long-term care or advance directives. You may help them establish trusts for their heirs or brainstorm solutions for avoiding probate. 
Benefits of a Career in Financial Planning 
Creating a financial plan is beneficial to your prospective clients because it helps them manage their wealth appropriately. However, it's also beneficial to the financial planner in the following ways:
Job Growth 
According to the Bureau of Labor Statistics, this career is expected to grow 15% through the year 2031, which is much faster than average for all occupations.
Opportunities for Entrepreneurship 
Many financial planners are consultants who work for themselves, helping private clients make sound financial decisions. A degree program in financial planning often includes coursework in management, marketing and other areas that prepare you to go into business for yourself.
Help People Achieve Their Financial Goals
Helping a client devise a financial plan that helps them meet their life goals can be highly gratifying, and if your fees are based on your client's success, being very good at what you do will benefit you both. 
Consider a Career in Financial Planning Today 
For more information on a career in personal finance, contact the admissions office at Husson University. Our Bachelor of Science in Financial Planning includes the coursework needed to become a successful financial strategist, and our bachelor's degree can be completed entirely online. This means you have the flexibility to earn your degree while still maintaining your work and life responsibilities.
At Husson, it's our mission to prepare students for success in today's emerging fields, including jobs in financial planning. We invite you to explore our degree program today.
Explore Our Financial Planning Degree
Sources
https://www.bls.gov/ooh/business-and-financial/personal-financial-advisors.htm
https://www.cfp.net/why-cfp-certification/why-get-certified/for-financial-professionals
https://resources.workable.com/financial-planner-job-description
https://www.investopedia.com/terms/i/investmentadvisor.asp#:~:text=An%20investment%20adviser%20(also%20known,by%20way%20of%20written%20publications.
https://www.investopedia.com/terms/w/wealthmanagement.asp
https://www.ziprecruiter.com/career/Retirement-Plan-Specialist/What-Is-How-to-Become
https://www.harnesswealth.com/articles/tax-planning-vs-tax-preparation-whats-the-difference/
https://www.metlife.com/stories/legal/steps-to-prepare-for-meeting-estate-planning-attorney/#:~:text=An%20estate%20planner%20(or%20estate,and%20taxation%20of%20your%20estate
Back to All Articles