COVID's Impact on the Mental Health Field: Today's Top Concerns and Opportunities
Published on: March 15, 2023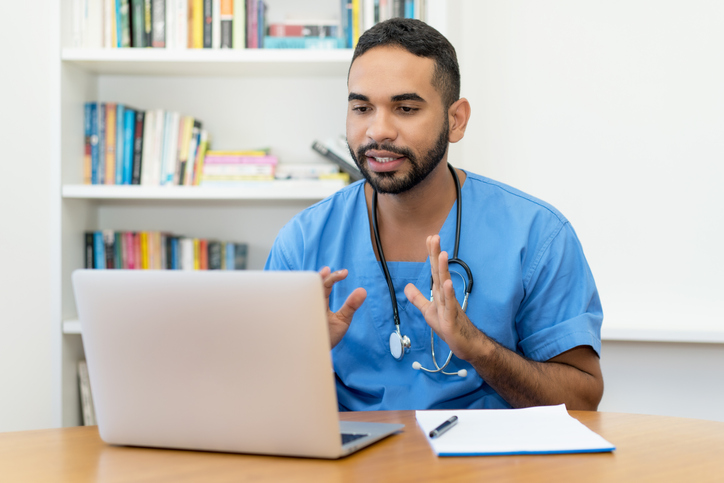 There's no denying that life after COVID-19 looks a lot different than it did pre-pandemic. We may no longer be locked down or even wearing masks on a daily basis, but societal and economic shifts such as remote work and supply chain complications certainly continue to alter people's day-to-day lives.
Dig deeper and it's clear that we're still emotionally recovering from the whirlwind of the past few years. Ask anyone how COVID changed the world, and they'll almost certainly mention mental health issues.
All of this holds huge implications, not only for the many people currently dealing with mental health issues but also for the hardworking healthcare professionals who provide much-needed diagnoses and treatments. Impacted by high workloads and associated burnout, many of these professionals are in need of mental health services themselves.
Understanding the scope of mental illness and the concerns fueling it will be key to getting this crisis under control. To that end, we've provided a thorough breakdown of how COVID has affected mental health and what we can expect from the field moving forward.
Explore Our Psychiatric Mental Health Nurse Practitioner Degree
How Mental Health Has Changed Over Time
Before we can truly understand how COVID-19 has impacted mental health, we need to understand where it stood as of 2019. Even without the interference of a global pandemic, it was clear that this was a huge point of concern.
According to 2019 data from the Centers for Disease Control (CDC), one in five adults reported that they had experienced signs of depression within the past two weeks. That year also saw a noteworthy increase in reports of diagnosable depression, reaching 8.6 percent in 2019 as compared to 7.3 percent a few years earlier.
At the time, the mental health field was undergoing several noteworthy changes that would later be accelerated by the pandemic. Telehealth was just beginning, and long-held stigmas about people with mental illness were finally starting to subside. Still, in-person treatments such as cognitive behavioral therapy (CBT) dominated the conversation, often accompanied by antidepressants and other medications. 
How COVID-19 Has Affected Mental Health
COVID-19 arguably involves two separate but closely linked pandemics: the coronavirus that has killed millions and left hundreds of millions with lingering symptoms — and the mental health crisis that COVID and all the concerns surrounding it have brought about. 
Experts at the World Health Organization remind the public that "fear, worry and stress" are perfectly normal responses to perceived or real threats, so it's no wonder we've been struggling for so long. 
Numbers alone reveal what we instinctively know to be true: far more people suffer mental health concerns now than they did in 2019 when rates of depression and anxiety were already alarmingly high.
According to 2022 data from Mental Health America, nearly 20 percent of US adults have some sort of mental illness, with 4.91 percent experiencing severe mental health concerns and 4.58 percent reporting thoughts of suicide. These alarming issues have been exacerbated, in part, by the following concerns:
Impact of Isolation and Social Distancing on Mental Health
In March of 2020, people's collective well-being took a major nosedive as they attempted to "flatten the curve" with strict lockdown measures. This upheaval was abrupt: one day, everyone was going about our daily routines, and the next, many found themselves confined to their homes.
While there was an undercurrent of positivity and a "we're all in-this-together" mentality in those early days, there's no denying how lack of social contact had an impact. Reports of loneliness skyrocketed, as evidenced in a study published in the International Journal of Environmental Research and Public Health. This study revealed a 21 percent rate of severe loneliness during COVID, compared to just 6 percent prior to the pandemic.
Increase in Anxiety and Depression Due to Uncertainty and Fear 
The isolation of lockdown was bad enough, but it was quickly compounded by a general sense of uncertainty and distress. Fearful of infection and terrified at the thought of losing loved ones, there was a struggle to balance the desire to keep others safe while also wishing to regain some semblance of normalcy. 
Previously simple routines such as shopping for groceries began to feel like complex risk analyses, especially as variants such as Delta and Omicron shook up what we thought we knew about the virus. Even those without diagnosable anxiety were more likely to experience significant stress because of the pandemic.
Rise in Substance Abuse and Addiction Due to Stress and Boredom 
When life gets difficult and mental health services are challenging to access, we have a tendency to self-medicate. This was certainly the case in the early stages of lockdown. CDC data from June 2020 indicates that 13 percent of Americans began to use substances (or increased their use) at the outset of the pandemic. 
Unfortunately, this tendency has not yet subsided completely. The aforementioned survey from Mental Health America reveals that many of us still rely on drugs and alcohol to cope with increased stress. As of 2022, 7.74 percent of adults reported that they had struggled with some sort of substance abuse disorder in the past year.
Impact of Grief and Loss on Mental Health 
Millions of people succumbed to COVID, which continues to be a top source of mortality to this day. They left behind grieving friends and family members, who were often shocked by these losses and unable to properly process them. A study from the University of Arkansas for Medical Sciences suggests that one in four adults in the US lost either a family member or a close friend to COVID.
Referencing the ripple effects of this loss, Don E. Willis, PhD explained, "Even if the last COVID-19 death were to occur tomorrow, the staggering loss of life from the pandemic will likely be impacting the lives and health of the bereaved for many years to come." Sadly, grief can exacerbate many of the concerns highlighted above, such as substance abuse and depression. 
How COVID Has Impacted the Mental Health Field 
COVID has undeniably increased the prevalence of mental illness, but this is by no means the only way in which the mental health field has changed. How we respond to these conditions is also quickly evolving. From reduced stigma to exciting technological innovations, there is plenty of reason for hope.
Increased Demand for Mental Health Services
If there is a small silver lining amid all this tragedy, it's that much of the stigma surrounding mental health concerns has disappeared. These days, it's more socially acceptable to discuss the symptoms of depression and anxiety, topics that felt practically taboo prior to the pandemic. 
These discussions often reference mental health services, which otherwise skeptical people are more likely to seek when they know their friends, coworkers and acquaintances are doing so as well. 
The result? Skyrocketing demand for therapy. In a late 2020 survey from the American Psychological Association (APA), licensed psychologists reported huge increases in demand for services related to depression and anxiety.
Explore Our Psychiatric Mental Health Nurse Practitioner Degree
Innovations in Mental Health Therapy Since the Pandemic 
Early on, the most noteworthy innovation arguably involved the transition to digital therapy sessions. Unable to meet in person but more in need of therapy than ever, many patients met with counselors and therapists online.
While most have since returned to in-person sessions, teletherapy remains a compelling option for those living in rural locations or dealing with restricted mobility. Many patients find that, while they struggle to leave the house for in-person visits, they're able to show up for digital alternatives. This could keep them more engaged in the long term. 
The Internet of Things (IoT) has also played an outsized role in providing access to mental health services. Wearable devices are already prevalent in primary care for gathering vitals and other critical data, but they also have a role to play in mental health care. 
Neuropsychologists believe that wearable devices have the power to adjust the brain's response to stress. These opportunities could be especially compelling for the small subset of patients who remain resistant to traditional treatment modalities.
Increased Focus on Digital Mental Health Resources 
From informational TikTok videos to wellness apps, a variety of mental health resources are now available digitally. Many of these are free of charge, so users can easily find valuable insight and commiseration when they need it most. 
While such resources have long been available, they are far more prevalent these days, as the pandemic produced a new population of mental health-focused influencers. Not all resources are created equal, but there are plenty of excellent places to turn to for accurate and up-to-date information.
Not only are there more digital resources available, but they are also easier to find. This stems, in part, from a development we've already discussed: the slow, but steady disappearance of stigmas that once prevented many people from sharing their favorite resources. 
These days, both social media influencers and ordinary individuals are happy to let their followers know about valuable digital opportunities, even when this means disclosing current or previous struggles with mental health. 
Use of Virtual Reality and Other Technologies in Mental Health Treatment 
Virtual reality (VR) and even augmented reality (AR) represent the new frontier in mental health. A variety of exciting new applications have been released in the past few years, and this revolution is just beginning. 
For example: the VR app Innerworld provides valuable access to peer support, which can make all the difference when users need commiseration or inspiration. While it's not a substitute for therapy and shouldn't be used in place of crisis intervention, apps like this can provide much-needed social support when other resources are unavailable.
Potential for Increased Accessibility and Effectiveness of Treatment 
Telehealth completely changed peoples's perception of mental health treatment and how it's accessed in 2020. The rise of telehealth meant that a greater share of the population was able to access services that were previously out of reach.
In the aforementioned APA survey, an impressive 96 percent of psychologists reported that they treated some or all of their patients remotely, with one-third working with patients who lived in different states.
Telehealth remains a compelling option to this day. By 2022, experts at the APA reported that telehealth was here to stay. Currently, the predominant approach involves hybrid services that accommodate both virtual and in-person patients. While in-person solutions remain crucial for mental health emergencies, ongoing care can be delivered via numerous modalities. 
This shift is echoed at the policy level, with the Centers for Medicare and Medicaid Services (CMS) removing originating site restrictions. These had previously required patients to receive care in clinical settings — but now, flexible solutions are available, so long as they remain compliant with the Health Insurance Portability and Accountability Act (HIPAA). 
Make a Difference as a Psychiatric Mental Health Nurse Practitioner 
As a Psychiatric Mental Health Nurse Practitioner (PMHNP), you could play an important role in addressing today's mental health crisis. First, however, you'll need targeted training from a high-level program.
Husson University's Master of Science in Psychiatric Mental Health Nurse Practitioner program is an excellent option, as it is available online and will provide thorough preparation for necessary certification exams. Contact us today to learn more about this degree and other NP programs that prepare you to make a difference.
Get Your Psychiatric Mental Health Nurse Practitioner Degree
Sources
https://www.ncbi.nlm.nih.gov/pmc/articles/PMC9483000/
https://mhanational.org/issues/2022/mental-health-america-adult-data
https://www.ncbi.nlm.nih.gov/pmc/articles/PMC8508181/
https://news.uams.edu/2023/01/04/uams-study-finds-one-in-four-adults-have-experienced-loss-due-to-covid-19/
https://www.apa.org/members/content/wearable-technology
Back to All Articles