What Is the Difference Between a Psychologist and a Psychiatrist?
Published on: February 23, 2023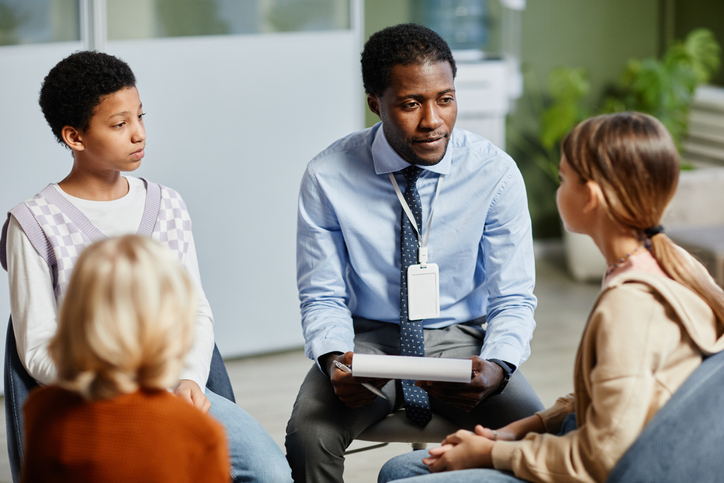 The fields of psychiatry and psychology are closely intertwined. Both types of doctors work in the field of mental health, but these two professions are not the same. They have distinct differences, and those differences put students into separate courses of study as they prepare to embrace this career choice. If you are considering a career in mental health and want to look at an advanced degree option, you will need to know the differences between these two oft-confused professions.
Explore Our Psychology Degree
What Is Psychology? 
Psychology refers to the study of the mind, emotions and behavior. This field comes from the study of philosophy and dates back to the mid-1800s. Psychologists study behavior along with the mental and social factors that influence it. They help people improve their mental health or heal their trauma through different therapies, including various behavioral and talk therapies. The type of therapy performed by a psychologist is sometimes called psychotherapy. 
Psychologists hold a graduate degree, typically a degree in Counseling, LSW degree, Doctor of Psychology (PsyD) or Doctor of Education (EdD), in the field. They know how to evaluate and treat mental and emotional disorders, and they perform testing for mental health disorders. They also do counseling and perform psychotherapy. They often work in therapy or counseling centers or in independent practice. 
What Is Psychiatry?
Psychiatry is a branch of medicine, rather than philosophy. Psychiatrists are medical doctors with specialty training to treat mental health disorders. They can use therapy to help patients, but they also can use medical interventions, like medication.
Psychiatrists hold a Doctor of Medicine (MD) or Doctor of Osteopathic Medicine (DO) degree. They help diagnose and treat mental illnesses, and they also work in a preventative capacity. They may work in medical clinics and hospitals, while others operate in private practice as medical doctors in the field of mental health.
Psychiatrist Vs. Psychologist: Main Differences
Psychiatry and psychology are closely intertwined because both branches of study address the treatment of mental health concerns. However, they have some distinct differences in these areas:
Education and Training
Psychologists are doctoral-level professionals trained in the non-medical diagnosis and treatment of mental health conditions. They will complete undergraduate work, a master's degree and a doctoral degree in the field, which can take between eight to ten years.
Psychiatrists are medical doctors. They start their education with a bachelor's degree, often in a science or pre-med field, followed by medical school. In medical school, they study neurology, pharmacology, anatomy and the other aspects of medicine that all doctors must learn. After graduating from medical school, a psychiatrist will complete a residency and then apply for a medical license. This can take about 12 years from start to finish. 
Areas of Expertise
Psychologists are ideal for patients with mild mental health concerns, such as trauma, depression and anxiety disorders. They tend to be experts at helping patients change their thought patterns and improve their mood through non-medical interventions.
Psychiatrists are experts in serious mental health conditions that need medication to control. Patients with issues like schizophrenia, bipolar disorder or serious suicidal ideation require the kind of medical intervention only a psychiatrist can provide. Because the medications for many mental health conditions can have side effects, the doctor's role may be to manage the medication and tweak dosage as needed.
Treatment Methods
Both psychologists and psychiatrists can perform talk and behavior-based therapies. Behavior modification falls to both types of doctors. This type of therapy is known as psychotherapy. Psychologists tend to use talk and behavioral therapy primarily, and most states do not allow them to prescribe medication because they are not trained in medical care. 
Psychiatrists are medical doctors, and thus they can prescribe medication. In some cases, medication is the preferred treatment method psychiatrists will use. Because they are fully trained as medical doctors, they can also monitor the rest of the bodily systems for signs of problems due to a patient's mental illness. For example, mental illness can sometimes cause problems with weight or blood pressure, and they can monitor those and prescribe medications as needed.
Referral Process
Patients may have a more difficult time becoming established with a psychiatrist, so many patients will start with a psychologist, counselor or therapist for their mental health concerns. In fact, unless you know you have a serious diagnosis, starting with a psychologist as a patient is wise. If a psychologist feels they cannot help a patient, they will usually refer them to a psychiatrist. In addition, a patient may get seen by a psychiatrist if they are in the hospital due to their mental health condition or their general practitioner suspects they have a serious mental health disorder. Once the person is in a stable place, they may then transfer into the care of a psychologist for further counseling and treatment.
How They Work Together
Because psychiatrists are in high demand, many of them will work closely with psychologists to ensure the patients with the greatest need get the help of a medical doctor for their mental health concerns. Similarly, many psychologists will partner with a psychiatrist to ensure their patients can receive medication when needed. 
Interestingly, according to WebMD, psychiatrists will sometimes refer their patients to psychologists once they are in a stable place. The psychologist will work on the psychotherapy and counseling aspect, freeing the psychiatrist to work with additional patients who need medication help. Thus, the referral process can work both ways. 
How to Choose Between Psychology and Psychiatry 
If you want to work in the mental health field, you will need to choose between pursuing psychology and psychiatry. Both careers have strong demand. The Bureau of Labor Statistics indicates a 6% growth in the need for psychologists and a 9% increase in demand for psychiatrists. Both roles have the potential to earn a six-figure income as well. However, the career path to start a degree is quite different. Even on the undergraduate level, the course of study you choose will differ depending on which route you want to take.
First, determine where you picture yourself working. Do you think you want to work in a counseling setting or in a medical clinic or hospital? Second, decide if you want to work with patients with serious mental health conditions or people struggling with more mild mental health issues. Determine if you need to start your career quickly or if you have the time for a longer course of study. Finally, decide if you are ready to take on the challenge of medical school or if a more academic course of study may be a better fit.
Whatever you choose, working in mental health can be very rewarding. Helping people with their behavioral or mental health concerns so they can live stable, rewarding lives can be highly gratifying. If you do not want to go to medical school but wish to support people dealing with mental health concerns, a career in psychology could be for you.
Start Your Psychology Career Path with Husson University Online 
As you start your work toward becoming a psychologist, the right undergraduate degree is important. Husson University offers a Bachelor of Science in Psychology that could be the first step in your many years of training to become a licensed psychologist. This fully online degree is available 24/7, so you can study at your own pace. It is an accredited degree that will get you ready for graduate school and further training in psychology. Reach out to our admissions team today to learn more about this degree and how you could use it to launch an exciting and rewarding career in mental health. 
Get Your Psychology Degree
Sources
www.bls.gov/ooh/healthcare/physicians-and-surgeons.htm#tab-6
www.bls.gov/ooh/life-physical-and-social-science/psychologists.htm
https://www.webmd.com/mental-health/guide-to-psychiatry-and-counseling#:~:text=Often%20a%20psychologist%20will%20work,Licensed%20Mental%20Health%20Counselor.
https://www.psychology.org/resources/how-to-choose-between-psychologist-or-psychiatrist-career/
Back to All Articles