6 Reasons to Consider a Criminal Justice Career
Published on: December 22, 2022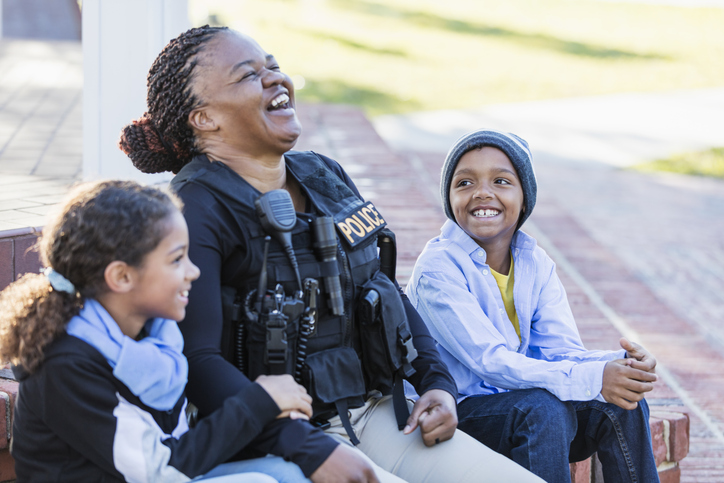 Do you want to work in a field where you can help people every day? Are you interested in fighting crime and helping people get the protection they need to live and thrive in the community? If so, a criminal justice degree may be right for you. 
Graduates with a bachelor's in criminal justice can find work within the court systems, police departments and even private security. This career path includes job security, high potential earnings and varied work opportunities. Here is a closer look at why you may want to consider a career in criminal justice and how Husson University can help you get there.
Explore Online Degrees
How Long Does It Take to Earn a Criminal Justice Degree?
The time it takes to earn a criminal justice degree depends on many factors. Generally, this bachelor's degree program requires about four years of study on a traditional school schedule. However, if you are entering your criminal justice program with some existing college experience and core classes under your belt, you may be able to earn your degree more quickly. Similarly, if you can find a flexible online program, you may be able to complete your degree in as little as two years.
Husson University has an online bachelor's degree in criminal justice that takes between 24 and 30 months to complete. It is 121 to 125 total credit hours and can be completed entirely online. This makes it easier to continue learning after completing one class because you will not be tied to a semester schedule with long summer breaks. If you want to earn your criminal justice degree quickly, this is an excellent route to take.
Benefits of Earning a Criminal Justice Degree
There are many perks to working in the criminal justice field. From the wide range of career options within law enforcement to the flexibility of earning your college degree, you will find multiple reasons to pursue this field. Here are six of the most compelling benefits of earning a degree in Criminal Justice.
1. Many Different Career Options
You may think that working in the criminal justice field means you will work as a police officer. While this is undoubtedly an option, it is far from the only one. There are many different career options within the field of criminal justice, including: 
Criminal profiler
Investigative reporter
U.S. Marshal
Homeland security officer
Parole officer
Computer forensics investigator
Conservation warden
Court advocate
Private security
Detective
Secret Service or FBI agent
2. Job Security and Earning Potential
As long as there are people, there will be crime, and as long as there is crime, there will be a need for people trained to fight and prosecute it. Thus, job security is a given in criminal justice. Some roles within the criminal justice field also have a high earning potential. 
If you choose to work as a police officer or detective, you could earn an average of $66,020 annually based on current data from the Bureau of Labor Statistics. This field has slower-than-average potential growth, but it will still likely add 20,000 jobs between 2021 and 2031. Getting a position within the federal government often increases your earning potential. According to Indeed, FBI Special Agents earn over $76,000 a year on average. Working as a U.S. Marshal brings quite an extensive pay range, with a tiered salary and additional benefits that increase the earning potential. Indeed reports an average salary of over $117,000 a year, including bonuses. These are just three roles within the criminal justice field, and they show excellent earning potential.
3. Opportunity to Help People 
One of the biggest perks of working in criminal justice is knowing that your work helps people. Whether you are bringing a criminal to justice or stopping criminal action from happening, you will be working in the community, making life better for people every single day. This fact creates an intrinsic reward that makes your work feel worthwhile.
4. Great Benefits
Working in law enforcement brings excellent benefits. Many of these roles are in government, including municipal, state and federal government roles. Government jobs are well-known for having excellent benefits. For example, FBI agents get federal health, dental and vision insurance, long-term care insurance, life insurance and flexible spending accounts. They also receive reimbursement for travel expenses, access to the Justice Federal Credit Union and a Thrift Savings Plan. Working as a U.S. Marshal means excellent opportunities for bonuses in addition to a fair starting salary. The benefits vary on the municipal and state levels, but communities generally take care of their law enforcement professionals. 
5. Exciting and Challenging Field to Work In 
Another perk of working in law enforcement is that the work is never the same. Your day-to-day work will change based on the crimes and people you work with. This can keep you mentally sharp, and it makes the job interesting. 
Working in law enforcement also brings a challenge each day. You must have good problem-solving skills and the ability to work through problems, including problems with people, and that challenge can keep the job engaging year after year. In other words, you will rarely get bored working in law enforcement.
6. Can Earn Your Degree Online
Finally, criminal justice is one field where you can easily earn your degree online. Husson University has both a bachelor's and master's program available entirely online, allowing you to pursue your college degree on a schedule that works for you, giving you freedom and flexibility. It also means that going back to school to earn a college degree and enter the criminal justice field is possible for adult learners who may not have the time to attend traditional classes amid their family and work responsibilities.
Is a Criminal Justice Degree Right for You?
Do you have what it takes to work in criminal justice? If you want to work in an engaging, dynamic field where you can help others, and if you want job stability and high potential earnings, then it might be the right choice. All it takes is the right degree program to get started. 
Husson University has an online criminal justice degree that is flexible and comprehensive. With this program, you can gain the skills necessary to enter this exciting field. If benefits of a criminal just degree appeal to you, reach out to Husson University to learn more about our Bachelor of Science in Criminal Justice today.
Get Your Criminal Justice Degree
Sources
https://www.bls.gov/ooh/protective-service/police-and-detectives.htm
https://www.indeed.com/cmp/Federal-Bureau-of-Investigation-(fbi)/salaries/Special-Agent#:~:text=How%20much%20does%20a%20Special,11%25%20above%20the%20national%20average
https://www.fbi.gov/about/fbi-employees
Back to All Articles