Nontraditional Workplaces for Nurse Practitioners
Published on: November 7, 2022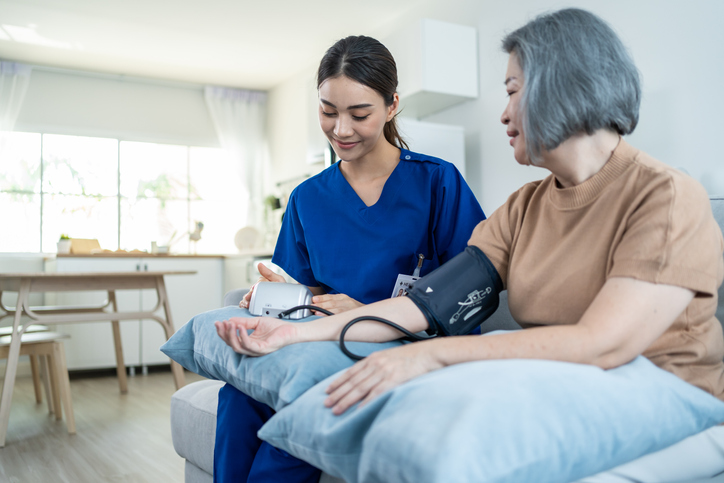 If you've only received clinical care from a nurse practitioner (NP) at a local doctor's office or hospital, you may not realize that these settings are merely the tip of the iceberg regarding NP employment opportunities. The healthcare industry offers virtually endless possibilities to NPs with the proper training and credentials.
Explore Online Degrees
What Does a Nurse Practitioner Do?
A nurse practitioner who provides direct patient care in the clinical setting can perform most of the functions of a primary physician. This includes diagnosing and treating patients for various ailments and conditions without the oversight of a Doctor of Medicine (MD) or Doctor of Osteopathic Medicine (DO) in many American states. NPs can make referrals, order diagnostic tests and write prescriptions according to patient needs. 
Compared to other nursing professionals (even registered nurses with advanced certification), NPs enjoy an incredible amount of freedom and flexibility in their healthcare practice. According to the American Association of Nurse Practitioners (AANP), the introduction of NPs into the US healthcare system on a significant scale has dramatically increased access to quality medical care while lowering overall costs and improving patient outcomes and levels of satisfaction.
Where Do NPs Typically Work?
In addition to establishing and operating their own private practices, nurse practitioners generally work in traditional medical offices, hospitals, urgent care facilities, managed care facilities and surgical clinics. Within these settings, they diagnose and treat different target patients in areas of clinical focus that range from pediatrics to pain management and women's health to oncology.
Nontraditional Nurse Practitioner Jobs
In light of the many obvious advantages that nurse practitioners provide, it should come as no surprise that NP occupations have now extended far beyond the traditional medical facility setting. Here are just ten highly desirable and in-demand positions that NPs are currently filling in large numbers:
1. Medical Writer 
Because their level of knowledge can approach or even exceed that of an MD or DO, nurse practitioners are excellent candidates for medical writing work. Medical journals, healthcare guides and other publications that focus on health and wellness matters often employ NPs on a freelance basis to take advantage of their medical expertise. Nurses also write for academic and news organizations and work on grant proposals and fictional portrayals of nurses in books, movies and television shows. Nurses generally need considerable education, training and work experience to establish themselves as experts on the subjects they write about. 
2. Researcher
If you're more comfortable in the laboratory than in the medical office, you might consider becoming a research nurse practitioner. NPs perform a broad spectrum of research to contribute new information to the healthcare community and further clinical studies and trials on new medications, vaccinations, equipment, tools, devices and procedures in the healthcare field. Research NPs are particularly helpful in improving the quality of nursing care.
3. Nursing Professor
The authoritative nursing news and information resource Nursing Process calls teaching "a less stressful nurse practitioner career choice" in which "emergencies are practically non-existent and work hours are scheduled with long breaks built-in over holidays and summer." Even better, nurses are "always in demand" at most nursing schools. As with medical writing and research positions, a combination of academic and professional experience is an absolute must for any nurse who wants to become a nursing professor. 
4. Medical Aesthetics 
If you're looking for a clinical setting unlike any other, you may want to consider specializing in aesthetic medicine as a nurse practitioner. Incredible Health notes that the medical aesthetics specialty has grown exponentially in popularity over the past two decades. Nursing Process ranked the specialty on its list of the "63 Highest-Paying Nurse Practitioner Jobs in 2022," with a yearly income of roughly $100,000. But, as Incredible Health points out, commanding that three-figure salary isn't always easy. "Working as an aesthetic nurse practitioner is a dream for some nurses, but this highly competitive specialty takes dedication, experience and sometimes the right connection."
5. Telemedicine
Like medical aesthetics jobs, telemedicine jobs are rising in popularity among nurse practitioners. As defined by Nursing Process contributor Donna Reese MSN, RN, CSN, "A telemedicine nurse practitioner provides health consultation, education and treatment for patients via a remote source such as webcams, online patient portals, phones, email and other forms of online communication."
6. Correctional Care
Another nontraditional employment option for nurse practitioners who still want to work with patients in a clinical setting, the American correctional system always needs medical professionals to care for its large incarcerated population. A correctional care NP serves inmate populations within county, state and federal prisons and jails. Like all large populations, these inmate populations are in ongoing need of the diagnostic, treatment and rehabilitative medical services that NPs provide. 
7. Legal NP Consultant
Like doctors and other medical experts, nurse practitioners are prime candidates for legal advisement work. As a legal consultant, an NP will investigate and interpret medical information and health records for law cases that involve injury, worker's comp, physician malpractice and other medical matters. Legal NP consultants may also provide testimony to share their findings as medical experts in the courtroom. 
8. Home Health NP
Responding to widespread public demand, more and more healthcare organizations are dedicated to caring for patients in the comfort of their own homes. In recent years, nurse practitioners have flooded the home health sector. In addition to offering ample employment opportunities, home health is also quite lucrative for NPs. According to Nursing Process, home health NPs average more than $93,000 annually.
9. Mobile Medical Clinic
Over the past decade or so, mobile medical clinics have become another tremendously successful way to reach out to patient populations where they already are. Briefly defined, mobile medical clinics are healthcare facilities on wheels. Like traditional facilities, they can be designed to provide general family care or to specialize in any number of targeted medical areas. As mobile medical clinics continue to serve various community-based health needs, nurse practitioners are increasingly filling their staffing needs. 
10. Health Ethnography
Acknowledging it as a professional field that many nurse practitioners may be familiar with, Nursing Process' Donna Reese defines health ethnography as "the study of the behavior and culture of people in a healthcare environment." This study is conducted with the knowledge that patient beliefs and customs regarding health and illness can profoundly impact the medical setting. With their advanced knowledge and skill, NPs are well-equipped to investigate and analyze issues related to health ethnography with the ultimate goal of improving patient experiences and outcomes. 
The Advantages of Nonclinical Healthcare Jobs for NPs
Many nurse practitioners who have chosen a less-traveled career path have garnered unexpected benefits. For example, many of the jobs listed above can be done part-time. They also offer unique advantages in terms of exploring areas of professional passion, working from home and practicing medicine with greater autonomy. 
By broadening their employment searches to include all available opportunities, NPs only stand to improve their overall career prospects. In other words, NPs who explore non-clinical healthcare jobs often find less competition for key positions.
Prepare for Your Own Unique NP Career at Husson University
According to the AANP, "all NPs must complete a master's or doctoral degree program and have advanced clinical training beyond their initial professional registered nurse (RN) preparation. Didactic and clinical courses prepare nurses with specialized knowledge and clinical competency to practice in primary care, acute care and long-term health care settings."
To help aspiring NPs meet a range of specific career goals, Husson University offers three graduate-level nursing degrees and three graduate-level nursing certifications entirely online:
Master of Science in Nursing – Adult-Gerontology Acute Care Nurse Practitioner
Master of Science in Nursing – Family Nurse Practitioner
Master of Science in Nursing – Psychiatric Mental Health Nurse Practitioner
Post-Master's Nursing Certificate in Adult-Gerontology Acute Care Nurse Practitioner
Post-Master's Nursing Certificate in Family Nurse Practitioner
Post-Master's Nursing Certificate in Psychiatric Mental Health Nurse Practitioner
Back to All Articles