What Does a Registered Nurse Do?
Published on: October 4, 2022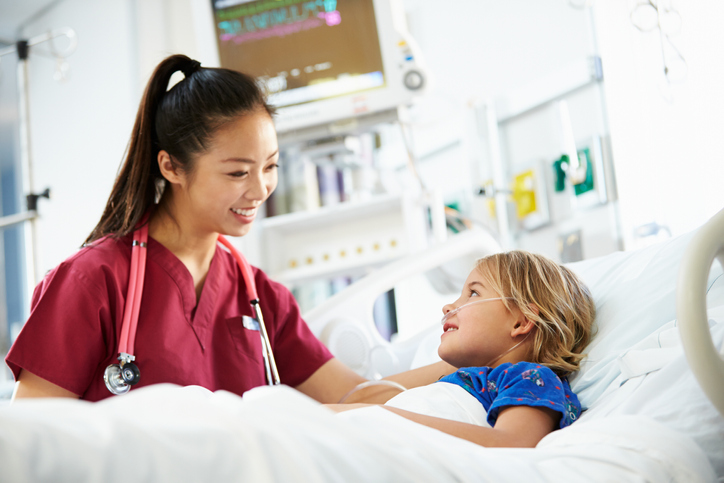 While doctors may be the ones that make the ultimate healthcare decisions and diagnoses for people, it is nurses that are the backbone of the healthcare industry. Nurses are responsible for the day-to-day care of patients in hospitals and other medical care facilities. While there are many types of nurses in the healthcare world, registered nurses, or RNs, are some of the most common. 
Explore Online Degrees
What Is an RN?
According to the Bureau of Labor Statistics, a registered nurse is a licensed nursing professional who has either a bachelor's or associate degree in nursing or has completed an RN program from a nursing school. After their educational program, they must complete the National Council Licensure Examination for Registered Nurses (NCLEX-RN). After becoming licensed, an RN is ready to serve in many healthcare settings.
Skills Needed to Be a Registered Nurse
Working as an RN is not easy, but it can be very gratifying. If you pursue this career path, you will want to be confident that you have the right skills to do the job well. Some of the skills you need to be successful as an RN include the following: 
Compassion
When caring for sick or injured individuals and their families, you need a high level of compassion. People in pain, dealing with loss or grappling with unexpected diagnoses need compassionate care from the medical professionals around them. These are situations where people are at their worst, and you need to be able to show respect and empathy when working with patients and the people who love them.
Communication
Being a nurse is all about communication. You must be able to communicate well with patients, even though they lack the same medical background as you. You also must communicate with doctors and other nurses to ensure patient needs and expectations get passed on to the team taking over their care when you clock out for the day.
Problem Solving Skills
Medical care is rarely cut-and-dried. You will face situations where the standard treatment method is not working, and you are forced to problem solve, often on your feet. An ability to make fast and accurate decisions about complex issues is vital to being a good nurse.
Confidence
You cannot walk into a patient's room and mumble about a diagnosis or treatment. You need to have confidence that you've chosen the right treatment path and convey that confidence to your patient. This confidence often comes from thorough education in nursing, and it expands as you gain more experience in the nursing field.
Professionalism
Nursing is a professional skill. Each patient you care for needs to feel they are the most important one in your care. Be careful not to share private information about other patients throughout your day. You must remain calm under pressure and professional in your demeanor and communication. You will wear a uniform and adhere to professional grooming and personal hygiene standards in this field. Professionalism is another skill you will develop over time, but you can also learn in your nursing training program.
Stamina
Nursing is a highly demanding job, requiring both physical and emotional stamina. A nurse regularly works a 12-hour shift and spends much of that time on their feet. They may have to lift patients and perform other physical tasks during their shifts. Nurses also face emotionally challenging situations that require emotional stamina. You must stay centered even while dealing with sick and dying patients.
Where Do RNs Work?
RNs work in all types of healthcare settings, including hospitals, clinics and private healthcare settings. Some RNs work in nursing homes, schools and home healthcare settings. Traveling as a nurse is common, too, and travel nursing is becoming quite popular, allowing nurses to go where they are most needed.
Because many of these settings, like hospitals and nursing homes, require round-the-clock nursing care, nurses may occasionally have overnight shifts. Those employed by clinics and doctor's offices are likelier to have traditional 9-to-5 hours.
What Does an RN Do on a Daily Basis?
One of the perks of working as a nurse is the variety of experiences you get in your job. This job is rarely the same week to week or even day to day. An RN is the professional at the heart of patient care. They interact with patients and their families daily, conveying the doctor's information about care and diagnoses and ensuring the patients receive excellent care. They may even need to make minor medical decisions on behalf of doctors, though nurses always report to and have accountability to the doctor overseeing the patient's care. 
So what does this look like on a day-to-day basis? The answer varies depending on where a nurse is employed. Most of the time, you will need to:
Assess the health of a patient
Record the patient's medical history and symptoms
Give patients medication, injections and treatments
Create health care plans and communicate those plans to the patient
Chart patients' care, symptoms and treatment
Manage online medical records
Collaborate with the doctor about patient care
Explain what home treatment is necessary
Monitor patients for signs of distress or changes in health
Perform diagnostic tests
Analyze results from diagnostic tests
Teach patients and their families how to manage illness or injury
The role of a registered nurse varies depending on their specialty. For example, a pediatric nurse will give vaccinations often, while one working in geriatrics may need to help patients manage illnesses like diabetes and arthritis.
How Much Do RNs Earn?
The Bureau of Labor Statistics estimates an average salary for an RN of $77,600 a year, which is about $37 an hour. Nurses employed by the government have the highest earning potential, while those in education have the lowest. The top 10% of registered nurses earn over $120,000 a year, while the bottom 10% earn $59,450 yearly. The more education you receive, the higher your potential pay will also be.
RN vs. BSN
You can start your career as an RN with only an associate degree. Many nurses will choose this route in order to get their licensure and start doing patient care and earning money in as little as two years. However, a bachelor's degree in nursing can provide more training and skill, and many healthcare settings now require this four-year degree as a starting degree for newly hired nurses.
A Bachelor of Science in Nursing, or BSN, is a more in-depth nursing degree. It takes about four years to complete and has more training than the two-year degree program offers. It opens the door to many more opportunities and job options than a two-year degree, which is why many RNs want to add BSN certification to their training.
These two different degree paths do have some similarities. A BSN will cover the same material as a two-year RN degree but will add to it. Both the two-year and four-year programs require hands-on clinical training working with patients under the supervision of a licensed, practicing nurse. Both provide the training necessary to take nursing examinations and start working as a nurse. The BSN opens the door to more career opportunities, potentially higher pay and better overall training in the field.
Sources
Registered Nurses: Occupational Outlook Handbook: US Bureau of Labor Statistics (bls.gov)
Back to All Articles