15 Jobs You Can Get With a Marketing Degree
Published on: October 26, 2022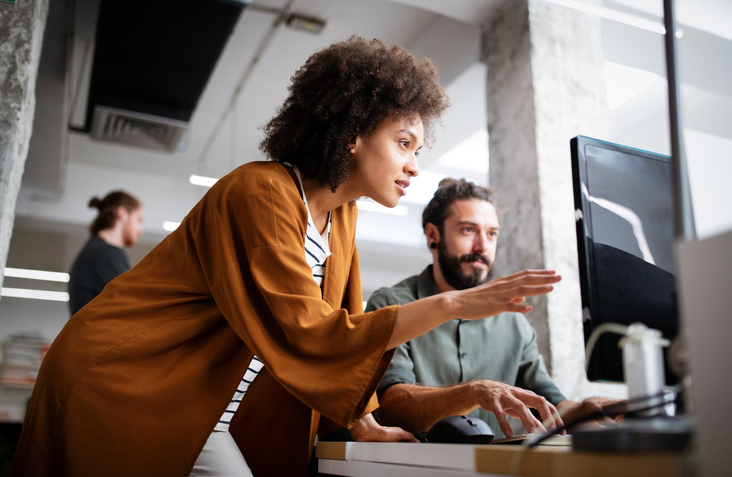 Are you considering a marketing major? You can pursue many potential career paths with a degree in marketing. From being a marketing leader within an organization to jumping into the world of online marketing, here is a closer look at your options with this education path.
Explore Online Degrees
What Is a Marketing Degree?
Marketing is a niche part of the business world that looks at what it takes to make consumers purchase a particular product or service. It studies business, consumer behavior, pricing strategies and competitor research. Marketing degrees also often contain accounting and finance instruction. 
Is a Marketing Degree Worth It?
If you get a degree in marketing, you will have a set of skills that are in high demand. Companies, especially after the pandemic, need skilled marketing professionals. In 2021, LinkedIn published a report that looked at hiring trends for a six-month period, and they found that the demand for marketing professionals has grown significantly. Specifically, the number of marketing jobs posted on the platform grew by 63% in the six months reviewed.
Career Opportunities in Marketing
A marketing major can open the door to a wide range of career paths. While some careers in marketing require just an undergraduate degree, others require additional education or training. Regardless, if you are wondering what you can do with a marketing degree, this list is an excellent place to start.
Marketing Manager
Marketing managers lead marketing teams and departments within organizations and oversee the planning and execution of marketing plans. In a large company, the role may primarily involve leading a team. In a smaller company, the marketing manager may be responsible for planning and executing marketing campaigns. This type of leadership role may require additional training in management or business leadership, but a marketing degree can be a good starting point.
Media Planner
Media planners help businesses plan and execute ad campaigns on specific media venues, including platforms like television, internet, print, mail and radio advertisements. They will track the performance of ads so their clients can be confident they're getting a solid return on their marketing investment. In addition to marketing training, these professionals need training in communication and media.
Product Manager
A product manager will develop products for a company and then market them after production. This requires an understanding of product creation, including performing market research to ensure there is a demand for a product, managing production and understanding inventory management. In addition to marketing, training in business management be may necessary for this role.
PR Specialist
Public relations specialists work with clients, usually businesses or people in the public eye, to help them maintain a positive public image. They may handle the media information requests that come in, prepare public statements, draft speeches for their clients and help their client maintain their branding and identity. PR specialists will also maintain their client's image on social media.
Market Researcher
Market researchers must thoroughly understand consumer preferences and overall business operations and apply that expertise to developing a product and its overall marketing efforts. These marketing professionals can collect and analyze data about consumer behavior and preferences and use that data to help grow and develop a business's sales efforts.
Social Media Coordinator
Social media is becoming the top marketing platform for most organizations and businesses, meaning businesses need a professional to help them manage their social media campaigns. Social media coordinators plan and execute marketing campaigns, including paid advertisements on social media platforms and the pages owned and maintained by the clients.
Brand Manager
Brand management aims to help companies analyze market trends and create branding images that adhere to those trends and improve sales and customer engagement. Branding refers to the image that a company or individual creates that consumers can readily identify, ideally in a positive light. Brand managers find opportunities in the sales market that their clients can capitalize on to increase sales.
Copywriter
Copywriters craft marketing copy for companies. This copy might include press releases, blog posts, advertising and general website copy. Anything that involves written content and is part of a company's branding or marketing efforts can use the services of a copywriter. Marketing training can help copywriters understand the type of marketing language that is most effective. Most undergraduate degree programs have sufficient writing instruction and projects to prepare a student for this type of career.
Event Planner
Event planning may not seem like a marketing career, but it can be. Successful events require a significant amount of marketing to get people to attend and entice vendors to participate. While event planners need knowledge and training in the actual execution of the event, they will also need to understand marketing to plan and host successful events.
SEO Specialist
Search engine optimization is how companies use search engines to draw traffic to their pages a crucial component of online marketing. SEO specialists need technical knowledge and understanding, but they also need marketing training. An undergraduate degree in marketing with a focus on online marketing can be a great way to launch a career as an SEO specialist.
Sales Representative
Sales reps must understand marketing to promote their clients' products to potential buyers. They play a vital role in the wholesale sales process, and training in marketing can help. Sales representatives go to business organizations or government agencies to discuss a product's or service's merits rather than focusing on marketing and sales to consumers.
Ecommerce Marketing
Marketing to the eCommerce market is slightly different than marketing to customers shopping in a brick-and-mortar location. Not only do these marketing professionals need marketing knowledge, but they also need online advertising knowledge. This career combines online marketing with consumer-driven marketing. It is in high demand due to the continued increase in the number of eCommerce businesses in the marketplace.
Analyst
Analysts help businesses make decisions based on the collection and analysis of data. Analysts study consumer behavior and sales data and help companies decide what that data means for their business and sales efforts. This open career path can take many forms, depending on the organization's needs and the individual's training. 
Account Executive
Account executives are salespeople who manage a database of clients and reach out to new contacts to try to bring them on as clients. They must match the services or products of their companies to the needs and wants of their list of clients. This career path requires strong people skills and the ability to turn a cold call or email into a warm contact for a business. A foundation in marketing education is usually the starting point for this career path.
Fundraiser
Fundraising involves selling the idea of a charitable organization or cause to the people who have money to support it. Successful fundraisers are in high demand, especially among non-profits that rely on donations for their success. This career can be very challenging and requires both creative and marketing knowledge.
How to Choose a Marketing Degree Program
As you evaluate various marketing degree options, consider the marketing degree jobs that are most interesting to you. This field has many branches, and you will want a program that offers minors or certifications in various aspects of marketing. In addition, look for a program that studies multiple types of marketing. You want to graduate with skills in writing, photography, graphic design, marketing research, video marketing and overall business analytics.
Husson University offers a robust, well-rounded online bachelor's degree in marketing. This program lets you study from the comfort of your home while getting solid training in marketing and earning certification in various marketing areas. You will graduate with a well-rounded skill set that will open the door to several career options.
Earn Your Marketing Degree From Husson
If you are ready to start a career in marketing, Husson University is here to help you get there. Our Bachelor of Science in Marketing is available entirely online and you can graduate with the marketing skills you need to jump into many of the careers listed here. Reach out to an admissions professional today to learn more about joining our online marketing degree program. 
Get Your Marketing Degree
Sources
https://www.linkedin.com/business/marketing/blog/linkedin-ads/the-changing-marketing-jobs-landscape-key-hiring-trends-and-insights
https://www.careerexplorer.com/careers/marketing-manager/
Media Planner Job Description: Salary, Skills, & More (liveabout.com)
Roles of a Product Manager: Key Skills, Roles and Duties (indeed.com)
Public Relations Specialists : Occupational Outlook Handbook: : U.S. Bureau of Labor Statistics (bls.gov)
Market Research Analysts : Occupational Outlook Handbook: : U.S. Bureau of Labor Statistics (bls.gov)
What Is a Brand Manager? Requirements and Job Description | Indeed.com India
https://www.careerexplorer.com/careers/sales-representative/
Advertising, Promotions, and Marketing Managers : Occupational Outlook Handbook: : U.S. Bureau of Labor Statistics (bls.gov)
Back to All Articles