6 Ways Your MBA Will Advance Your Career
Published on: September 12, 2022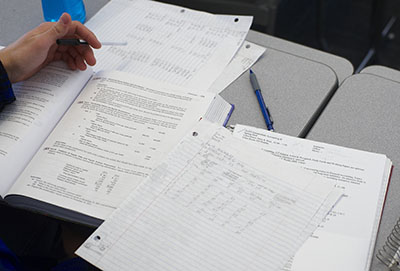 Are you ready to take a step up in your career? Whether you're looking to get a strong start after earning your bachelor's or desire an extra boost after years in your industry, additional credentials could take you far.
A variety of graduate-level degrees are worth exploring, but few hold the undeniable power and prestige of the Master of Business Administration (MBA). This degree is iconic because it's highly respected and sought after by today's most demanding employers.
In this guide, we'll answer an important question: what does an MBA do for you? Keep reading to learn how this degree works, why it attracts attention among employers, and how it might be the launching point for an impressive climb up the career ladder.
Explore Online Degrees
What Is an MBA?
An MBA is a prestigious graduate degree. MBA programs provide a blend of theoretical knowledge and practical training centered around leadership and management. The goal is to prep ambitious students for success in various leadership roles.
Coursework can vary from one MBA program to the next but typically involves some or all of these foundational classes:
Managerial Accounting
Managerial Economics
Financial Management
Strategic Change Management
Management Communications
Marketing Management
These core classes may be accompanied by various electives or concentration courses. These provide ample opportunities to apply leadership skills to specific niches. This, in turn, prepares you to enter your industry of choice in a leadership capacity.
Why You Should Pursue an MBA
If you're eager to shake up your career trajectory, an MBA could be all that stands between you and significant professional progress. The challenges can be considerable, but the rewards will be even more noteworthy.
While personal reasons for pursuing an MBA abound (as discussed in detail below), this degree is worth seeking based on one overarching reality: it makes a difference. Whether you're seeking a higher salary, more professional authority, or a personal sense of satisfaction, you'll be amazed by how quickly your life changes as you progress towards your MBA.
If nothing else, you should be convinced by the results of a recent survey conducted by the Graduate Management Admission Council (GMAC). This study centered around a simple question: is a business degree worthwhile?
The response was overwhelmingly positive, with nearly nine in ten alumni claiming to have enjoyed a positive return on investment from their degree. An impressive 94 percent of respondents rated their graduate-level business education as good, excellent or outstanding.
6 Ways an MBA Can Help Your Career
By now, you should be well aware of the general appeal of the MBA. Still, you may want specific reasons to justify the time and effort it takes to obtain this degree. To help, we've outlined a few of the most compelling career benefits you stand to gain when you earn your MBA.
Gain Practical Experience
Think of the MBA as the most powerful shortcut for your career. The lessons and experience you gain through this degree might otherwise take years — even decades — to acquire while slowly climbing the career ladder. As an MBA student, however, you'll enjoy numerous opportunities to apply your newfound knowledge in some of today's most exciting and impactful business environments.
Practicum experiences, for example, may incorporate targeted community service activities or internship projects. These help you immediately build upon any theoretical understanding you've gained through MBA coursework. Moreover, these opportunities can boost your resume and interview responses, particularly if you had limited professional experience before enrolling.
Learn Leadership Skills
Effective leadership is not innate; it's a skill that must be honed over time. Without an MBA, however, those lessons can be hard-fought. Many ambitious entrepreneurs have made vital mistakes that limit growth potential or compromise long-term business prospects. Dedicate a few years of your life to intense study, and you should know enough to avoid concerns that might trip up other business-minded professionals.
As an MBA student, you will gain a firm understanding of what constitutes effective leadership. Along the way, you'll gain technical and soft skills that prep you for success. From problem-solving to business communication, you'll emerge well-equipped to handle the challenges of today's fast-paced business world.
In addition to gaining much-needed foundational knowledge, you'll learn how to apply your newly developed leadership skills in relevant niches. Various concentrations are available so that you can discover the secrets to effective leadership in healthcare, hospitality, business analytics and many other areas.
Higher Earning Potential
If you feel that your wages have stagnated, you may be worried about how you'll break out of this rut. In all likelihood, you will need additional credentials before you can substantially increase your earning power. Therein lies the value of the MBA, which allows you to command far higher wages than possible with a bachelor's alone.
While no degree can 100 percent guarantee a lucrative career, you should be encouraged by GMAC reports regarding starting salaries among business school graduates. The report revealed initial annual earnings of $115,000 for recent MBA graduates, more than twice as much as those hired with only a bachelor's degree.
GMAC reveals that this starting point forms the basis of a lifetime of higher earnings, with MBA graduates earning an additional $3 million throughout the course of their careers as compared to those limited to a bachelor's degree.
More Sought After
Job hunts need not be an endless cycle of submitting applications to employers who never respond. You'll receive a lot more attention if an MBA distinguishes your resume. This benefit may begin well before you graduate. Many employers will express interest simply by virtue of your acceptance into a competitive MBA program.
Plenty of happily employed graduates will provide compelling anecdotes of the job-seeking boost they gained following business school, which is also evident in the latest research. According to the MBA Career Services & Employer Alliance, 73 percent of business school students receive job offers by the time they finish school. Within three months of graduation, 87 percent of respondents had job offers.
Stand Out Compared to Other Candidates
When you're determined to score an in-demand position working for an esteemed employer, it's essential to have a resume decked out with solid credentials. It's tough to beat an MBA, which will instantly attract attention.
A high-level degree alone is sure to make its mark, of course, but that's by no means the only way you'll stand out. By the time you graduate, the networking opportunities granted by your MBA will have also produced some exceptional references. There's a grain of truth to the cliché "It's not what you know, but who you know," as you will quickly discover.
Standing out is crucial as you seek that first position after graduation and continue to compete for promotions and raises. It should be comforting to realize that your MBA will continue to pay off long after you've graduated.
According to a 2021 GMAC survey of corporate recruiters, most believe that business school graduates enjoy a fast-track approach to securing high-level positions. Moreover, nearly seven in ten respondents believe that leaders within their organizations typically have graduate business degrees.
Demonstrate Commitment
There's no denying that MBA programs are rigorous, but this forms much of their appeal from a professional standpoint. When employers see those three letters on your resume, they know that you're well versed in high-level business concepts and willing to put in the work.
Employers know the grit and tenacity it takes to thrive in an MBA program. They will assume that if you can handle all the challenges that business school has thrown your way, you'll be more than prepared to take on the rigors of your next job. There's simply no substitute for the perception of perseverance that an MBA provides.
Level Up Your Career With an MBA from Husson University
If you've been pondering how to advance your career and feel ready to take action, look to Husson University to get you on the path to professional advancement. We offer an excellent MBA program accredited by the International Accreditation Council for Business Education (IACBE).
At Husson, we're here to guide you toward your vision of both academic and career success. Contact us today to learn more about our graduate programs and the role that higher education could play in your climb up the career ladder.
Get Your Business Administration Degree
Back to All Articles