13 Ways to Rock Your Brand's Status as a Diverse and Inclusive Place to Work
Published on: September 1, 2022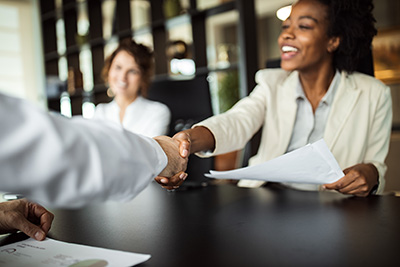 Where does your brand stand on diversity and inclusiveness? Every company wants to appear open-minded and fair, but how does your company perform when it comes to recruiting for diversity?
Explore Online Degrees
What Is Diversity Recruiting?
Diversity recruiting is a technique companies use to create more diverse applicant pools. Hiring is still based on merit, but a coordinated effort is taken to ensure the position appeals to a wider sampling of applicants, including those of different races, nationalities, languages, physical abilities, sexual orientations, ages, genders and religions. Applicants are not hired because they fit into a predetermined demographic, but through diversity recruiting, a more diverse pool of qualified applicants apply. Ideally, this form of recruiting then leads to a more diverse workforce.
What Is the Goal of Diversity Recruiting?
Imagine working at a company that only hires applicants from the same small community. These applicants can't have traveled outside the small community, and they can't have grown up in a household where either parent was born outside the same small community. When you work in teams with these employees or sit with them at lunch, you can only talk about life inside that small community because it's all you have ever experienced.
Now imagine that same company begins to branch out in their recruiting strategies. They hire the first employee who comes from outside the community. Suddenly, there's more to talk about. Work becomes more interesting because everyone is excited to hear the new employee's thoughts and ideas. Then another new employee comes on board, and this employee not only lives outside that first small community but comes from far, far away. And that new employee comes with experiences no one in the company has ever had. They know an easier way to operate the machinery or how to implement new strategies to raise employee morale.
Suddenly, everyone loves coming to work. The office isn't dull anymore, and new ideas and techniques are being introduced. This is an ideal result of recruiting for diversity: to create an environment where employees can learn from one another, and everyone's differences are considered valuable assets. Everyone is hired based on merit, and all have equal opportunities for promotion.
Benefits of Having Diversity Within the Workplace
The benefits of working in an inclusive, diverse atmosphere are many. There's the obvious feeling appreciated and respected for who you are. But there are also statistics regarding diversity that may surprise you. For instance, working for a company that values diversity may make your job more secure. According to the report "Diversity Matters," companies that are more diverse in their hiring practices tend to make more money. This is especially true for companies that highly value racial and ethnic diversity. For employees, this may translate into higher salaries, more paid time off, better at-work perks and added job security. There are other advantages, too:
A diverse workforce brings together people from different walks of life, cultures, educational backgrounds and varying life experiences. As a result, it's a more dynamic environment with more innovation and creativity.
Diversity among the workforce reinforces skills in collaboration, tolerance and getting along.
Statistics show that diverse work teams tend to make smarter decisions.
Companies that value inclusion and employ diverse talent-hiring managers tend to experience lower employee turnover rates.
Companies with proven records of diversity and inclusion are more appealing to top-quality applicants.
Acceptance and inclusion benefit everyone, from the company's CEO to its employees and shareholders. Not only is recruiting for diversity a savvy business decision, but it makes everyone generally feel more satisfied.
Which Is Better: Recruiting for Diversity from Within or Outside the Company
Any employee will tell you it's better to promote from within. And this is never more important than it is for companies actively trying to improve diversity in the workplace. For example, imagine hiring five new employees: one is black, one is transgender, one is female, one is a senior citizen and one is from a foreign country. At that moment in time, you're increasing diversity. However, if you never promote any of your new employees, instead consistently recruiting from outside the company, you're still creating problems for yourself.
From the outside, it appears you truly value applicants' experiences, regardless of how they look or who they are. However, internally, you may be decreasing employee morale and devaluing the accomplishments of those who've worked diligently for you for years. While it's wonderful to recruit externally if there's no one currently on your team who's qualified to perform the duties required, it should never be your first thought.
How to Increase Diversity in the Workplace
So, the question remains how to recruit diverse candidates for those open positions within your corporation. You can't exactly run an ad in the classifieds that proclaims, "seniors only need apply." And when you have an applicant who is a great candidate for the position, you can't decline them because they're not "diverse" enough. Your hiring practices must still be fair and balanced. This means you shouldn't hire someone less qualified just because you want to appear more open-minded. Instead, you want to attract a broader audience to your job postings. By drawing a wider audience, you'll have a more diverse pool of applicants to interview, which increases your likelihood of finding the right person, regardless of color, gender or ethnicity. Here's what we recommend:
1. Assess Your Company's Current Diversity Statistics
Where do you stand as an inclusive organization? Are you on the right path to creating a diverse and dynamic work culture? Or does your hiring process need work? If so, begin with your hiring manager. Several educational and training programs are available to teach management how to foster an inclusive workplace. Start here, and make sure the people you trust to recruit new applicants are on board with your company's policies regarding inclusion.
2. Promote Your Brand as Being Inclusive
Is your brand already doing a great job at hiring a diverse workforce? That's fantastic news. Now shout it from the rooftops. Make sure your customers hear about your efforts and all you do to create a warm and inviting work environment. People love to support brands they trust, and if you're truly dedicated to ending inequities in your organization, the public will take note.
3. Proactively Reach Out to Candidates
Have you noticed a star performer climbing the ranks of the competition? Reach out. Engage them in talks, and let them know you're interested in bringing their unique talents to your organization. It's not always necessary to wait for an applicant to apply. If you know someone with the skills and experience you're actively searching for, don't be afraid to tell them so.
4. Highlight Diversity in Job Listings
It's also fine to mention your brand's dedication to inclusiveness in your job listings. Let qualified applicants know they'll have an equal opportunity to be hired regardless of race, gender or more. While you can't outright ask people to apply only if they're of a certain nationality or religion, you can word your job listings so that everyone who sees them and meets the requirements will feel welcome to apply.
5. Reduce Bias in the Interview Process
Your onboarding team should have the same diverse training as your hiring manager, and they should know where the company stands on inclusiveness. An excellent way to ensure this is to recruit team members from different backgrounds as part of your interview team. There are other factors to consider as well, including:
Removing biased wording from onboarding paperwork. These include masculine- and feminine-coded language you may not even notice.
Installing software that rates applicants by online scores rather than by having hiring personnel read traditional resumes.
Using a panel of hiring personnel in the interview process instead of a single employee.
6. Regularly Celebrate Diversity as a Company
If you already have a diverse workforce, celebrate it. Give employees time off to celebrate their holidays. Keep a cultural calendar where employees can add their special observances, and then do what you can to observe these days in the office. Do team-building exercises that allow employees to share information about their cultures, traditions and ideals. Lastly, encourage employees to share their backgrounds and experiences regularly.
7. Use Specialized Job Boards
Specialized job boards can help you find the perfect applicant for more specific positions. For instance, consider using Poached if you're looking for a chef. Need a creative? Try Behance. Specialized job boards can put you in touch with the best person for the job without the hassle of running a classified ad.
8. Develop Recruiting KPIs (Key Performance Indicators)
There are various software options on the current market to help your hiring staff measure key performance indicators. Find the one that works for your brand, and then train your personnel to use it most effectively.
9. Encourage Referrals From Current Diverse Employees
Pick the brains of your most diverse employees and ask for referrals from well-qualified friends or family.
10. Offer Internships to Specific Groups
Internships geared toward specific age groups, social classes and more can help you build a more diverse workforce.
11. Adopt Appealing Workplace Policies
Workplace policies that reward outstanding performers with additional time off or allow employees to work from home are always positives. Use them to attract top applicants to your interview processes.
12. Use Social Targeted Social Media to Recruit
Some social media platforms, such as Facebook, allow you to run ads targeted toward specific demographics. For example, your ad might target women between 18 and 29 who live in the Eastern United States, are single and have bachelor's degrees. While not every Facebook user inputs this information, those who do will see your ads in their newsfeeds.
13. Offer Learning and Education Programs
Educational incentives are also a draw. If your company offers tuition reimbursement for work-related classes or allows employees to earn college credits through online learning activities, that's a plus. Applicants are attracted to nontraditional incentives that will enable them to further their skills and education while on the clock.
A certificate course is always a good option if you're serious about boosting inclusion and diversity in your brand. Husson University in Bangor, ME, offers an online undergraduate certificate in Diversity, Equity, and Inclusion that can show you how to increase diversity in the workplace and instruct you on recruiting diverse candidates. Register today to earn your certificate entirely online.
Get Your Diversity, Equity and Inclusion Certificate
Sources
https://www.mckinsey.com/business-functions/people-and-organizational-performance/our-insights/why-diversity-matters
https://www.indeed.com/hire/c/info/benefits-of-diversity
https://www.robertwaltersgroup.com/news/expert-insight/careers-blog/how-to-remove-unconscious-bias-from-your-hiring-process.html
https://www.hrcloud.com/blog/9-ways-to-celebrate-diversity-in-the-workplace
https://poachedjobs.com/jobs/all/washington+dc/?gclid=CjwKCAjwsfuYBhAZEiwA5a6CDJHrtZATvH-dMs7tfq-PHngebpC18X9i9TUE_m7O2kd9eUL-UbyuzRoCMzEQAvD_BwE
https://www.behance.net/joblist?tracking_source=nav20
Back to All Articles