Life as a Psychiatric Mental Health Nurse Practitioner: What to Expect
Published on: April 14, 2022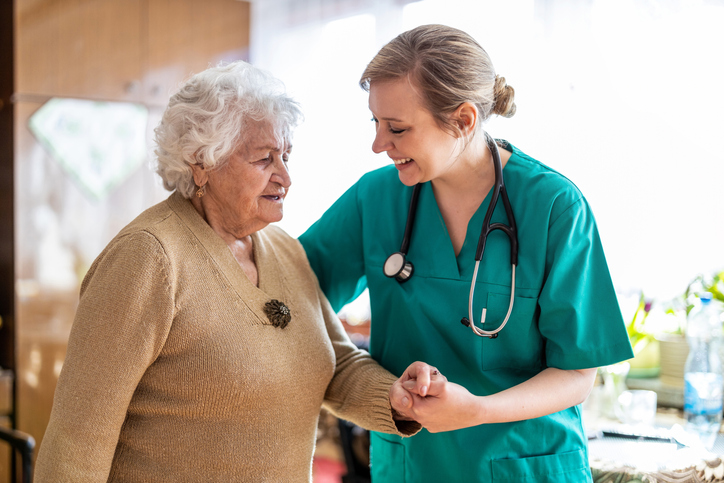 If you are considering a career as a psychiatric mental health nurse practitioner (PMHNP), you probably have many questions. The goal of this article is to answer as many of those questions as possible by exploring the roles, responsibilities, challenges, rewards, skills and other aspects of life as a PMHNP.
Explore Online Degrees
What is a PMHNP?
A PMHNP is a professional who is responsible for diagnosing and treating mental health issues. PMHNPs offer physical and psychosocial assessments, therapy, prescriptions, emergency psychiatric care and other services. The exact responsibilities a PMHNP will have on a daily basis depend on the nature of the specific position. However, these professionals may work in either an inpatient or outpatient setting. Positions in both private practice and hospitals are available. PMHNPs may work traditional hours, or they may work nights and weekends. On-call hours are common in inpatient settings.
PMHNPs treat individuals of all ages. They may work with patients who have a wide variety of psychiatric conditions, from anxiety disorders to schizophrenia. In addition to assessing and treating patients, PMHNPs may also offer preventative or educational services.
What are some of the daily or weekly duties of a PMHNP?
The typical duties of a PMHNP will depend on the facility and the specifics of the job. However, some of the daily and weekly duties of a PMHNP may include:
Reviewing patient charts before sessions
Going over lab results
Evaluating patients
Taking vitals
Performing comprehensive mental health evaluations on new patients
Diagnosing mental health conditions
Recommending treatment options, including therapy, counseling and medication
Reviewing patient medications and recommending modifications
Filling in new information on patient charts
What is the difference between a psychiatric mental health nurse practitioner and a psychiatrist?
Psychiatric mental health nurse practitioners and psychiatrists have similar responsibilities. Both types of professionals assess patients, diagnose psychiatric conditions and make treatment recommendations. Both PMHNPs and psychiatrists can also prescribe medication and conduct counseling or therapy sessions. However, there are some key differences between these two professions. Some of these differences include:
Credentials - Psychiatrists are doctors of medicine or osteopathic doctors, while PMHNPs have a master's or doctorate in nursing.
Education - Psychiatrists spend more time in school than PMHNPs, as they must complete four years of medical school, then three to seven years of psychiatric residency.
Licensure and Certification - Both PMHNPs and psychiatrists are licensed by the state, but PMHNPs have a nurse practitioner's license, while psychiatrists are licensed as medical doctors. Both PMHNPs and psychiatrists can also pursue certifications, but they will be certified by different organizations.
Salary - In general, psychiatrists earn a higher salary than PMHNPs regardless of their employer or specific position.
What challenges do PMHNP's face in their jobs?
Like all professionals in the medical field, PMHNPs face a number of challenges in their jobs. Some of the challenges you may face as a professional working in this field include:
Limited staffing - Many medical facilities are operating with fewer staff members than they need to operate efficiently and effectively. As a result, PMHNPs may carry a heavy caseload that can be stressful and overwhelming. PMHNPs may also be required to work long hours because of problems with staffing.
Patient no-shows - PMHNPs deal with a significant number of patient no-shows. To combat this, many clinics purposefully double-book appointment times. Unfortunately, when patients do show up, this can lead to a longer, more complicated schedule.
Diagnostic issues - Many mental health conditions have similar symptoms. This can make it harder for PMHNPs to make diagnostic decisions and accurate treatment recommendations.
Burnout - All workers in the mental health field are at risk of experiencing burnout, which can occur if PMHNPs work too many hours and/or become too invested in their jobs and experience emotional or psychological trauma as a result.
What are the rewards/benefits of being a PMHNP?
In spite of all the challenges PMHNPs face, there are also many rewards and benefits that come with a job in this field. Some of the positive aspects of this career include:
The joy of helping others - PMHNPs provide essential services to their patients. Many of these patients are dealing with complex psychiatric conditions that require specialized care. They rely on their psychiatric nurse practitioner to accurately diagnose their condition and offer the most effective treatment options. PMHNPs also provide ongoing support for these patients as they undergo treatment, and they monitor them for signs of more severe problems, such as suicide risk.
Opportunities for ongoing education and advancement - PMHNPs can continue their education and learn about the newest developments in the field. Depending on the situation, as PMHNPs gain more experience in the field, they may also have opportunities to advance their careers.
A respectable career - Mental health professionals, including PMHNPs, are well-respected in society because of the valuable services they provide to psychiatric patients, as well as their dedication to educating and supporting family members of psychiatric patients.
Salary and benefits - PMHNPs earn a competitive salary. According to the Bureau of Labor Statistics, the average salary for PMHNPs in psychiatric and substance abuse hospitals is more than $131,000 annually. The salary for PMHNPs at the 10th percentile is around $79,470 per year, while PMHNPs at the 90th percentile earn an average $163,350 per year. Many jobs in this field also offer additional benefits for full-time employees, including paid vacation, healthcare, retirement and more.
How has the COVID-19 pandemic impacted the role of the PMHNP?
Nearly every profession has been impacted by the COVID-19 pandemic, but this issue has been even more prevalent in the field of healthcare. PMHNPs have seen a variety of changes as a result of this worldwide crisis. For example, many PMHNPs have had to work under different protocols than those that were used prior to the pandemic.
Some PMHNPs, particularly those who work in outpatient settings, have experienced a shift from in-person meetings with patients to virtual meetings. These virtual meetings are usually conducted using video conferencing technology. Although PMHNPs are still able to conduct their meetings with patients using technology, there are still challenges that come with this change.
In addition, COVID-19 has increased stress for nearly everyone, including psychiatric patients. PMHNPs have had to deal with a rise in anxiety disorders and depression among patients, as well as worsening symptoms for patients who were already suffering from these conditions.
What does it take to become a PMHNP?
In order to thrive as a PMHNP, you need to possess certain skills and characteristics. You will also need to complete specific educational and licensure requirements before you can begin working in the field. Below is some information about the education you need, as well as the skills that will help you in this career.
PMHNP Skills
Some of the skills you will need to perform this job effectively as a PMHNP include:
Recognizing the symptoms of common psychiatric conditions and illnesses.
Determining which treatments are most appropriate for each individual patient.
Providing psychotherapy to individuals, groups and families.
Knowledge of various psychiatric medications, as well as the ability to determine which medication is appropriate for various patients.
Interpersonal skills that allow for healthy communication with other healthcare professionals, as well as positive relationships with patients and their families.
Good communication skills, as well as the ability to provide educational services to patients and family members when necessary.
Excellent organizational and time management skills.
While some of the skills you will need to perform your job well will be developed during your training program or on the job, others are skills you may possess before you enroll in school.
PMHNP education requirements
PMHNPs must complete specific educational requirements, as well as obtain licensure from the state. In order to become a PMHNP, the minimum degree requirement is a Master of Science in Nursing. This means that you must already have an initial nursing degree, such as a bachelor's degree, before beginning your program to become a PMHNP.
The goal of a master's program is to help you develop the skills and knowledge base you need to fulfill your responsibilities as a PMHNP. In this program, you will study all the different subjects you need for this career path, such as pharmacology, physiology, assessments and diagnosis.
Husson University is proud to offer an online program for students interested in a career as a PMHNP. Husson's Master of Science in Nursing - Psychiatric Mental Health Nurse Practitioner program has a strong record of success, with 95 percent of students passing national certification exams upon completion of the program. This program requires students to complete a total of 51 credit hours of study and offers 24/7 online access to all course materials. The standard Master of Science program takes most students 30 months to complete. However, a 24-month accelerated program track is available for students who want to complete the program faster.
The core curriculum for this program includes a variety of classes that will help you prepare for your career. Examples of classes you will complete in this program include:
Advanced pathophysiology
Advanced health assessment
Pharmacotherapeutics
Advanced nursing practice
Public health policy issues
Evidence-based practice
Healthcare informatics and technology
Family psychiatric nursing
If you are interested in pursuing a career as a psychiatric nurse practitioner, please contact Husson University today to learn more about this online program.
Get Your Nurse Practitioner Degree
Sources
https://www.aanp.org/news-feed/are-you-considering-a-career-as-psychiatric-mental-health-nurse-practitioner
https://nursejournal.org/careers/psychiatric-nurse/psychiatric-np-vs-psychiatrist/
Back to All Articles