How to Build Your Marketing Portfolio
Published on: April 1, 2022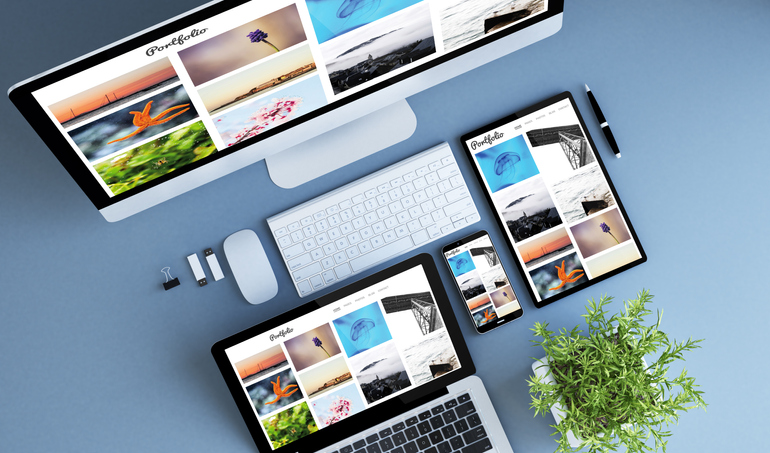 The more tools you have in your toolbox when job hunting or looking for marketing clients, the better. A marketing portfolio is a powerful tool to have at your disposal and an asset for any marketing professional who wants to display their accomplishments and talents. When combined with a solid resume, it may significantly advance your career.
Explore Online Degrees
Now that you know you need one, the next question is, how do you go about creating a marketing portfolio? Let's start with the basics.
What Is a Marketing Portfolio?
A marketing portfolio is a website or web page that displays your greatest work to prospective employers or clients. The portfolio should include at least three solid case studies demonstrating your marketing talents, as well as a brief introduction to your professional past. The website is also a portfolio piece that demonstrates your usage of digital media, copywriting and design.
Regardless of what kind of marketing you specialize in, be it social media, email or content, having a solid portfolio is vital to showcase your work. This is how you let potential employers or clients know what you are capable of and why they need you on their team.
Benefits of a Marketing Portfolio
Ultimately, a marketing portfolio helps you differentiate yourself from other people in the industry. With the right branding and marketing message, you can draw in the best clients and potential employers, as well.
It also allows you to highlight your successes as a marketing professional. It's an opportunity to explain to a potential client what work you've done and how you are a problem solver and innovative thinker.
Having an internet marketing portfolio is an excellent method to boost your authority in the industry, too. You may showcase your remarkable achievements on the portfolio page, as well as on social media and other marketing channels, to help with client acquisition and recruiting.
How to Create a Marketing Portfolio?
As important as a marketing portfolio is to your future, a bad one will set you back just as quickly. The question is, how do you create a marketing portfolio that effectively showcases who you are and what you can do?
Choose an Online Hosting Platform
Before you consider design or samples to put in the portfolio, you have to figure out where to put it. In the old days, marketing professionals put their portfolios in large leather cases and carried them with them wherever they went. Luckily, the digital world offers more options. There are a few things to consider:
Pricing
You might find a few sites that allow you to build your portfolio for free, but they can often be limiting. For example, they may only let you showcase a certain number of pieces. Some options for hosting sites include:
WordPress – WordPress does offer free portfolio hosting, but there are some hidden fees to watch out for, such as domain name, plugins and themes (there are free themes, too). They also offer premium or professional services for a fee. WordPress is probably the most used hosting site around and can be accessible and affordable. There is a learning curve when using WordPress, though.
Clippings.me – Clippings.me also has some free offerings, although there are limitations. They offer a tier system if you need to go beyond those limitations, such as posting more examples. This site is popular because it is search engine optimized and will share clips from your portfolio.
Journo Portfolio – Journo Portfolio will allow you to post up to ten samples for free. It has the added bonus of letting you add samples using a URL address. For instance, if you have a byline article in an online magazine, you just post the URL and the website will pull it up for you. You can also publish directly on the site.
Wix – Wix offers free or paid options. They are known for their creative templates and handy SEO settings. A Wix portfolio can have a little more pop to it, too, with CSS and Javascript options. They also optimize for mobile, which is essential.
Squarespace – Squarespace is a good option because they offer some snazzy templates and tend to be easier to use. They are not free, though. They will charge you a monthly fee for maintaining your site, but there is no contract, so you can cancel anytime. Squarespace sites are also mobile-friendly.
Design
You also want to consider your design needs when picking your hosting platform. Are you looking for templates that you can just fit your information into or something you can customize?
If you want to do some customization, how difficult is it? Not all these platforms are user-friendly.
If you decide to use a paid platform, try to get a trial period, so you can see if the design elements work in your favor.
Domain Name
Ideally, you will purchase a domain name that helps potential clients and employers find you. Some platforms will let you buy a domain name through them. It may cost a little more than buying it offsite but be easier to use. If you already have a domain name, see if you can use it on the platform before signing up.
Property Ownership
It is essential to read all the fine print and do your research before posting any original work on a hosting platform. You need to ensure you maintain ownership of your intellectual property.
Website Infrastructure
Do you want separate pages? Do you want a slideshow of your work? Most of the hosting sites will let you create different pages; beyond that, see what it is capable of before you start building your portfolio.
Layout and Features
Once you choose your hosting site, it's time to start connecting the dots. What do you want to accomplish with your portfolio and what layout offers you the best way to do that? Looking at templates is an excellent way to get an idea of what you want. You can also review the marketing portfolio examples of others to see what works for them.
There are key pages you will want to include, though:
Home Page
Start with the home page and work from there. Think of your portfolio as an extension of your professional self and choose your design based on that concept. What do you want people to know about you? Can they get a sense of your style from that first page?
Minimalism is unquestionably the way to go when it comes to portfolio sites. Because you're attempting to attract new clients with your work, you should select a design that draws attention to your portfolio and any information you offer about your business rather than distracting from it.
Things to include on your home page:
Tag line – A few words or a quote that sums you up nicely.
Logo – Create a design people will associate with your brand and style. Make sure the logo is crisp and custom.
High-quality images – Images matter, so make sure the ones you use are the highest quality you can provide while balancing with page-load speed so your portfolio site still loads swiftly.
Call To Action – Invite viewers to the site. "Learn more about me by exploring my projects." It doesn't have to be Pulitzer Prize-winning – just inviting.
About Page
The About page allows you to tell the viewer more about yourself. It should be a snapshot of your professional life and your personality. Stick mostly to your work and education but add a few details about your life here, too. What do you do in your off time?
Keep the facts about your work and life clear and avoid hyperbole. The About Me pages help you build trust, so it should be friendly but business-like and authentic. Also, add a photo of yourself if possible.
Samples of Your Best Work
This is where you really have a chance to shine. If you provide visuals, make sure they are colorful and high-quality. Also, include some information about the project, successful results of said project, and a client testimonial if you can get one.
Testimonials and Awards
Add additional testimonials on a separate page or use just one page for them. Also, include any awards you might have gotten for your work. The more information you provide, the more impressed your potential clients or employers will be and the more likely they will be to reach out.
Contact Information
This is the most critical piece of information in your portfolio. It is a good idea to list contact information at the bottom of each page as well as on a contact page. Many hosting platforms will also help you set up a contact form. This provides you with an additional point of contact.
When putting in your contact information, include links to your social media pages. Ideally, you will have business profiles up and running for clients to connect with.
Marketing Portfolio Templates and Examples
The best way to create an effective marketing portfolio is to look at what other people do. Reviewing examples also helps you decide what type of design appeals to you.
Don't be afraid to stray outside the marketing industry to see examples of key pages. For instance, look at the bio pages on The Whitehouse website to see an example of effective About pages.
Tips for Creating a Standout Marketing Portfolio
There is no rule book when it comes to creating a marketing portfolio. However, there are things you can do to get noticed, including:
Curate Your Best Work
This should not be a list of every job you ever had but something that showcases the ones you are most proud of and those that had the best results.
Make Your Site User-Friendly
Few things are more frustrating than being on a website and not being able to figure out how to navigate it. There are plenty of bells and whistles you can put on your digital marketing portfolio, but make sure they don't confuse your viewer or slow down the loading time of your website.
Make Eye-Catching Graphics
Poor images will just muddy up the website and might even slow download times. Look for images that are both aesthetically pleasing and relevant. Also, if you don't own them, get them from a stock-free site. You don't want to have to pull your portfolio down because of copyright issues.
Contact Information Front and Center
It is worth repeating. Make sure each page has your contact information. This is a good practice for SEO, too. The more times your name and info appear, the more times it can show up in a search.
Visit it often
This isn't something you just put on the internet and ignore. Make sure to go back, do updates, and even post a blog to keep the site active. This is also good SEO practice. It will also draw industry people to your site.
Whether you are still a student, considering a career in marketing, or a seasoned professional, a marketing portfolio is a must-have to get ahead in your career. It is your gateway to more clients, more professional work and a dream job if you are looking for employment.
If you are just beginning to think about your marketing career, education is an investment worth making. You can get a Bachelor of Science degree in Business Administration and Marketing online at Husson University. Find out more by contacting us today.
Get Your Business Administration and Marketing Degree
Sources
https://www.webfx.com/blog/web-design/free-online-portfolio/
Back to All Articles