Six Steps to Become a Nurse Practitioner
Published on: March 1, 2022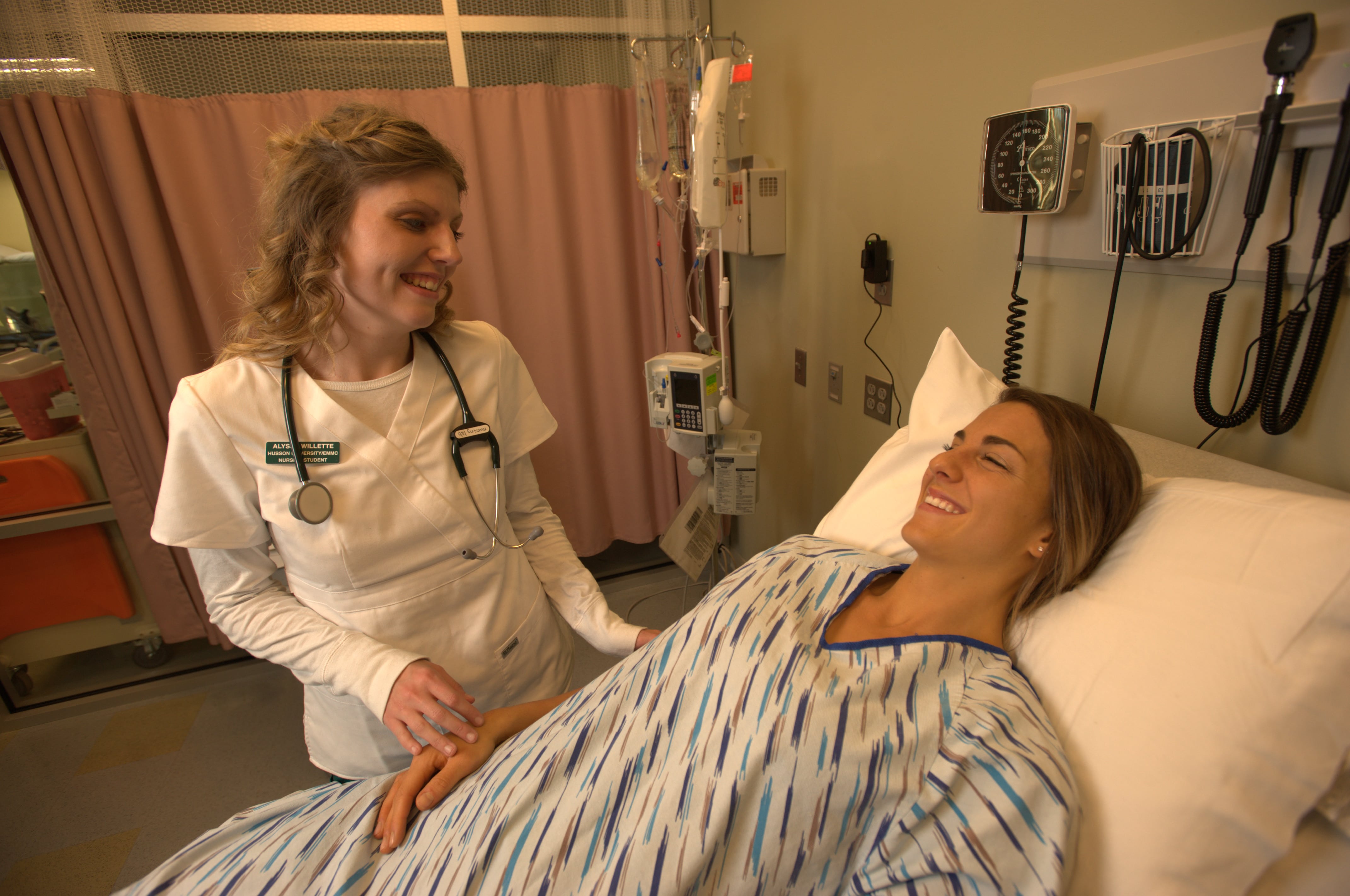 In the medical field, nurse practitioners are in increasingly high demand. Many clinics and hospitals recognize the value of these advanced practice nurses, and many registered nurses are jumping on board to earn their advanced practice credentials so they can fill these gaps. Whether you are already practicing as a nurse and are thinking about advancement opportunities, or you are looking ahead to your career path and think that nursing might be the right fit, consider nurse practitioner instruction. Here is a closer look at what a nurse practitioner does, how much they can potentially earn and what opportunities exist within this field.
Explore Online Degrees
What Is a Nurse Practitioner (NP)?
Nurse practitioners are advanced practice nurses who can perform many of the same functions as a doctor. They may work with other healthcare professionals or independently, depending on the laws in their state. They often focus on treating the whole person, disease prevention and health education in addition to diagnosing and treating conditions.
What Do Nurse Practitioners Do?
The services a nurse practitioner provides will depend on where they practice and what the rules and regulations are in their geographic area. In general, nurse practitioners may:
Order and perform diagnostic tests
Diagnose and treat acute and chronic conditions
Prescribe medications
Manage patient care
Provide health education and counseling
Like physicians, nurse practitioners can focus on one specific practice area specialty, like pediatrics or geriatrics, or they could perform general medical services.
Nurse Practitioner Scope of Practice
Most healthcare settings employ nurse practitioners, and they can coordinate care, diagnose diseases and prescribe treatments for their patients. They serve as healthcare professionals, advocates, researchers and educators. In some states, these professionals must report to an overseeing doctor, but in others, they can practice on their own.
Skills Needed To Be a Nurse Practitioner
Several skills make nurse practitioners good at what they do. First, they need to be good researchers. Medical school can provide a solid foundation of knowledge about many conditions, but sometimes patients present without standard symptoms. Nurse practitioners must dig in to find the root cause of their patient's condition. Along with that, nurse practitioners should be able to analyze well, pulling in different ideas to find solutions that work for their patients.
Leadership skills are also important. Nurse practitioners must be able to help people make the right choices about their health and well-being. They often lead other nurses in the practice, as well.
Good communication skills, even when dealing with cultural and language barriers, will help nurse practitioners do well in their work. In fact, being able to communicate well with patients is one of the most important nurse practitioner requirements.
Finally, these healthcare professionals must be able to perform well under stress. The medical field is rewarding, but it can also be stressful. Nurse practitioners need to be able to handle that stress with a calm, clear head as they guide patients and patient families through challenging times.
Nurse Practitioner Salary and Career Outlook
The Bureau of Labor Statistics estimates an average salary of $117,670 a year for nurse practitioners, nurse midwives and nurse anesthetists. Those in the highest 10 percent earn close to $200,000 a year, while those in the lowest 10 percent earn around $84,000 a year. The highest-paid nurse practitioners are those who work in hospitals, followed by those who work in outpatient care centers.
Types of Nurse Practitioners
Most medical specialties have the option for nurses to work as nurse practitioners. Some of the most common types of nurse practitioners include:
Family Nurse Practitioner – These nurse practitioners provide primary care to patients of all age ranges in a family practice setting.
Adult Acute Care Nurse Practitioner – This specialty involves working with adult patients in a hospital setting where patients need immediate medical attention due to illness or injury.
Adult Primary Care Nurse Practitioner – These nurse practitioners work in a primary care setting, but they do not work with pediatric patients.
Neonatal Nurse Practitioners – Working with newborn babies who are in the NICU due to illness, injury, or prematurity is what these nurse practitioners will focus on.
Psychiatric Nurse Practitioners – This specialty involves working in the mental health field as a nurse practitioner.
Pediatric Nurse Practitioner – Both acute and primary care nurse practitioners with a focus on pediatrics work with children and babies.
Women's Health Nurse Practitioner – This nurse practitioner specialty involves providing care to women and girls who need OB/GYN care.
Each of these specialties has its own benefits and drawbacks, so consider your strengths and passions as you consider where you want to focus your education. If you are unsure, family practice may be the right choice, as it lets you work with the widest variety of patients.
Nurse Practitioner Education Requirements
Becoming a nurse practitioner starts with the right nurse practitioner schooling. Most nurse practitioners will start with a bachelor's degree in nursing, then gain work experience. Finally, they will earn a graduate degree. This might include a Master of Science in Nursing (MSN) or a Doctor of Nursing Practice (DNP) degree. Nurse practitioners also need hands-on training and certification before they can practice.
How Many Years Does It Take to Become a Nurse Practitioner?
The length of time it takes to become a nurse practitioner will depend on the educational path a particular nurse takes. In general, however, the process takes between six to nine years.
Cost To Become a Nurse Practitioner
The cost of a nurse practitioner degree varies depending on how you get the degree and what school you choose. The most expensive path is to start with a bachelor's degree, then earn a master's degree followed by a doctoral degree. If you take a BSN first and earn an MSN, you will need the least number of credit hours to start practicing. Plan to pay around $200 to $800 per credit hour, depending on the program you choose. Keep in mind that online programs may be more affordable than on-campus programs.
Steps to Become a Nurse Practitioner
If you feel like a career as a nurse practitioner is right for your career goals, here is one path you can choose to get there:
Earn Your Bachelor's Degree
Nurse practitioners need the right undergraduate training to start their careers. A bachelor's degree in nursing is usually the right choice. This not only provides the right foundational instruction, but it also allows you to get licensed as an RN. This helps you start your career while also giving you the chance to gain work experience, which is necessary for the next steps. It can also provide more funding to pay for an advanced practice degree.
Gain Work Experience as a Nurse
Nurse practitioners need to have work experience before they can be admitted into most nurse practitioner graduate programs. Check with the program you are considering to see how much work experience you need. Sometimes you can apply the work experience you gain while you are working on your graduate degree, depending on the requirements of your program. Gaining work experience will also help you determine what specialty area you want to focus on as a nurse practitioner, so you can jump into the right degree path for your graduate school training.
Enroll in a Graduate Program (MSN or DNP)
With the necessary work hours in place, enroll in your graduate program. Choose either an MSN or a DNP program. Both options have benefits and drawbacks to consider, and you will want to look at your career goals to choose the path that fits best.
A master's degree will allow you to earn your nurse practitioner credentials more quickly and with less financial investment, in most cases. It works well if you are hoping to practice clinically in a particular specialty. You can always pursue a DNP later if you wish. With an accelerated program, you could earn an MSN in as little as 24 months, launching your career as a nurse practitioner quickly.
A DNP works best for nurses who know that they are looking for leadership positions while also providing patient care. This is the highest level of training a nurse can get, and it also opens the door to some specialties that are not possible with just an MSN. If you know you intend to earn a doctoral degree at some point, it may be faster and more affordable to start with this route rather than earning an MSN first. However, you do not need a doctoral degree to practice as a nurse practitioner, so you are not required to follow this path if it does not fit your career goals.
Earn Your Advanced Practice Nursing Licensure in Practical Nursing
Once you complete your advanced practice degree, you are ready to get your license. There are several organizations that license nurse practitioners. The American Academy of Nurse Practitioners Certification Board (AANPCB) is a common choice. However, you may also choose licensure through the American Nurses Credentialing Center (ANCC). If you plan to practice in pediatrics, consider the Pediatric Nursing Certification Board. You will need to attain your license before you can start practicing.
Get a Job as a Nurse Practitioner
Once you have your licenses, you are ready to start practicing. While many nurse practitioners will eventually practice independently, you may want to start by working under a doctor or in a larger clinic setting. This will help you know what the day-to-day work of a nurse practitioner will entail and give you hands-on training running an effective practice.
The BLS estimates a 45% increase in the demand for nurse practitioners between 2020 and 2030, so finding work should not be difficult. That said, there are often some communities that have a higher or lower demand for these professionals, so stay flexible until you find a position.
Continued Education Requirements & Recertification for Nurse Practitioners
Each of the nurse practitioner certifications will require recertification from time to time. You will need to pursue continuing education credits to apply for recertification. Keep expanding your knowledge and learning more about nursing to ensure you can stay at the forefront of your practice area and get those continuing education credentials to renew your license. Keep in mind that the time frame for license renewal is going to vary depending on the type of license you have and the specialty area where you practice.
Start Your Nurse Practitioner Career With Husson University's Online NP Programs
If you are ready to jump in and earn the right credentials to start your nurse practitioner career, Husson University is here to help. We have three online nurse practitioner training programs that will help you earn an MSN in a specialty area, giving you the foundation you need to advance your career. Our online programs provide flexible scheduling with 24/7 access, so you can work around your busy nursing shifts. We have a 95% passage rate for our nursing programs on national certification exams, so you know you will be well prepared. We offer a Master of Science in Nursing in Psychiatric Mental Health and a Master of Science in Nursing in Family Practice.
Each of these programs fulfill all nurse practitioner requirements educationally and prepare you well to pass your certification exams. Reach out to an enrollment counselor at Husson University today to learn more about our nurse practitioner training, and see how easily you can complete your education and launch an advanced practice career with flexible online programs.
Get Your Nurse Practitioner Degree
Sources
https://www.aanp.org/about/all-about-nps/whats-a-nurse-practitioner
https://www.bls.gov/ooh/healthcare/nurse-anesthetists-nurse-midwives-and-nurse-practitioners.htm#tab-1
Back to All Articles