6 Tips for Choosing an Accounting Degree Program
Published on: December 20, 2021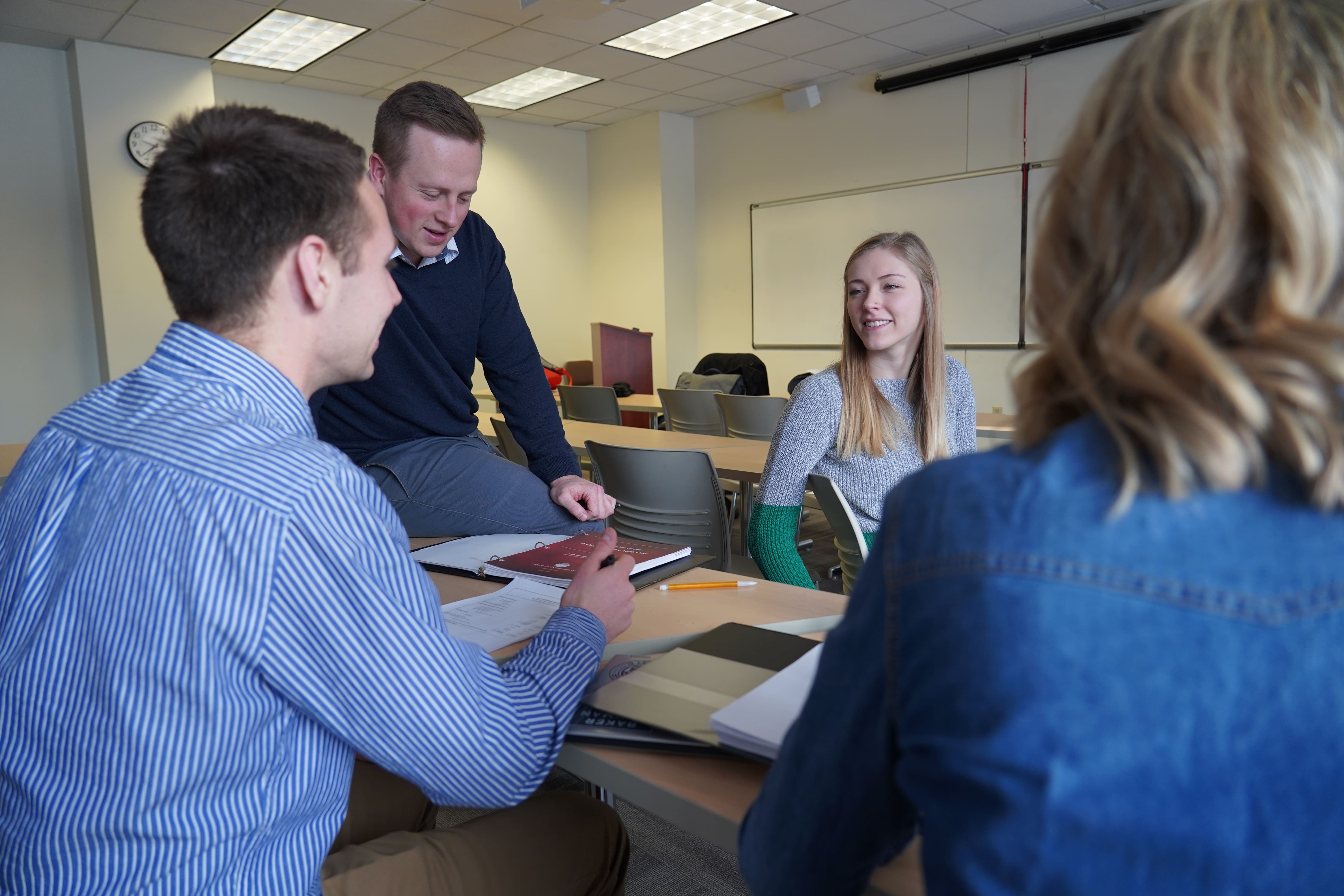 To help you find a program that is perfectly suited for your career goals, we look at the top six most important factors to consider as you look for an accounting degree program.
An accounting degree can open up a wide range of exciting career paths. In order to start your accounting career on the right foot, it is crucial to choose the right accountancy school and accounting program. To help you find a program that is perfectly suited for your career goals, we'll take a look at the top six most important factors to keep in mind as you go about choosing an accounting program.
Explore Online Degrees
Accounting Career Paths
Before we begin looking at how to choose the right accounting program, let's start by exploring some of the more popular career paths you will be able to pursue with a relevant accounting degree:
Certified Public Accountant - Certified public accountants (CPAs) work either independently or as an employee of an accounting firm in order to help clients complete tasks, such as filing taxes or processing payroll. CPAs often work with a lot of small business owners, though CPAs may take on a lot of clients who are traditionally employed, as well — especially during tax season.
Forensic Accounting - Forensic accountants are charged with investigating incidents such as fraud, money laundering and embezzlement. Forensic accountants are typically employed by accounting firms that provide forensic accounting services to lawyers, law enforcement agencies, government organizations, and financial institutions.
Financial Analyst - Financial analysts help organizations make better decisions regarding their investments and expenditures.
Tax Accountant - Tax accountants are solely focused on helping clients prepare their taxes. Tax accountants can work independently or as part of a larger tax preparation firm.
Financial Advisor - Financial advisors work with individual clients to help them manage their wealth and investments.
Auditor - Auditors work to review financial documents to ensure accuracy and compliance with laws and regulations. Many auditors work directly for the IRS, though auditors can be employed by private consulting firms, as well.
It is worth mentioning that this list of accounting career paths is by no means comprehensive and represents only a selection of the more popular careers that one can pursue with a relevant accounting degree. Suffice it to say that a degree in accounting is something that can open a lot of unique and interesting doors in your professional life.
Accounting Degree Options
If you decide to pursue a career in accounting, you will have a number of degree options to choose from. Accounting degrees range from a two-year associate degree in accounting all the way to an accounting Ph.D. (which can take up to seven years to complete).
Most accounting jobs require a bachelor's degree in accounting or a closely related field. With 150 hours required to sit for the Uniform CPA Examination, a bachelor's degree is only the starting point for prospective CPA professionals. A 30-hour master's degree in addition to the bachelor's degree is likely the best avenue toward earning a license as a CPA.
In most cases, a doctorate in accounting will only be required if you are hoping to teach accounting at the collegiate level as a professor, though a doctorate in accounting can certainly make you a more attractive candidate for other accounting positions, as well. Likewise, earning your master's degree in accounting is also a great way to set yourself apart from the competition and pursue accounting positions that require a higher level of education and experience.
Choosing an Accountancy School
Not all accountancy schools are created equal, and the accountancy school you choose can have a major impact on both the education that you attain and how your degree is perceived by potential employers. With that in mind, it is certainly important to do your research and choose a school that will best prepare you for a successful accounting career. To help you get started, here are the six most important factors to consider when choosing an accountancy school and accounting program:
Campus Location vs Online Accounting Degree Program
The first decision that you will need to make when it comes time to choose an accounting program is whether you would like to attend courses online or in person. If you decide that attending courses on campus is right for you, campus location is an important factor to consider. Since you will be spending several years living on or near campus, it's a good idea to visit the campus in question to ensure that its facilities are up to your standards.

In recent years, online accounting degree programs have become increasingly popular. With an online accounting degree program, you can complete courses on your own schedule from the comfort of your own home. Of course, benefits and drawbacks abound for both online and on-campus learning, and the decision regarding which one is best for you is ultimately a matter of personal preference. Online learning is often more affordable and convenient. However, some students find they retain information better when attending an in-person course. Whichever camp you happen to fall in, deciding between a residential or online accounting degree program is the first decision you should make.
School and Program Reputation
It is vital to carefully consider the reputation of both the school and the accounting program that it offers before you make your final decision. In addition to helping you choose a school that will provide you with the best possible experience, considering the reputation of a school and its accounting program will also allow you to earn a degree that will be viewed favorably by potential employers. In some cases, the reputation of your chosen school can have a bigger impact on how easy it will be for you to find employment than factors such as internship experience or your GPA. This makes it incredibly important to choose a reputable and accredited accounting degree program that will make potential employers take notice when they see it on your résumé.
Accredited Accounting Programs
Speaking of accredited accounting programs, it's best to limit your selection of potential programs to those that have received accreditation from either a regional or national accrediting body. This is something that many employers highly value, and for good reason: accreditation serves as a stamp of approval from a reputable and unbiased source that confirms the quality of the accounting degree program to students and their potential employers alike.
Accounting Degree Program Cost and Length
Unless you have time to spare and an unlimited budget, the cost and length of an accounting degree program will be important factors for you to consider. Earning an accounting degree online tends to be much more affordable than earning a comparable degree on campus. With an online accounting degree program, you will only have to pay for per-credit-hour tuition and any materials you might need, such as a laptop or textbooks. With a residential degree program, you will incur these costs plus expenses such as housing, transportation, and meal plans. It is also worth mentioning that the cost of earning an accounting degree can vary dramatically from school to school regardless of whether you are looking at online or residential programs.
The length of time it takes to earn an accounting degree can vary from program to program, too. Most bachelor's degree accounting programs take four years to complete, though some are able to either accelerate or expand this timeline. This is especially true of online accounting degree programs, which tend to be more flexible in their scheduling.
Accounting Courses and Curriculum
When considering an accounting program, it is important to take a close look at the specific courses and curriculum the program entails. At Husson University Online, for example, our online accounting degree program includes 47-48 hours of general education courses, 42 hours of accounting courses, 21 hours of business courses, and 12 hours of open electives. We strive to provide students with an education that will prepare them for any number of careers in the accounting field as well as enlightening elective courses to broaden their minds and position them for rich and fulfilling lives.
When it comes time to choose an accounting program, be sure to browse through the courses and curriculum the program includes to ensure it offers a thorough and well-rounded education complete with all the courses you need to pursue your desired career.
Faculty and Staff
It goes without saying that the faculty and staff who run a degree program can have a large impact on that program's overall quality. During the process of researching a program's courses, be sure to take note of the instructors teaching those courses. Instructors who have relevant work experience in accounting and business can offer more real-world wisdom in their teaching. It is also good to understand what kind of accessibility and office hours they keep in you'd like more one-on-one interaction. It may also be beneficial to speak directly with one or more students who have completed the program that you are considering. Scheduling either virtual or in-person meetings with some of the instructors whose courses you will be taking is another great way to better familiarize yourself with a school's faculty and staff.
Career Services
Once you have graduated from an accounting degree program, the career services department at your school will play an important role in helping you find your ideal job. Career services departments assist students with a wide range of tasks, from preparing résumés to helping connect with potential employers. While it may not be the most vital factor to weigh when choosing an accountancy school, the quality of the school's career services department is something that is certainly worth considering.
Once again, speaking with students who have graduated from the program you are considering is a great way to learn more about its career services. When talking with your advisor or other admissions professional, be sure to ask them about the school's career services department, as well. When it comes time to graduate and start searching for jobs, you are sure to appreciate the services offered by a quality career services department.
A degree in accounting is something that can prepare you for a wide range of interesting and rewarding careers. However, it is important to choose the right accountancy school if you want to begin your career as an accountant with as much of a head start as possible.
At Husson University Online, we are proud to offer a fully accredited online accounting degree program that is designed to prepare students for success in any number of accounting careers. Our online accounting degree program is taught by some of the most knowledgeable and passionate instructors in the field and is complete with all of the courses you need to attain a well-rounded accounting education. To learn more about applying for this program or if you have any questions about Husson University Online and the exceptional degree programs we offer, feel free to contact us today.
Get Your Accounting Degree
Back to All Articles