29 Best Marketing Blogs to Keep Your Skills Sharp in 2022
Published on: December 1, 2021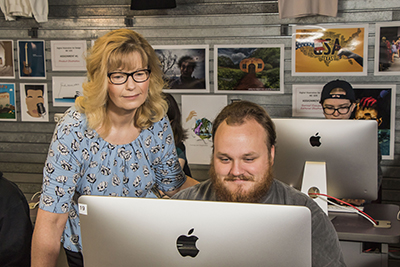 Marketing is a powerful way for a business to get its name out there and in front of potential customers. As you start your career as a business professional, it's never a bad idea to stay in the know on the latest marketing and advertising news and strategies. Which bloggers are hot right now, and what do they have to share regarding social media and email marketing? The easiest place to find out is among the top digital marketing blogs on the internet. Whether you want advertising blogs or a marketing blog to help you out, there are many resources available. Check out 29 of the best marketing blogs you need to read right now!
Explore Our Business Degrees
General Marketing Blogs
Seth Godin | business, marketing, life
A popular entrepreneur, Seth Godin has made a living as an author of more than 20 books, including Purple Cow. His blog focuses on building your tribe as a business owner to gain respect from customers and improving your business with smart marketing practices. Start here if you're a student or recent graduate for some of the best information on social media and business marketing.
Neil Patel | digital marketing
Another well-known entrepreneur and online influencer is Neil Patel, who runs in the same circles as Godin. He offers online and digital marketing advice, including a free SEO analyzer tool that is quite useful. Ubersuggest is another product by Patel that serves the digital marketing community. Patel also offers consulting and site audit services for business owners. On his blog, he shares his knowledge of digital marketing and provides valuable resources for you to use in your own business.
Jenna Kutcher | entrepreneurs/small biz
Jenna Kutcher is a blogger from the Midwest based in small-town Minnesota. She runs a business school blog where she provides free downloads for entrepreneurs and small business owners. You can read about Jenna's favorite things and find recommendations for businesses and consumers to help you with product selection. This blogger is one of the only personal bloggers featured here, whereas most of the other blogs are run by businesses or agencies. That small-town feel comes through in her content.
Clients from Hell | freelance life, humor
Clients from Hell tells horror stories about freelancers, offering a space for freelancers and entrepreneurs to fume and vent to others who can commiserate. Find others who are working in your niche of the entrepreneurial industry in your area, or just build up your credentials by requesting to be a guest blogger for content with a little humor related to freelance work. You can also see who's who among the newest and most celebrated marketing professionals in this digital space.
Monday Marketing | marketing management
If you're ready to choose a tool to help you manage your online marketing, you need marketing management software. The Monday Marketing blog includes the latest tools and processes to improve your digital marketing management. Monday is a software company, but their blog provides lots of free productivity tools, tips and resources for marketers, even If they don't use the software.
MarketingSherpa| case studies
MarketingSherpa is a research institute that has spent more than 15 years in the marketing agency business. You can read case studies that are great for supporting marketing plans and financial goals. The blog also features marketing data in a digital marketing library. Learn the facts and stats about marketing tools and services and use this information to make better decisions about spending on marketing for your business.


Content Marketing Blogs
Copyblogger| content writing
As you work on your business blogs and articles, you'll sometimes need outside help. Enter Copyblogger, a website where content writers go to learn about content marketing tools. Thanks to the free training on their blog, anyone can learn tips on content writing—even if you don't consider yourself a professional writer. But if you read enough of this blog, you'll feel a little bit more like one!
HubSpot | how-tos, content marketing
At HubSpot, you'll find lots of how-tos, tips, and tricks on becoming a content marketing guru. This is a platform that has been training professional content marketers for more than a decade. Gain access to a free cloud-based CRM platform and inbound marketing tools. Customer service and blog information is available to help guide you through the processes as you learn in real-time how to conduct inbound marketing for your business.
Contently | media organization, portfolios
Another blog and platform you may benefit from is Contently. Here your goal is to showcase your digital content, including whatever is in your product catalog or creative portfolio. Use Contently to organize media for storytelling purposes. The site also promotes freelancers who are professional writers through the use of public portfolios. You can publish your work as a college graduate here to showcase it for clients as a sample.
Content Marketing Institute | content marketing
At the Content Marketing Institute, you'll gain up to date information regarding content marketing for B2B readers. Discover which companies and services are most successful right now and learn about the latest Google Analytics insight. Everything that is anything regarding content marketing is presented in the CMI blog.


Influencer Marketing Strategy
Influencer Marketing | content strategy, influencer marketing
On the Influencer Marketing blog, content strategy is the main focus. Find the most insightful articles about influencer marketing, ecommerce, email marketing, and social media. If you are interested in the creator economy, there is an entire collection of content on just this hot topic. See which tools and software are best for your influencer marketing strategy.
Upfluence | ecommerce, WooCommerce
Upfluence serves the needs of ecommerce and direct-to-consumer marketing goals. Use this influencer marketing platform to increase sales and find your most influential customers. You'll also have access to the WooCommerce marketing platform and the Upfluence community of influencers. This blog offers great potential for your business marketing.
Authority Hacker | affiliate marketing tools
Authority Hacker is all about affiliate marketing training and tools. If you want to gain traction in Google search results, then affiliate marketing offers many branches of service. On this blog, you'll learn how to use affiliate marketing to make money for your business.
Email Marketing Blogs
Mail Chimp | free email, marketing insights
As a free email platform, Mail Chimp remains a standout for the broad marketing advice and insight it provides to users. On their blog, you'll learn how to organize your email marketing and run all campaigns through this platform. You can connect Mail Chimp with most blog and website platforms, including WordPress, for easier content and data management.
Constant Contact | email marketing, social media
At Constant Contact, businesses can upgrade the way they manage email marketing using software. The company was established in 1995, putting them ahead of the curve in terms of email marketing experience. Their blog provides information on email marketing and social media to better develop your overall digital marketing strategy.
Litmus | email marketing, automation workflows
Litmus provides email marketing software and free automation workflows for businesses. Subscriptions are required for service, and an enterprise account for corporations is available. Tools available to subscribers include email proofing and an email checklist, as well as marketing and testing. Their blog is for small-to-medium businesses with one to two employees, as well as for corporations.


eCommerce Marketing Strategy
BigCommerce | cloud based ecommerce software
When you are ready to set up shop online, you'll have access to cloud-based ecommerce software at BigCommerce. This is a blog readily available for monthly subscribers that offers an online store with customer support and product management. You can also analyze your sales and shopper data for marketing purposes.
Shopify| entrepreneurs, small biz
One of the most popular blogs for hosting online stores is on Shopify. An alternative to BigCommerce, this ecommerce platform is easy to start and run for any business type. Utilize your business model and product catalog in an online capacity right away using Shopify, thanks to apps and software for users.
eCommerceFuel | trending topics, tips and tricks
Another bustling online marketing community is located at eCommerceFuel. Here is an active blog where entrepreneurs and business owners discuss content, capital, and other trending topics in the marketing and finance sectors. Get tips on how to grow your online business, including keyword advice and content strategy.
Social Media Marketing Blogs
Hootsuite | social network integration
Since 2008, Hootsuite has served as a social network integration platform. Users have access to a dashboard and connectivity that enables autonomous social media sharing. Gain tools for bulk scheduling, message scheduling, and to measure social ROI. The Hootsuite blog is also where you can train and get certified as a social media professional.
Social Media Examiner | social media, online businesses
Social Media Examiner publishes advice on how to use social media and networking online as a business. Weekly podcasts and original research are part of the content you can anticipate finding on this website. It is ideal for social media marketing, including video marketing and social ads.
Kicksta | Instagram
How do you get Instagram followers fast? You use a service like Kicksta that provides Instagram-focused support. How this blog works is by helping you identify your target interests and audience—and playing matchmaker through Instagram ads and other methods. You can grow your account organically, which helps your business appear more authentic to Google and other online marketing services.
Social Insider | social media analytics
Want to find some fast facts to support your social media and marketing activities? Check out Social Insider. This blog is a leader in social media analytics and competitor research. The site offers solutions for social media managers along with small agency services for business owners.


Search Engine Marketing Blogs
Search Engine Watch | search engine marketing news
Started in 1996, Search Engine Watch has been serving the online marketing community with the latest search engine marketing news. Research the most applicable tools and software for your business and marketing needs. Find out how to make these services work in your favor while boosting search engine optimization (SEO) value.
Moz | SEO, link building
Content marketing and inbound marketing along with search engine optimization and link building are the focus of the Moz blog. Labeled as "SEO software for smarter marketing," Moz has free tools you can use for your business right now. The site also hosts agencies and has in-house products for SERP tracking and marketing campaigns.
Backlinko | keyword research, SEO
Learn about SEO in 2021 and train with "SEO That Works" with Backlinko, a blog that offers support and insight into content marketing and actionable SEO. Keyword research is the primary focus here, which is key to ecommerce marketing and SEO. In the blog, you can also learn how to use Google Keyword Planner or sign up for the company newsletter.
Ahrefs | SEO, content creation
Another SEO tool and resource, Ahrefs is a popular place to go to learn how to boost search traffic. Use their blog to better understand keywords and SEO along with content creation. While you are there, check out the batch analysis tool that Ahref provides for businesses and marketers.
Google Search | straight from the horse's mouth
Get marketing and SEO information straight from the source with the Google Search blog. Find out the latest news directly from Google regarding online marketing and digital search tools. Some of the news topics currently on the feed discuss photo image control for teens in search and how to use continuous scrolling on mobile devices using Google Search.
Builtvisible | content, digital data
Last but not least, the Builtvisible blog focuses on content and digital data. This is an independent marketing agency that conducts case studies and publishes usable materials for marketing teams. You can also learn more about actionable tactics you can take right now for marketing in your business arena.
If this info has piqued your interest in a business career, contact our office to get your degree today! Husson Online offers online undergraduate degrees in business administration, as well as online graduate degrees in business administration.
Back to All Articles