Types of Nurse Practitioner Programs: How to Choose
Published on: November 12, 2021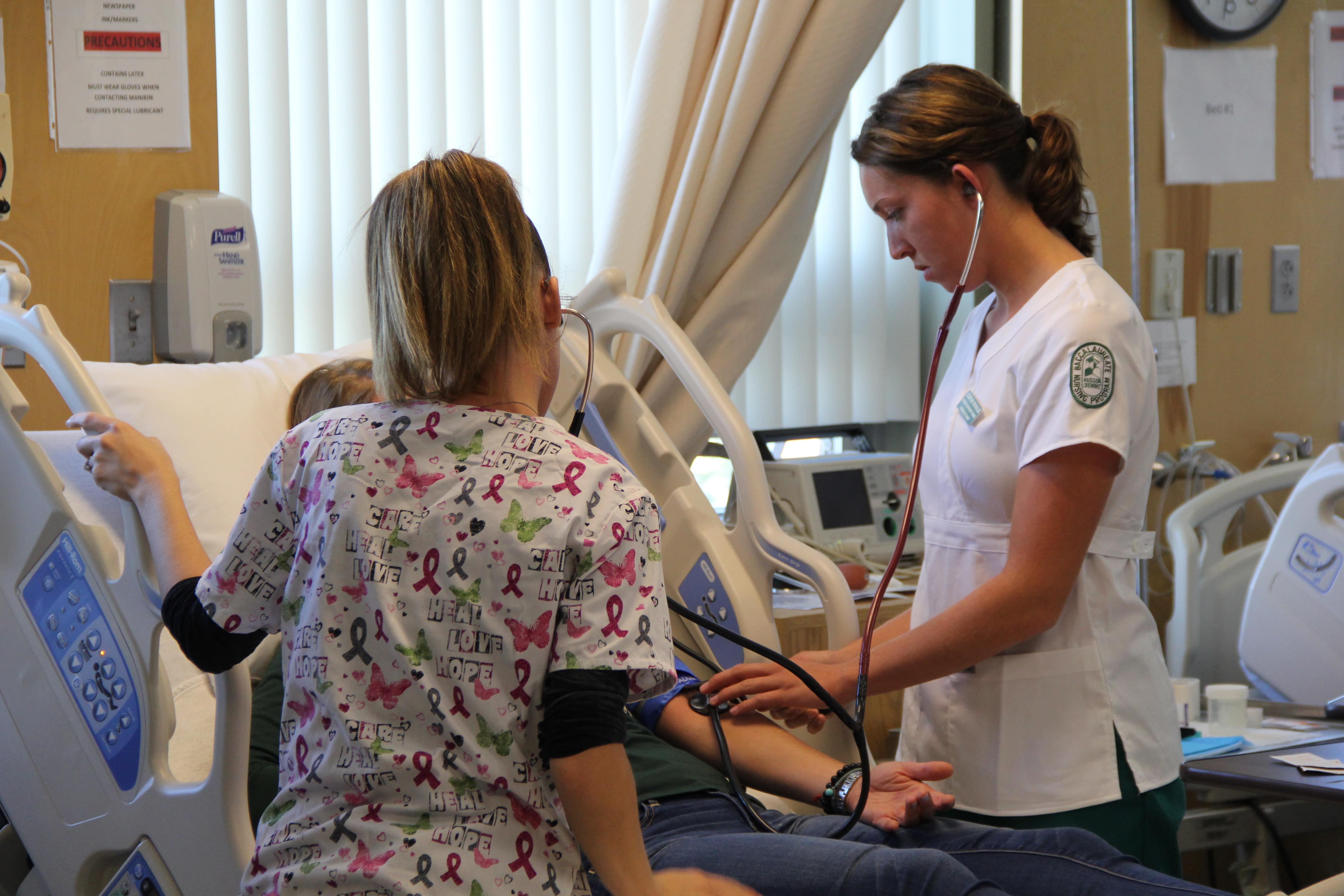 In a rapidly growing medical occupation, nurse practitioners can choose among a broad spectrum of rewarding career paths if they have the right credentials. But it is absolutely vital to find the right nurse practitioner program for you. Read on for a brief introduction to the nurse practitioner profession, the various opportunities within it and the degree requirements that make these opportunities possible. 
What Do Nurse Practitioners Do? 
As nursing professionals with advanced degrees, nurse practitioners (NPs) are qualified to treat certain medical conditions as independent mid-level practitioners. This differentiates them from registered nurses (RNs), who can only provide medical care under the direct supervision of a physician or another qualified practitioner.  
Like a physician, an NP can either work on their own or in partnership with a team of collaborative healthcare professionals. Common duties of an NP include: 
Conducting patient exams
Performing and interpreting diagnostic tests
Developing and maintaining treatment plans
Prescribing medications
Monitoring patient symptoms and progress
Leading patient education
Managing chronic patient conditions 
What Degree Do You Need to Be a Nurse Practitioner? 
Before you can become a nurse practitioner, you must complete the rigorous training needed to become a registered nurse. With few exceptions, this requires official state RN licensure that you can only get with an undergraduate nursing degree such as a Bachelor of Science in Nursing (BSN).  
Once you have earned a BSN, obtained an RN license and have several years of professional nursing experience under your belt, RNs with the ambition to take the leap into NP practice must complete an advanced educational program that focuses on their specific area(s) of clinical focus. This can be either a Master of Science in Nursing (MSN) or a Doctor of Nursing Practice (DNP) program with a nurse practitioner specialty.  
Shorter in average duration than a DNP program, an MSN program can have you working as an NP in roughly two to three years. In addition to covering all aspects of advanced nursing practice and theory, these programs cover areas such as health assessment, pharmacology, pathophysiology and healthcare tech.  
Nurse Practitioner Specialties  
As you look forward to your career as a nurse practitioner, you will likely want to choose an area of specialization based on your unique talents and interests. Of course, you will also want to select your specialty based on the needs of the patient population at large. Here are just a few NP specialties you may want to consider:  
Family Nurse Practitioner (FNP) 
With a broad base of NP knowledge and skill, FNPs work in various healthcare settings and provide primary care to patients of all ages. 
Adult-Gerontology Nurse Practitioner (AGNP) 
AGNPs work specifically with older patients and have expertise in the prevention and treatment of the conditions that this particularly vulnerable population commonly experiences. 
Psychiatric Mental Health Nurse Practitioner (PMHNP) 
PMHNPs work with patients experiencing or managing mental health diseases or disorders. They may use any combination of counseling and medication to treat patients of all ages.  
Women's Health Nurse Practitioner (WHNP) 
WHNPs work with female patients from the onset of puberty during adolescence through their post-menopausal years. They tend to take a holistic approach to patient reproductive and gynecological wellness.
Acute Care Nurse Practitioner (ACNP) 
ACNPs focus on a particular type of care rather than a type of patient, diagnosing and treating acute or emergency medical conditions that range from heart attacks and strokes to asthma attacks and respiratory failure. They typically work in urgent care centers and emergency rooms. 
Pediatric Nurse Practitioner (PCNP)
PNPs work with infants, children, adolescents and young adults as old as 21. They also endeavor to educate and coordinate care with the adult guardians of their pediatric patients. 
Neonatal Nurse Practitioner (NNP)
NNPs work with premature or critically ill newborns and have expertise in the treatment of the conditions that premature and newborn infants commonly experience.  
Nurse Practitioner Program Requirements
As previously noted, different NP career paths require different NP educational programs. Furthermore, each educational program comes with its own unique requirements. The following are the major NP program models and the student populations that they serve: 
RN to MSN 
Programs of this type require a valid nursing license and professional nursing experience. They might also require a Bachelor of Science in Nursing (BSN). 
BSN to MSN 
A BSN to MSN program requires little or no professional nursing experience, allowing students to complete undergraduate and graduate studies as part of an uninterrupted nursing education.  
Direct Entry MSN 
Geared toward candidates with a bachelor's degree in another field, programs of this type allow direct entry without an undergraduate nursing degree or professional nursing experience. These programs are relatively rare. 
Post-Master's Certificate 
Another NP option that few schools offer, post-master's certificate programs allow MSN graduates who do not have an NP specialty the opportunity to acquire one. 
The Importance of Accredited NP Programs  
No matter what type of program you choose, you must look for legitimate accreditation that will lead to licensure as an NP. If your program isn't properly accredited, you won't be eligible to take a certification exam in your specialized area of practice. Different credentialing boards administer different national exams with concentrations in specific practice areas.  
Without a degree from an accredited school, students will also encounter problems with state licensing. Licensing agencies may not recognize an NP's education as legitimate and withhold the license that they need to practice. 
Benefits of Online NP Programs  
Online programs are a great way to work toward a degree or certificate with a nurse practitioner specialty. While they might not work for everyone, these programs provide supreme flexibility, allowing students to log into the virtual classroom environment from anywhere on Earth with mobile or internet connectivity. They also tend to offer flexible convenience in terms of scheduling and overall program duration.  
The distance learning model is ideal for working nurses or other professionals with little free time to spare. Because coursework can often be completed on your own time, you can easily fit it in between your nursing shift and household responsibilities. Dedicated and motivated students with fewer time constraints can even find accelerated online programs that can get them over the finish line far faster than average.  
How Much Does It Cost to Become a Nurse Practitioner?  
Although the altruistic drive to help others is a primary motivator of the typical NP, most also want their chosen profession to pay financial dividends as well. This means that you must consider your NP degree or certificate as an investment in your future, and the upfront price required to make that investment should be a paramount concern.  
Unfortunately, assessing the ROI (return on investment) potential of NP programs can be difficult, if not impossible, to accurately measure. For one thing, the initial costs of these programs can vary significantly from type to type and institution to institution. However, it isn't uncommon to pay as much as $20,000 per year for NP education. 
Fortunately, there are many paths to a far more affordable NP. For example, online programs tend to be considerably less expensive while offering the supreme convenience and flexibility outlined above. The online NP programs at Husson University are among the most cost-effective on the market today. We also welcome financial aid and scholarship funding to help offset expenses.  
Pursue Your Nurse Practitioner Dreams at Husson University Online
To learn more about the various NP programs at Husson University Online, visit our individual Family Nurse Practitioner, Adult-Gerontology Acute Care Nurse Practitioner and Psychiatric Mental Health Nurse Practitioner program pages. You can get more information about any Husson University programs by filling out a short online form.
Back to All Articles