What to Look for in Online Nurse Practitioner Programs
Published on: November 12, 2021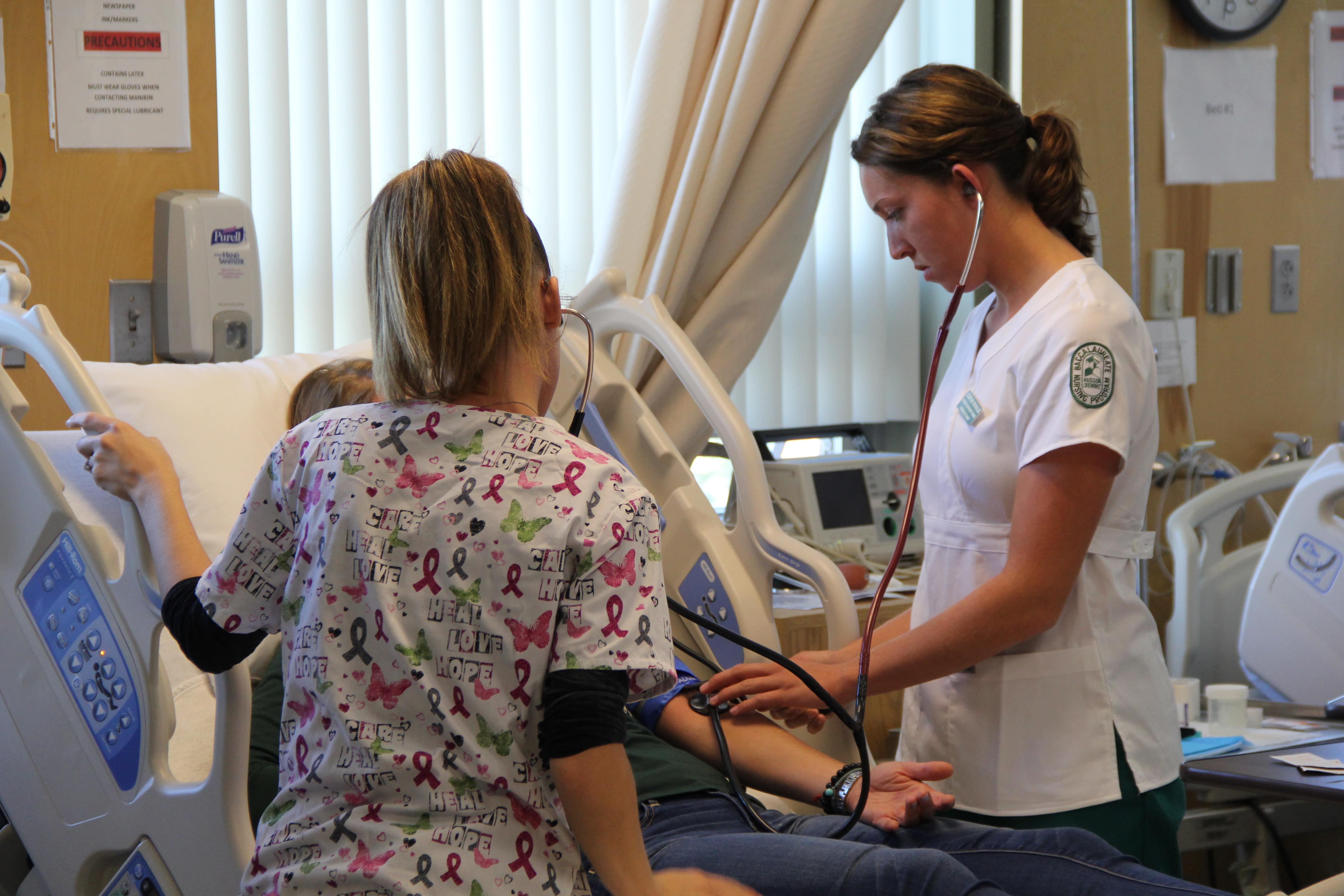 An online nurse practitioner program can be an excellent option for nurses to advance their career and continue their education. Nurse practitioners are registered nurses, who have earned advanced degrees and received licensing for advanced practice. There are several specializations that nurse practitioners can pursue.
Explore Online Degrees
What Degree Do You Need to Become a Nurse Practitioner?
In order to become a nurse practitioner, you need advanced education in addition to being a registered nurse. That usually means a Master of Science in Nursing (MSN). With online nurse practitioner programs, though, you can also work toward a post-master's certificate as part of a nurse practitioner program. There can be in-person or on-campus requirements for some of these programs, but that's not always the case. There are nurse practitioner education options that are completely online, as well.
In many cases, online nurse practitioner programs are the right way to advance your skills and your career. Whether you focus on a Master of Science in Nursing, or other options for your nurse practitioner education, the goal is to make sure you're prepared for the kind of work you're going to be doing. You also must be licensed as a nurse practitioner, so you'll need to work with an accredited school you can rely on.
Nurse Practitioner Specialties
When you decide on a career as a nurse practitioner, you'll often have the opportunity to choose a specialty. You can pick one based on your interests, of course, but many people in this field couple their interests with the needs of the patient population. If you live in an area where there are a lot of older people, you may want to focus more on the aging population. If you're in a town that's booming with younger couples and families, family and pediatrics might be your focus. Some of the main specialties include:
Adult-Gerontology Nurse Practitioner (AGNP)
Family Nurse Practitioner (FNP) / Primary Care Nurse Practitioner
Psychiatric Mental Health Nurse Practitioner (PMHNP)
Women's Health Nurse Practitioner (WHNP)
Acute Care Nurse Practitioner (ACNP)
Pediatric Nurse Practitioner (PCNP)
Neonatal Nurse Practitioner (NNP)
Anyone who chooses online nurse practitioner programs can pick one of these specialties, so they have a focus and direction for their learning. When working through nurse practitioner education opportunities, it may take a little while to pick a specialty. However, choosing one direction to go in often becomes easier when considering the population you'll be working with and the areas of interest you have. Where they overlap is usually the right choice for a nurse practitioner specialty.
Benefits of an Online Nurse Practitioner Program
There are several major benefits of online nurse practitioner programs. While they might not be right for everyone, these programs give you the opportunity to focus on your education in a way that works for you. Many nurses who are working toward a Master of Science in Nursing, along with master-educated nurses working on a post-master's program for specialization, are busy professionals with little free time. Features of online programs that make them attractive for working adults include:
Flexibility
Convenience
Length of the Program
Flexibility is obviously one of the strongest reasons for a nurse to choose an online option for nurse practitioner education. They can work around their hectic schedule and handle their schooling during the times of their day when they have free time or the ability to study. Convenience is also a big part of that, since they won't need to drive to and from a particular location or be in class when they may need to be working or taking care of their households or families.
The length of the program is often very important to nurses who want to complete their education so they can go on to become a nurse practitioner. With opportunities for accelerated nursing programs, nurses who are dedicated to their education can find ways to get through their studies at a pace that suits them. Then they can move on to the next classes they need to take and graduate, so they can focus on licensure and career advancement opportunities.
Nurse Practitioner Program Requirements
The requirements for online nurse practitioner programs can vary significantly depending on the particular path the nurse is taking. The education level, experience, GPA, and other admission requirements are important to consider since it may be necessary for a nurse to take a different path than the one originally intended. Here are some of the most common paths of nurse practitioner education and their requirements.
RN to MSN -- Working as an RN may be one of the easiest ways to move into working toward an MSN. While you do not need a bachelor's degree to be an RN, most MSN programs require a bachelor's degree in nursing, experience in the field, and a valid nursing license.
Direct Entry MSN -- A direct entry MSN is possible for students who have a bachelor's degree in another field, but who want to move into a nursing career. Not every school offers this option.
BSN to MSN -- With a BSN (Bachelor of Science In Nursing), most students can move into an MSN as a natural part of their education. Since they already have a nursing degree, they may have lower requirements for experience or licensing.
BSN to DNP -- A DNP (Doctor of Nursing Practice) is one of two possible doctorate degrees in the nursing field and experience and licensing requirements will vary depending on the program.
MSN to DNP -- With an MSN, it's easier to move toward a DNP, but experience in the nursing field and a valid license is still generally required by most schools.
Post-Master's Certificate -- A post-master's certificate can help anyone who wants to work as a nurse practitioner and already has their MSN to gain additional education to move toward a specialty that works for their needs.
There are many paths to a higher level of nursing education. The one that's right for you may not be the one that's right for someone else. With information on online nurse practitioner programs, however, you can choose the nurse practitioner education that can help you reach your goals. Whether that's a Master of Science in Nursing, or some other degree, you can feel confident in the choice you're making for your future career advancement.
Online Nurse Practitioner Program Format and Requirements
The credit hour and clinical hour requirements of online nurse practitioner programs must be considered in order to choose the right one. While they all have similar requirements, they may vary by state, so you want to make sure you'll be able to meet the demands of the school and program you choose before you sign up and get started. In addition to those considerations, here are some of the questions you'll want to get answered before you select a program.
How Are Nursing Courses Taught Online?
Nursing courses are taught online the same way as any other types of courses offered in an online format. They consist of textbook information, quizzes and exams, lectures, and discussions and forum-based interactions. Some instructors offer asynchronous video lectures and demonstrations, while others deliver their lectures live.
What Courses Are Required?
Required courses will vary depending on the school and the licensing requirements of your state. You may also see differences in courses based on whether you're going for a Master of Science in Nursing or another type of nurse practitioner education. Courses will be heavily focused on the specialty nursing practice that you choose, as well as other advanced nursing topics.
What Are the Technology Requirements for Online Courses?
Online courses will require you to have a computer and an internet connection fast enough to keep up with everything you're doing in class. Most newer computers and standard internet connections offer everything you would need in that regard. If you find that you don't have the necessary technology, inquire with your school about technology assistance options.
How Accessible Are Nursing Professors in Online Courses?
In online courses, most nursing professors are very accessible. They know they need to be available to their students, especially in fast-paced or accelerated courses. While some professors have specific "office hours," others are available most of the time via email and sometimes through text.
Are There Support Services for Online Nurse Practitioner Students?
Most online nursing schools offer support services for students of their nurse practitioner programs. They know that studying to be a nurse is stressful, and the demands of the job can also be extreme in some cases. Because of that, they want to make sure students are getting what they need to succeed in their career aspirations.
Is It Possible for Online Students to Do Clinicals on Campus?
In some cases, schools are set up for nurses to do at least some of their clinicals on campus. For most schools, though, clinicals are done through partnerships with hospitals and other medical facilities in the student's local area. That way they can make arrangements that work for them and get their clinicals completed.
The Importance of Accredited Online Nurse Practitioner Programs
Anyone who's considering an online nurse practitioner program should make sure the program and school they're choosing is accredited. Without accreditation for the school and the program, a student won't be able to become licensed. That's because the licensing agency won't recognize the nurse's education as being valid and acceptable for the designation and career they're seeking. Accreditation is essential for any nurse practitioner education.
Paying for Online Nurse Practitioner Programs
Another focus of getting an online education to become a nurse practitioner is the cost of that education. Not only do you want to make sure you understand the price, but that you have any needed financial aid in place. Also consider scholarships so you can work toward your degree while paying less, if possible.
How Much Does It Cost to Become a Nurse Practitioner?
The cost of becoming a nurse practitioner varies, depending on the school you attend, whether you already have a nursing education and background, among other factors. You can expect to pay around $15,000 to $20,000 per year, but that's only an estimate. You may find that your experience varies.
Financial Aid for Nurse Practitioner Education
If you need help paying for your nursing education, check into financial aid options at the school you're considering. Some of them have programs that can help, and you may also qualify for federal student loans. If you explore your options, it's usually possible to find a combination to meet your needs.
Scholarship Options for Nurse Practitioner Students
Don't forget the power of scholarships for paying for at least part of a nurse practitioner education. The nurses' association in your state may offer some options, and you can also check with AACN, AANP, and HRSA for scholarships and loans.
The Bottom Line for Becoming a Nurse Practitioner
Becoming a nurse practitioner can be challenging, but it can also be extremely rewarding and valuable, both for you and for the patients you'll serve throughout your career. For a quality nurse practitioner education, contact us at Husson University. We offer several online nurse practitioner options, including a family nurse practitioner program, options for an adult-gerontology acute care nurse practitioner, and a program for psychiatric mental health nurse practitioners.
Finding the right program is an important part of nurse practitioner education, and we can help you on your journey to more education for career advancement in the nursing field. Reach out to us today.
Get Your Nurse Practitioner Degree
Back to All Articles